The results from the latest of MEF's new quarterly check on industry expectations for revenue – the Business Confidence Index (BCI) – reveal just how the mobile ecosystem is performing during the pandemic: key mobile sectors are expecting sustained growth during Q1 2021, even after a strong Q4 2020.
However, a second wave of COVID19 has hit most of the Northern Hemisphere,and there we see a softening of the growth expectations driven by North America and Europe. MEF has collected the views of 211 professionals from across  the mobile arena globally for this update.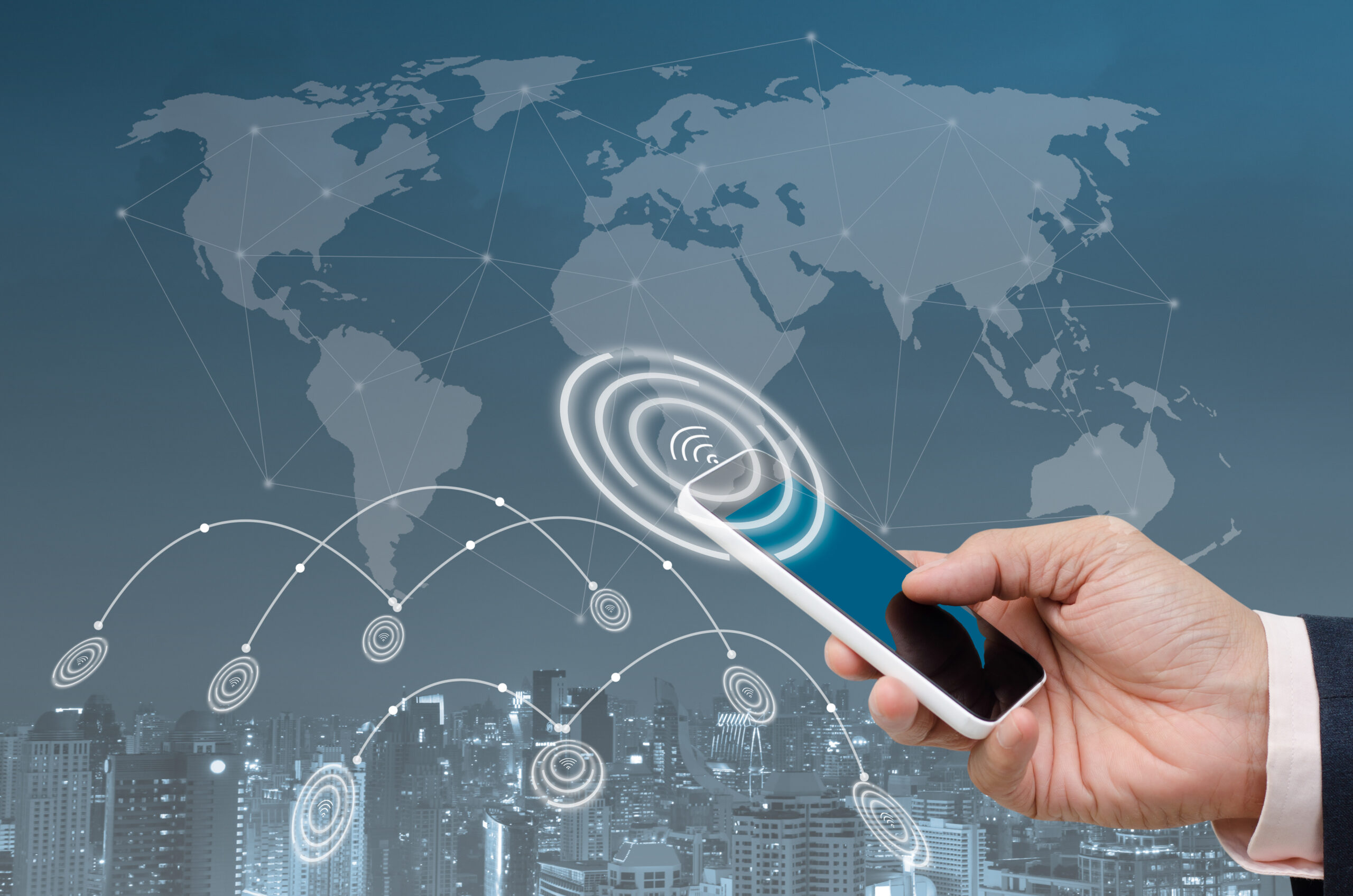 The BCI decreases quarter on quarter: whilst the second lockdown appears to have impacted optimism,  revenue predictions for Q1 2021 remain rosy with growth in the sights of most

53% of companies working in mobile anticipate an increase in revenues for Q1 2021, a 4 percent reduction on Q4 2020). 23% think revenues will be stable (a 4 percent increase)

24% expect a reduction, just like in  Q4,  but of those, 11% think it will be a larger reduction, eliminating  more than 10% of revenues – a 1 percent increase over Q4. Again, there are minor signs of worsening sentiment.
Global optimism in the mobile economy lingers
Confidence in Q1 revenue growth is high. Key markets across  the mobile ecosystem are showing resilience or growth as they underpin the digital transformation initiatives helping companies and consumers adapt during the pandemic: e-commerce, digital content, delivery services, electronic payments and online banking are today all powered by mobile.
However, the sentiment of growth is now more muted than it was in the last six months. MEF performed a spot survey in June 2020 looking at growth expectations for Q3, with 56% answering positively; three months later it had edged up marginally higher to 57% for Q4.  The number of companies expecting revenue growth for the next three months is now lower – 53% of respondents. Of these companies most are either expecting strong growth (more than 10%), 24% of all companies predict good growth (from 2% to 9%) quarter on quarter.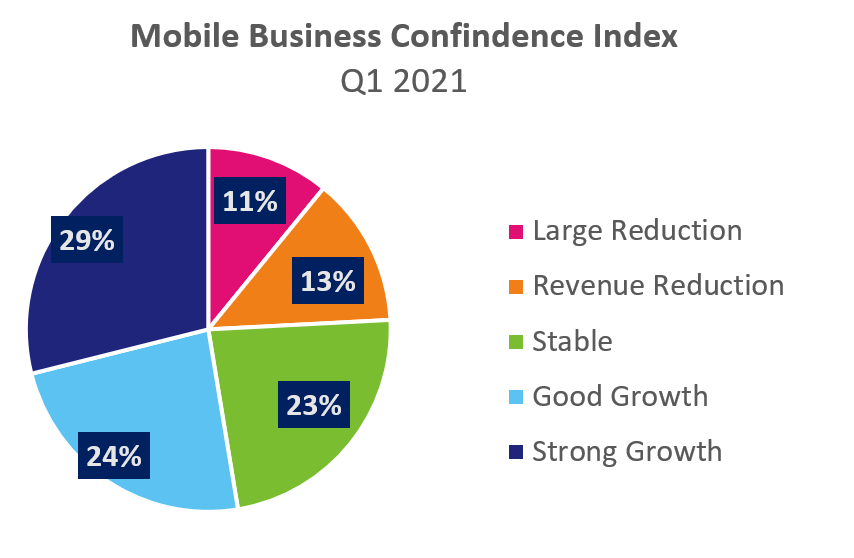 The mobile industry has not remained unscathed by the massive economic impact of the pandemic, but it seems to be exhibiting a more resilient performance that other sectors. Notably, 11% of the respondents believe that revenues will drop by more than 10% quarter on quarter, a slight increase over Q4 (+ 1 percent) but also from the spot survey that MEF took in June (+ 2 percent).  See Table 1 for a quarter on quarter comparison.

Table 1
Continuous rebound, but slowing growth
MEF put together an index summarising  sentiment in the market. This quarter we have seen a drop in the overall global index from 0.53 to 0.46 for Q1 2021 – leaving the market in the area denominated "Positive Sentiment." See Table 2 below.

Table 2
More evident falls can be seen in specific sectors of the mobile ecosystem: Mobile Personal Data & Identity services is still enjoying the highest growth sentiment (0.62), but much lower than the early interest shown immediately post lock-down – a drop of 0.16 points. Enterprise communication services (including A2P messaging) is still the second strongest market with healthy growth. Mobile payment jumps to  third in terms of growth expectations, overtaking Mobile Advertising that drops from third down to last position. Weakness in advertising might be the first sign of a tightening in the business discretionary spending as well as the seasonal adjustment post Black Friday/December Holidays period. The industry shines in transaction-based services (anything to support sales), but investment areas such as IoT and advertising are seeing only subdued advances. Table 3 shows the index in detail.

Table 3
Mobile IoT saw the weakest expectations of growth in Q4, but the rate of development has caught up significantly with a jump of 0.24 seeing it move from 'neutral' to the mostly positive' area.  Mobile Content and Mobile Payments have also seen large jolts (+0.23/+0.24). Companies might have paused some of the IoT implementations straight after lockdown, but we have heard anecdotal evidence of new IoT projects for 2021, connected with plans for digitalisation, efficiency and reducing requirements for human interaction.
Geographically, the Northern Hemisphere seems to have reduced their growth expectation as the second lockdown was linked to the lower temperatures during winter. Companies operating in North America and Europe and this with a truly global presence are the ones feeling less optimistic about the next quarter. Companies operating in Central Asia have the lowest expectations of all, even if they moved from a position of 'mostly negative' to 'neutral' sentiment. Europe and South Asia share the second lowest position on the growth index with a rating of  0.08 – effectively a 'neutral' stance.  Trading conditions across Africa and Latin America are showing positive sentiments towards growth.  The biggest jump is in Australia and New Zeeland where we saw a jump from 'negative' sentiment to 'neutral'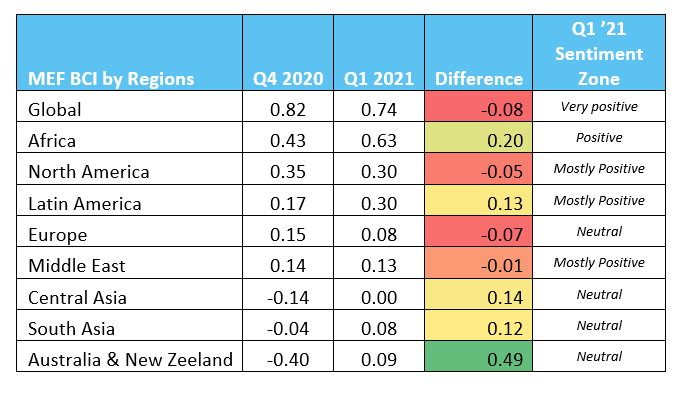 Table 4
The Guide to our Sentiment scale is available here in Table 5. The Sentiment is a weighted calculation of revenue growth expectations.
Table 5
Sector Growth expectations
Here is the detailed view of what people expect for each sector. 'Strong growth' is described as anything over 10%.  32% of companies working in Mobile Payments see strong growth but only 17% of those in Mobile IoT.  Another important figure is the 'large reduction' (again a loss greater than 10%). Mobile Advertising sees 16% of companies afraid of a large reduction in the quarter.
Geographic variations: Global companies feel stronger revenue growth.
Global companies continue to be the ones with the most optimistic market growth expectations: 40% of global companies report strong growth. Central Asia see the highest number of companies concerned with a large reduction, at 18%..