MEF Director of Programmes James Williams shares his take on the recent MEF CONNECTS Wholesale, where over two days, online guests enjoyed a very thorough exploration of all aspects of the wholesale mobile ecosystem.
This year was the third in a row for me putting together a MEF CONNECTS Wholesale event and I thoroughly enjoyed the process. The proof of the pudding lies very much in its eating and it's safe to say that this year's event on October 10th and 12th – 20+ sessions, 60+ international speakers, 6 industry analysts and 5 leaders of trade associations – really shone light on so many areas Wholesale is known for.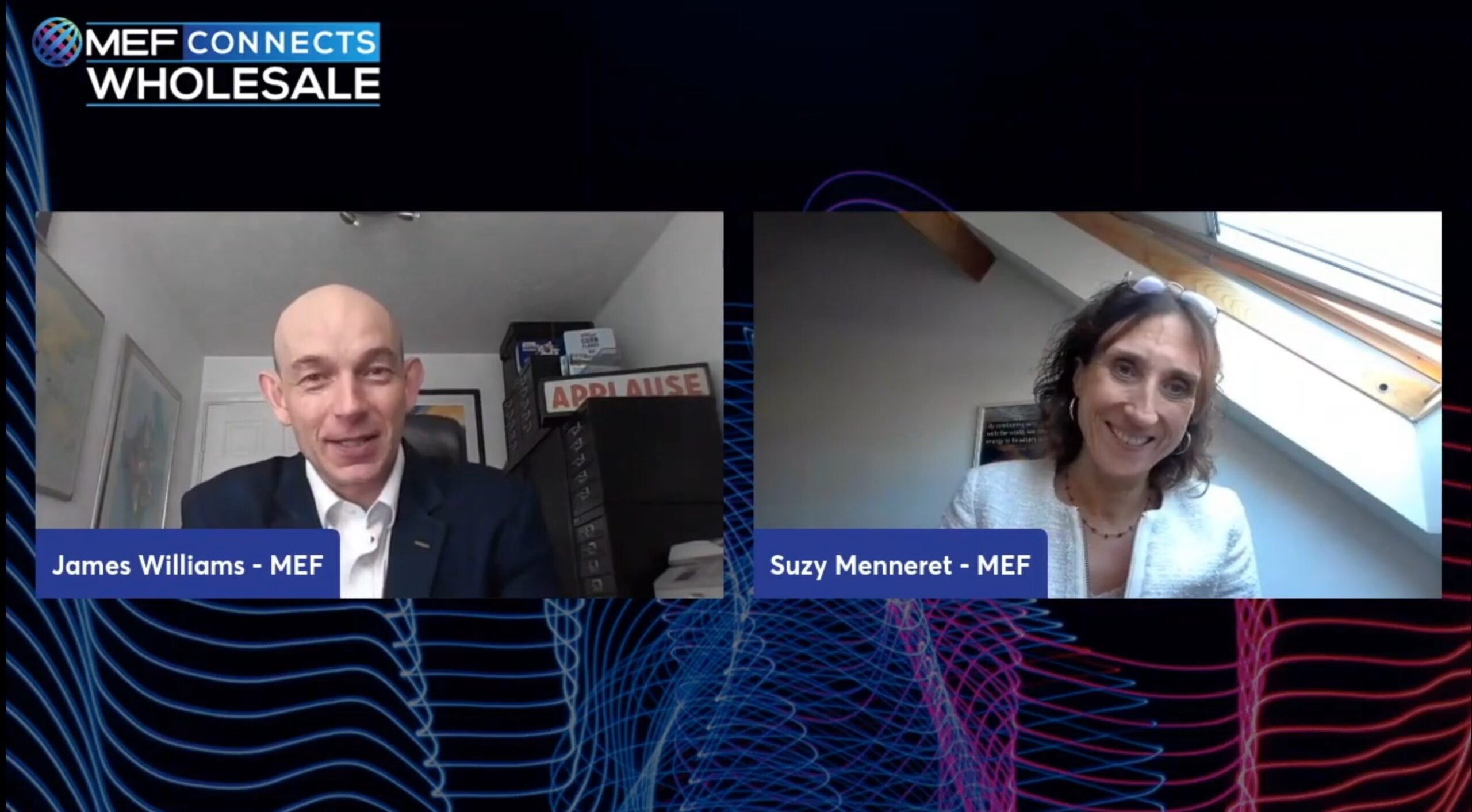 Practically no topic went unmentioned and thanks to MEF's Connectivity/Wholesale Programme Lead Suzy Menneret for working with me on all the content, speakers etc.
Helping the world of Mobile to grow sustainably (in all senses of the word of course…) is what MEF is really about and it's our members that do the heavy lifting. HAUD, LANCK Telecom, netnumber Global Data Services, TOMIA and XConnect went the extra mile this time round sponsoring the event so particular thanks to them for making things like this possible for all globally to enjoy for free.
And enjoy the recordings of the sessions you can see here now.
MEF's work is never done and the team is now putting together a Wholesale event to be delivered in the real world, in Paris.
I think that'll be MEF's first ever in-person Wholesale event which is special. There'll be a lovely networking evening on December 4th in a rather spectacular location, followed by a day of great content on December 5th and Suzy is taking the lead on this now putting that together.
Remember you can find all information on events here on the website, and I'd urge you to get registering for both the in-person events on December 4th and 5th in Paris right now as demand is high already!
I look forward to catching you at other MEF events – whether in-person or online – and in the meantime do enjoy all the opportunities for interaction we provide members and invited guests, along with the detailed insights and impact membership truly brings. But I'm not done yet…
For all the people on the front-end, introducing sessions, moderating etc., there is a large team in the background ensuring everything MEF events related runs to plan so particular thanks to my MEF colleagues Susan, Mina, Carol, Gui, https://mobileecosystemforum.com/wp-content/uploads/2022/07/MEF-Day-One-104-Large-1.png, Ewa, Nicola and Myra for their help in making MEF CONNECTS Wholesale what it was.
And what it was, well I'll leave that up to you to decide but hopefully you enjoyed it. I've seen a lot of great feedback from members so thanks for sharing all that! Keep the comments coming.
MEF CONNECTS Wholesale 2023  brings together stakeholders from across the industry, and from around the world – analysts, representatives from other trade organisations, mobile operators, content providers, messaging companies and many others.

Available on demand now – watch all the sessions now