Dario Betti, MEF CEO, comments on the results of MEF's new quarterly check on industry expectations for revenue. We last reported the Business Confidence Index during the 2008-2010 economic crisis and had decided to bring it back to monitor the post-pandemic economy across the mobile ecosystem. MEF has collected the views of 264 professionals in the mobile area globally for this update.
The MEF Business Confidence Index (BCI) is at 58 points, showing that the mobile industry expects a strong recovery of revenue in Q4.
58% of mobile companies anticipate an increase in revenues for Q4, 19% think revenues will be stable and only 24% expect a reduction (of those, only 10% think it will be a large reduction).
Global optimism in the mobile economy
Confidence in Q4 revenue growth is high. The easing of the lockdown has already been accounted for in Q3: moderate re-opening of the economy saw revenue increases in the global economy. MEF performed a spot check survey in June, this showed a similar expectation of growth for Q3 with 56% positive responses.
The index exposes an improvement in sentiment, with growth of 2 points from early Q3. The last three months of 2020 should see the 'new normal' with businesses and schools opened. However, even if the global economy shows signs of low employment and reduced consumer consumption, the impact of remote working, the e-commerce take-up and the general digital transformation may be fuelling new growth in mobile.
We should say that mobile businesses are not left untouched by the massive economic impact of the pandemic, but it seems to be exhibiting more resilience than other sectors. One in 10 of the respondents believe that revenues will drop by more than 10% quarter on quarter, that is a slight increase from a spot survey that MEF carried in June 2020, when the number was 9%.
The mobile industry assumes largely positive predictions, more than the average economy. In June, the International Monetary Fund projected a –4.9% for the world economy in 2020, a further 1.9 percentage points below their April 2020 forecast. The new forecast revealed that the COVID-19 pandemic had a more negative impact on economic activity in the first half of 2020 than anticipated, and the IMF projected a more gradual recovery than previously forecast. In 2021 global growth is projected at 5.4%. Overall, this would leave 2021 GDP some 6.5 percentage points lower than in the pre-COVID-19 projections of January 2020. The adverse impact on low-income households is particularly acute, leaving at risk according to the IMF the significant progress made in reducing extreme poverty in the world since the 1990s.
Market differences: Privacy & Identity Services and Enterprise Comms are leading the positive wave
The MEF Business Confidence Index shows the market of Personal Data & Identity with the highest level of positive expectations, 65% of respondents think that revenue will improve. This is confirmed by the high level of demand reported in the market for online identity services (such as new electronic documents implementation expected by governments and businesses) as well as implementing data privacy systems for remote health data management.
Enterprise Communication services follow with a 56 index. This market has seen the resurgence of traffic for SMS A2P (linked to one-time passwords, and e-commerce services). Surprisingly, there is more enthusiasm in Mobile Advertising than Mobile Payments – though in our interviews we had already heard the contrasting pull on mobile proximity payments. These are more suitable than cash payments during the COVID-19 pandemic, but footfall to shops and restaurants has been reduce drastically, also reducing the volume of transactions. The remote payment processing is seen a boom instead due to the greater acceptance of e-commerce.
Mobile content professionals are presuming a low level of growth in respect to the other mobile services. However, this might have to do more with the optics of the quartet. This sector has already seen a good revenue flows even during the pandemic, with growth even in Q2 and Q3, so they have not suffered as much. The moderate growth is on top of a positive performance.
Mobile applications of IoT solutions show the lowest level of positive reactions. Here the IoT continues to grow, the pandemic should make self-managed or unmanned solutions even more important.
The reason for this lower uptake could be due to any number of reasons, but we note the lowest expectations of growth in here. In fairness these are sometime complex decisions, with long implementation windows, as they require a customised solution including both hardware and software integration for a business.
To read more on IoT impact on COVID-19 read Andrew Parking White's interview to Martin Garner from CSS Insight here. Martin Garner points out that many sectors have slammed the brakes on while the virus is brought under control which has affected many promising IoT applications in airlines, retail, manufacturing and supply chain.
The specific results for each of the markets are shown below. Of note, there is not one single prediction of a large revenue reduction in the 'Personal Data & Identity' sector. The highest number of Large Revenue Reductions (-10% or worse) belong to 'Mobile Content' at 15%.  The sector that has seen the highest level of responses for strong revenue growth is 'Mobile Advertising', with 34%.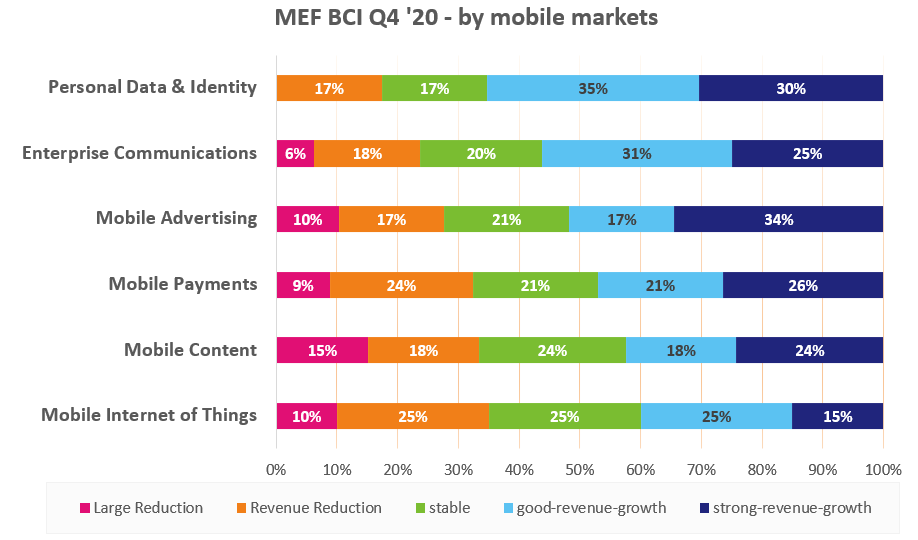 Geographic variations: Global companies feel stronger revenue growth.
Global companies seem to expect higher revenue growth in Q4, with an index of 65%. Africa, North America and Latin America companies appear to expect a strong recovery in Q4, with index of 56-53% of positive revenue growth responses.
Companies in Europe see a 46 index, a much weaker recovery to North America. Middle East and South East Asia and Central Asia business expect and even slower recovery with 40% or less of the respondents pointing at a revenue growth for the quarter.
Lagging behind in this sentiment review is New Zealand and Australia; 40% of respondents expect a revenue reduction, only 30% an improvement. This data was recently confirmed by the news that Australia has entered a recession for the first time in nearly 30 years. The shock of the Australian economic stop has affected the local mobile industry too.