MEF's features editor Tim Green has been speaking to members and buyers about the evolution of business messaging. The result? A comprehensive guide to the Future of Messaging. Published in association with Syniverse, here MEF's Future of Messaging Programme Lead Joanne Lacey shares a summary to the guide which covers everything from CPaaS, bots and omnichannel to virtual customer care agents, self-service and the arrival of person to business messaging.
Mobile messaging has changed how companies talk to their customers. Simple one-way texts enable a wide variety of activities from authentication to sign-up, delivery confirmation to promotions and more. And businesses are now finding new ways to make the most of the medium. They are exploring 'rich communications' via new messaging formats such as RCS, WhatsApp and WeChat.
These platforms offer additional functionality such as read receipts and group chat. Recipients can watch instructional videos, scroll product catalogues and more. Consumers can even start conversations with brands. Communication across these channels has the potential to revolutionise customer care and customer engagement.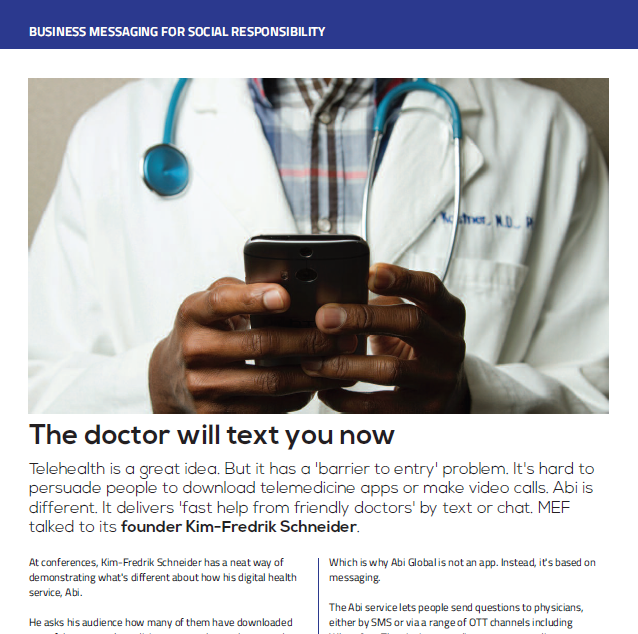 Now, every department inside a business or organinsation can talk in a different way to customers, partners and suppliers. They can move beyond sending simple notifications. They can have rewarding conversations. The Future of Messaging Guide is part of our industry initiative, the Future of Messaging Programme. In this latest edition, we take a snapshot of the market in 2020. We show how messaging is changing the way companies handle critical activities – especially during the Covid-19 pandemic, when the power of the channel has never been more clear.
Many thanks to Syniverse for supporting this guide. In particular, we'd like to thank Jeff Bak, VP of Cloud Messaging Product Management at Syniverse, for his thoughts on the next stage of business messaging. Also Mathias Muehlfelder, Senior Director of Product Management at Syniverse, for sharing his experience of business messaging in the workplace. Also a big thanks to the members featured and those who helped with client interviews and use cases in particular to GMS Worldwide, IMImobile, Infobip and Vodafone.
The 40-page guide features a series of interviews and case studies across different sectors and region and tracks the rise of bots, omnichannel and cloud-based communications to enable every department inside a business or organisation to integrate mobile messaging when talking to its customers, partners and suppliers.
Featured Use Cases in the report
Centrica switching to text when a customer care agent is busy
Mercedes Benz and self-service in-car bots
How Milan Municipal Council used business messaging during the Covid-19 pandemic
Maintaining customer experience in digital services with Santander
Surveying the world – a United Nations RCS use case with Vodafone
How Wargaming is using SMS authentication to make digital commerce safe
We hope what you read will make you excited about the potential of messaging to transform your business too.
A 3-day digital event to bring together MNOs, messaging providers & enablers and brands & agencies to showcase business messaging & chatbot services that are transforming the way brands and enterprises engage with their customers.

Learn about the latest use cases and hear from the brands revolutionising their customer engagement strategies with RCS, WhatsApp, Apple Business Chat and more. Plus EXPO and networking sessions.