MEF's Future of Messaging Programme today announced the roadmap for Phase 2 of the industry initiative to shape the future of enterprise messaging.
Companies from 20+ countries participate in the programme
Self-regulation to define best practices, drive innovation and increase trust in enterprise messaging
Industry consultation opens for the Enterprise Messaging Code of Conduct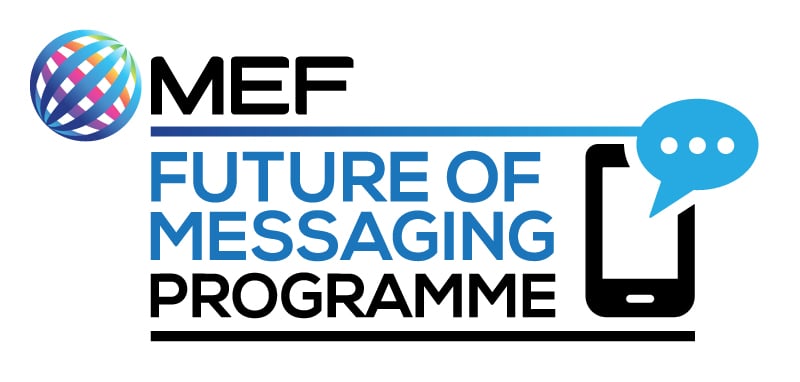 MEF's global multi-stakeholder group was established in 2015 to combat fraud and advocate best practice and market innovation in the enterprise messaging industry. Since launch, a working group of 30+ companies has focused on education and building transparency in the sector by collaborating to produce a series of well-received papers and research. At the cornerstone of the programme is the A2P (application-to-person) Fraud Framework which identifies 13 fraud types that are a persistent threat to building trust and sustained growth of the enterprise mobile messaging ecosystem.
Phase 2 of the Programme sees the industry collaborating to intensify its impact, by creating practical solutions to tackle the fraud types identified. An Enterprise Messaging Code of Conduct, focused in A2P SMS in its first release, has been developed by the Working Group and an industry consultation has been launched. Open until 27th October, it kicks off this week with a workshop hosted by the UK's National Cyber Security Centre.
Through self-regulation the goal is to protect consumers, demonstrate ethical responsibility and maximise value to all companies involved in the value chain. Backed by a Trust in Enterprise Messaging Badge for companies signing up to the Code participants will be able to report fraud and access a suite of tools & services.
Companies participating in the Future of Messaging Programme include BICS, BulkSMS, CLX, DIMOCO Messaging, Infobip, Infracast, iTouch, JT Global, Mitto, MMD Smart, Mobilesquared, OpenMarket, RealNetworks, R&D Communications, Telefonica and TWW do Brasil.
MEF's COO Joanne Lacey commented: "The Future of Messaging Programme was created in recognition of the need for industry collaboration.
In its first phase, the working group achieved a common understanding and delivered solid foundations on which to now develop global enterprise messaging fraud control tools and practices, whilst continuing to provide tangible business benefits for all participants.
We're really excited to announce the next phase in the programme's roadmap. The fraud work stream will initially focus on A2P SMS thereby supporting a $60 billion market hampered by consumer fraud as well as network and commercial exploitation.
Globally, it's an exciting time for enterprise messaging with new technologies and use cases gaining traction. The programme participants' proactive approach to self-regulation will help to accelerate the growth of a sustainable ecosystem for all stakeholders.
We actively welcome industry contributions during this consultation period and encourage anyone in the value chain to consider joining the programme to take a leading role in shaping the future of messaging."
Find out more about the Future of Messaging Programme
MEF's Future of Messaging Programme enters its second Phase in September 2017 and aims to address the need identified by the programme's global participants to collaboratively develop enterprise messaging fraud control tools that allow the industry to call out fraudsters and reduce the number and impact of enterprise messaging fraud incidents.
For more details please contact us