VR is great to use but tough to sell. No one cares about watches. You can shove the new wearable idea in your ear. Phones have a problem – they're too awesome. Tim Green went to MWC16 and he's boiled down four days of noise into 15 easily digestible nuggets…
This week, I've been among 91,000 men and a statistically insignificant cohort of brave females pounding the halls of the Fira in Barcelona.
Welcome to Mobile World Congress.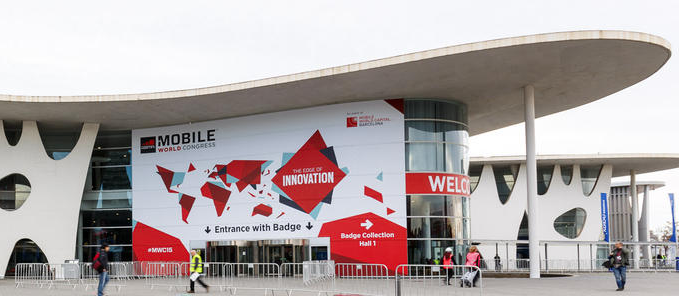 VR is a tough sell. It's hard to illustrate. Show the graphics and it looks like any old game. Show people using it and, frankly, they look like dorks.
It's hell on the feet. And these days, not kind on the eyes either (I'm talking about you, VR headsets). But, hey, it could be worse. We could be doing something genuinely gruelling. Like coal mining or social work. Or re-forming a 90s boy band.
It's not so bad flitting about looking at futurist tech and asking industry people big questions like: how long till 5G? Can the IoT be secured? Have you seen the actual aeroplane in the innovation zone?
Actually, for all the chaos and the searing ankle pain, MWC does give you a great snapshot of the industry. We're lucky people.
So here are my observations. 15 of them – in quick fire form.
The non-physical SIM is coming
Is it realistic to buy and then fit a plastic SIM into every wearable or smart device? No, of course not. Which is why the GSMA has been busy working on a software based SIM instead. Now, this is tricky. Having a network connection you can configure over the air makes it very easy to switch between carriers. That's not good for MNOs. But they also want the IoT/wearables space to grow.
Hence the GSMA's Consumer Remote SIM Provisioning initiative. This puts an embedded SIM in the device, which can be switched between different networks remotely. It takes up less space and also means accessories don't have to be tethered to a phone. The https://mobileecosystemforum.com/wp-content/uploads/2022/07/MEF-Day-One-104-Large-1.pngsung Gear S2 smartwatch is already using it.
Virtual Reality excites MWC more than phones do
The queues said it all. At HTV's Vive stand and https://mobileecosystemforum.com/wp-content/uploads/2022/07/MEF-Day-One-104-Large-1.pngsung's rollercoaster and submarine installations, they lined up for hours. After lying dormant for 20 years, VR was everywhere at MWC. It's obvious that the big tech companies are placing a massive bet on it. HTC is certainly all over the concept.
But VR is a hard sell because it looks so stupid
For all the hunger to try it out, I personally am bearish on VR. Certainly in the short term. Vive and Oculus are very expensive and each requires pricey PC hardware to make it live. That will exclude the masses. Moreover, VR is a tough sell. It's hard to illustrate. Show the graphics and it looks like any old game. Show people using it and, frankly, they look like dorks.
Facebook wants you to share social VR
Why did Zuck buy Oculus? Certainly not to sell a few games. He wants people to share their VR experiences and link up with friends on Facebook by strapping on a headset. Imagine the deluge of VR baby movies.
This Zuckerberg pic will become part of history
The photo of the Facebook CEO strolling to the stage unnoticed by hundreds of journalists in headsets is one for the history books – whether VR is a success or not. It's a fabulous image.
Phone makers are not competing with each other but with themselves
This year's handset has some serious competition: last year's handset. Look at the Galaxy S7. https://mobileecosystemforum.com/wp-content/uploads/2022/07/MEF-Day-One-104-Large-1.pngsung made the right noises, but the S7 is just another superb upgrade on an already superb predecessor. Across the board the OEMs are becoming victims of the across-the-board brilliance of the models they've already launched.
…That said, LG went modular and won the handset plaudits
The press loved the LG G5. A fabulous bit of kit. But what really made LG stand out was its decision to do something radical and make the G5 modular. Thus, you can pull out the bottom of the phone and plug in an accessory (LG calls them 'friends') to beef up the camera, sound or battery. Google had threatened to do this with Project Ara though it never got past the demo stage. Props to LG, though one wonders if enough people will want to actually buy this stuff rather than just admire the idea.
No one cares about wearables (not this year)
Yes, there were watches, wristbands and even some jewellery. But no one was paying much attention to them. After two years of drunken hype, wearables are nursing a hangover. Notifications and cute faces are simply not enough for the mass market.
Hearables are now a thing
The Scarlett Johansson movie Her moved a step closer to reality this week. Well, in theory. Sony launched its strange new in-ear personal assistant, the Xperia Ear. It's a tiny Bluetooth-connected voice-controlled personal assistant that fits into your shell-like. The Ear can take calls, send messages, get traffic updates, check the weather and provide directions. It connects either to Sony's own app or to Google Now.
Hard to see it taking off. People are a bit funny about voice recognition in public. It's not the first of its kind. Last year, Motorola launched the Hint, with little visible success.
'Sign in by phone' may actually be happening
Since GSM the operators have been searching for something they can all get behind without too much squabbling. They failed with apps (WAC) and rich media messaging (RCS) to name two. But prospects look better for mobile ID. The GSMA says 2bn people can now log in to sites and apps with their mobile number using Mobile Connect.
Microsoft Surface is properly part of the device universe
If there is a category for smartphones, phablets, tablets and laptops, perhaps there should now be a space for Surfaces. People loves the Huawei Matebook – a real MS Surface wannabe. We'll see loads more of these devices now.
Apple is still everywhere and nowhere
It's such a given that Apple will not be at MWC that no one questions it. Think about it, though. It's just weird. The industry's pace setter, its developer platform of choice, the OEM that makes the phones in most delegate' pockets. Not there. Of course, its does have people there. I chatted to one high profile Apple exec I happen to know a bit. Predictably, she had removed her badge.
5G is looming
In 2015, 5G was a topic for the network geeks. This year, it moved into the mainstream. There's still no universally agreed standard, but people are now talking about 2020 as launch year and about possible applications. The consensus is that, yes, it will be super quick. But more usefully, 5G can handle infinitely more concurrent connections. Great for IoT.
Mobile advertising needs a big new idea
MWC witnessed a highly fractious panel session about adtech. It was fractious because it featured Roi Carthy from mobile ad blocker startup Shine. He doesn't mind a fight, and he let his co-panellists have it. You get the feeling that programmatic advertising is at a crossroads right now. New ideas are needed to combat consumer mistrust, click fraud and falling ROI. Mobile is an amazing channel for ads. But it certainly needs new thinking.
Features Editor

MEF Minute

  
Auto makers really want you to pay by car
Visa has made its Visa Token Service available to auto manufacturers. It means that, in theory, you can dematerialise your card into your dashboard just like you do with your iPhone. During MWC, it teamed up with Honda and ParkWhiz to show how you could pay for gas in one click without leaving the car.
It may take years, but it shows what's possible when you turn plastic into software and use tokens to protect the data flying over the air.