Get the latest announcements from MEF Members across the mobile ecosystem globally in this weekly review of member news…
Vonage (Nasdaq: VG), a global leader in cloud communications helping businesses accelerate their digital transformation, today announced new research revealing that about half (47%) of consumers worldwide have increased their use of digital channels to engage with businesses and service providers over the past 12-18 months and 87 percent expect to maintain or increase this level in the next 6-12 months. Further, consumers' preference for connecting with businesses using video has soared by 300 percent since January 2020, while preference for messaging apps such as WhatsApp, Facebook Messenger and Viber, has doubled.
"COVID-19 has fundamentally changed how businesses operate and how consumers interact with those organisations," said Joy Corso, Chief Marketing Officer for Vonage. "Our research shows that digital channels have rapidly emerged alongside traditional methods of communication, with sharp and sustained growth in video, chatbots, app-based messaging and calling, while email and traditional voice calls remain relatively status quo. This underscores the need to connect with and engage with customers in multiple ways, in their preferred modality. We are in an age where customers expect ultra-fast, seamless and dynamic communications and engagement."
Sinch AB (publ), a global leader in cloud communications for mobile customer engagement, today announces that the acquisition of MessageMedia has been completed.  MessageMedia serves more than 60,000 customers and offers a web-based software-as-a-service (SaaS) suite that is purposefully tailored to meet the specific needs of small and medium-sized businesses. Sinch announced that it had entered into a definitive agreement to acquire the company on June 9, 2021.
"With its easy-to-use software MessageMedia has demonstrated how businesses can use interactive messaging services to create a better customer experience. Now that we have completed the acquisition, we have the best team in the industry to capitalize on that growth opportunity", comments Oscar Werner, Sinch CEO.
With the transaction closed, MessageMedia will be part of the Sinch's Messaging segment. The press release from June 9 2021, a webcast and an accompanying slide deck, are available in the Reports and Presentation section on investors.sinch.com.
Consumers have changed their payment behavior in recent years, embracing the digital realm to make their purchases in physical establishments. Contactless cards, but also the mobile phone and even the watch (as long as it is smart or smartwatch), have been displacing cash in a trend that has accelerated with the help of covid-19.
For months, in the harshest moments of the pandemic and mobility restrictions, "mobile consumption increased exponentially, putting aside cash for fear of handling it, and favoring the use of alternative means of payment, "he says. Roberto Monge, COO of Telecoming, a Spanish company specialized in developing digital services monetization technology. In response, many companies had to strengthen their online payment tools and channels to mitigate the drop in demand.
In addition to the factors associated with the health crisis, the change in habits is being driven by the significant decrease in access points to cash. According to a report by the Bank of Spain, at the end of 2020 the number of bank branches had decreased by about 50% compared to 2008, while the total number of ATMs it has been reduced by 20%.
Speculation over a likely rejection of Telenor Group's attempted sale of its troubled operation in Myanmar to M1 Group intensified, with The Financial Times reporting the seller was assessing alternative buyers.
Citing sources close to authorities within Myanmar, the newspaper claimed although the sale had not been formally rejected, those controlling the communications ministry had already decided to turn down the deal.
The regulator is set to push for the unit to be sold to a company based within the country, it added, with Telenor assessing its options. The operator group agreed to sell the unit to Lebanon-based investment company M1 Group in July, having already taken a massive write-down on the business amid a period of political unrest in the country.  On announcing Telenor's attempted exit CEO Sigve Brekke cited increasing difficulty in conducting business in the country, concluding a sale was "the best possible solution".
XConnect, a provider of world-class numbering intelligence solutions, has launched its Validator solution to enable carriers to rapidly identify invalid A-numbers and protect against surcharges on both fixed and mobile voice traffic. Carriers can pre-validate numbers before they connect calls, ensuring they do not face surcharges from terminating partners, protecting margins. A-Number Validator provides rapid access to XConnect's Global Number Range (GNR) data via SIP APIs, ENUM, or HTTP and can be deployed in days, rather than weeks or months.
"In the latest move around Global OBR surcharges, carriers have recently been notified about surcharges that will impact any traffic they are terminating in the UK. They need to prepare to manage their exposure to these new surcharges and ensure predictable margins. A-Number Validator rapidly protects a carrier's business from unnecessary charges and enables them to terminate traffic with confidence," said Eli Katz, founder and CEO at XConnect.
XConnect's A-Number Validator is carrier-grade and scalable, to support billions of minutes per month. It has a track record of successfully delivering carrier grade availability when returning queries from its database. Some of the largest and most innovative voice and messaging providers use XConnect's number intelligence to deliver traffic with greater levels of precision, performance and trust.
HONG KONG – OmniShop, the platform that transforms existing eCommerce websites into native mobile applications, is integrating IPification Know-Your-Customer technology and the one-click phone verification solution. OmniShop mobile commerce apps will now be able to provide their users with seamless mobile identity verification, completed within milliseconds.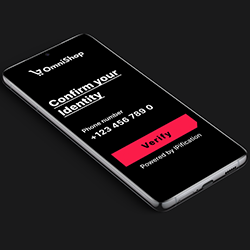 OmniShop helps existing webshops easily create branded native mobile app commerce experiences to cater to the mobile-first user, and significantly increase their conversion rates in the process.
Having developed numerous mobile shops over the years, the founders decided to automate this process and help brands across various verticals enhance their value offering and grow customer trust with world-class mobile apps.