MEF Connects Rich Communications sessions are all available to watch on demand now – Here, Kirusa CEO Inderpal Singh Mumick shares some P2A messaging fundamentals, and explores how users can discover and start chatting with bots, the RCS standards for directories and practical solutions for discovery and deep linking support in messaging clients & MaaP platforms.

The expert panel goes on to discuss how the industry can grow the person-to-application market and consists of:

Inderpal Singh Mumick – Founder, Chairman, and CEO @ Kirusa
Kim-Fredrik Schneider – CEO @ Abi Global Health
Reshma Sandeep Das – Senior Product Manager Product Marketing, Innovation Europe & Spain @ Orange
Gavin Webster – SVP @ WIT Software
Bola Afuye – Principal and Founder @ Perform Marketing and Analytics
Tim Green – Editor @ Mobile Ecosystem Forum – Moderating
Watch the session in full below: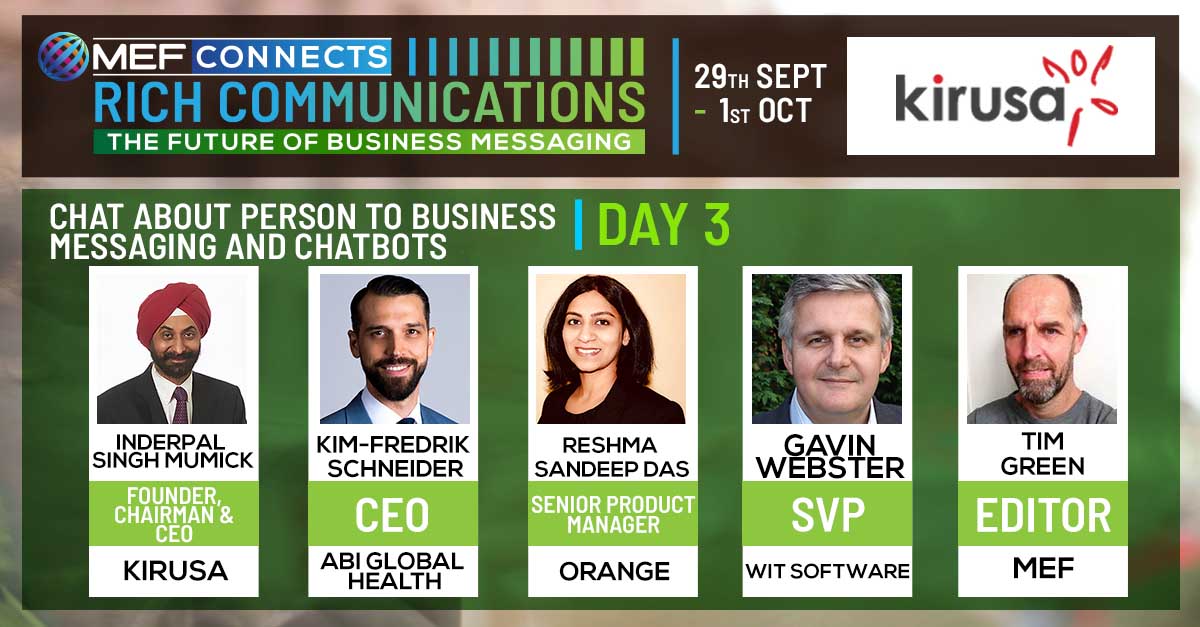 Over 3 days, MEF Connects Rich Communications brought together enterprises, brands & agencies to connect online with MNOs and messaging providers to showcase the business messaging channels that are transforming customer engagement. If you missed a session, check out our Video On Demand page below. MEF Members can visit the Member only On Demand page to get presentation slides as well.