Rich messaging is ready to complement SMS. This introduces an exciting world of video sharing, conversational commerce and service bots to the A2P space. Hurrah. Brands need to ensure they have every rich channel covered. Ahead of MEF Connects Rich Communications on September 29 – 1st October, we review the options…
In 2014, Facebook paid a jaw-dropping $19 billion for WhatsApp. Why jaw-dropping? Because, while WhatsApp did have a billon users, it also had no discernible income.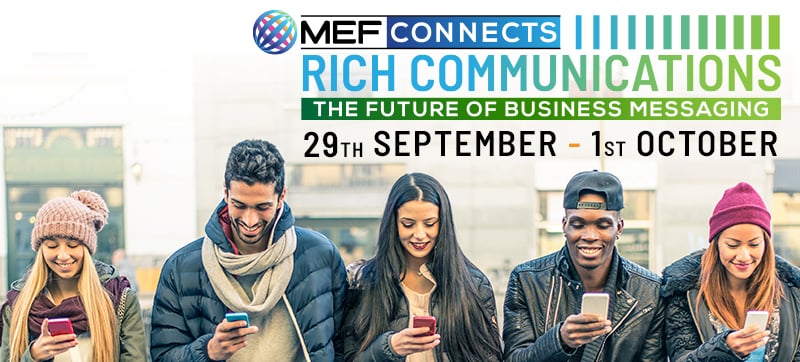 Mark Zuckerberg didn't seem bothered. Quite the contrary. At his keynote for the 2014 Mobile World Congress, he said: "I think that by itself (WhatsApp is) worth more than $19 billion."
Six years later, we still don't know for certain if he is right. He probably is though.
WhatsApp now has more than two billion users. It makes little money. There's no advertising on the channel. However, it does have a business messaging strategy.
And its prospects are good. According to Mobilesquared, just 992 medium and large businesses used API at the end of 2019. But it predicts this will rise to almost 55,000 by 2024.
Needless to say, WhatsApp is not the only option available to any business looking to explore the exciting bounty promised by rich messaging: read receipts, group chat, product demonstration videos, verification codes, conversational commerce, customer care service bots, live sketching, verified sender status etc.
They also have to factor in (depending on geography) RCS, Facebook Messenger, iMessage/Apple Business Chat, WeChat, Viber, Line, QQ and others.
They can't afford not to. According to Juniper Research, RCS alone will deliver 56 billion A2P messages by 2023, while OTT (non-RCS) business messaging platforms will deliver 236 billion messages in the same time frame.
It was all so much easier when SMS was the only show in town.
Today, any business wishing to serve all of its customers through rich messaging will need to offer a multi-channel service.
Happily, there are plenty of intermediaries who make this straightforward. They plug the various messaging apps' APIs into their CPaaS (communications platform as a service) systems, making it simple for their customers (brands/enterprises) to cater for all user preferences.
Of course, it's one thing to offer access via different channels, it's another to master the subtle differences between them. And there are differences.
According to Juniper Research, RCS alone will deliver 56 billion A2P messages by 2023, while OTT (non-RCS) business messaging platforms will deliver 236 billion messages in the same time frame."
RCS is the next-gen messaging system supported by the world's telcos. As such it is a default channel like SMS; it comes pre-installed on operator handsets and is fully interoperable. RCS is rolling out gradually, and only on Android devices. 90 operators have launched it so far.
Businesses are already running RCS services, but the commercial models are still being worked out. Some MNOs charge per chat session, but other options are possible. It depends on the use case. MNOs might even consider revenue share when RCS is used as a sales channel.
Like RCS, Apple Business Chat offers a direct channel through which customers can ask questions, schedule appointments and even shop – all from the same chat thread.
But there is one important distinction: Business Chat is purely user-driven. Apple does not let brands push messages out to their customers via the channel. Instead, they merely display the Chat button in multiple destinations – Safari, Maps, Spotlight, native app and Siri – and wait for customers to start a conversation.
Apple has a few things in its favour thanks to the closed nature of its iOS ecosystem. Business Chat doesn't require customers or businesses to open an account, as they would with other chat apps. Anyone with an iOS device can just use it.
Businesses can also send files up to 100Mb over the channel. UK energy provider npower used this feature to share rich media messages with customers illustrating the benefits of switching to a smart meter.
Perhaps even more important, Business Chat can support shopping and payment. Transactions are all processed and authenticated on the device using Apple Pay. As such, there's no need to migrate the user to a third-party payment gateway (which can often cause the customer to abandon the payment).
Like Apple, Google is also ramping up its messaging activity. Its Business Messages service lets customers start rich conversations with brands via entry points such as Google Maps, Search and mobile websites.
Meanwhile there are considerable differences between WhatsApp and Facebook Messenger – despite their shared parentage. WhatsApp's business offering is restricted to business profiles, product showcases and messaging. There's no shopping or advertising option yet.
Facebook Messenger is much more fully-featured, with a sophisticated advertising platform, m-commerce and the option to easily create service bots.
In addition to all the product differences between the different OTT channels, there is also the business model distinction. They all monetise differently.
This is another area where the intermediaries can help.
Ultimately, for brands, the important thing to do is to ensure that all messaging are supported, and that there's a seamless link between them.
When the channels are joined up, companies can to deliver customer service that:
Offers a consistent experience across every channel
Prioritises the right channel at the right time
Demands less effort from customers and agents
Is personalised to the user's circumstances
This is the difference between multichannel and omnichannel. When the system is joined up, record keeping gets better. You can scrutinise the choices customers make, how long they spend on each channel, and so on. You can use these insights to keep improving.
There's a lot to think about. So make sure you join us on the 29th – 1st October to get a stack of valuable insights.
At MEF Connects Rich Communications you can find out more about business messaging and the OTTS from Facebook's Ankur Prasad – Product Marketing Director for Facebook Messenger (day 1) as well as updates on Business Messages from Google (day 2) and Rich Business Messaging Roll out (day 2 and day 3). Analysts Mobilesquared, Analysys Mason and Juniper will also be giving briefings on the OTT landscape.

MEF Connects Rich Communications features the latest use cases from brands revolutionising their customer engagement strategies with RCS, WhatsApp, Apple Business Chat and more. Part of MEF's Future of Messaging Programme this all-new digital event brings together enterprises, brands & agencies to connect with MNOs and messaging providers to showcase the business messaging channels that are transforming customer engagement.