Ahead of Europe's first seminar on RCS, mGage's Nick Millward, VP of Commercial & Product, explores the use cases of Rich Communications Services and how they will provide advanced messaging for consumers across a variety of types of service.
At the recent Mobile World Congress Barcelona 2018, one of the hottest trends was RCS (Rich Communication Services) business messaging. Google announced at the show that more than 50 global carriers in 40 countries now support RCS – a significant step forward in terms of industry acceptance, with another 50 carriers expected to launch RCS  before the end of the year.
It was perhaps the most talked-about topic on the show floor – the GSMA said a number of its RCS-related events or discussions were the most over-subscribed in the history of MWC. It is safe to say that RCS is gathering significant momentum.
RCS: Supersized Text Messaging
The simplest way to describe RCS messaging is as a "supersized" version of text messaging. It combines the ease-of-use of SMS messages with rich media features you would typically expect to find inside of an app. The result is businesses can deliver powerful messages to consumers in a way they are familiar with and trust.
Here's an illustration showing the difference between a traditional SMS message and an RCS business message:
At the heart of RCS business messaging is the ability to utilize a full range of rich media to create unique, two-way conversations. This provides customers the ability to immediately respond without leaving the messaging ecosystem. In early trials , brands are seeing RCS deliver 20 times higher conversion rates compared to SMS, with customer satisfaction increasing 20 percent in some instances.
Here's a look at just a few examples of what brands can do with the advanced rich media features inherent to RCS business messaging:
RCS Makes Advanced Customer Messaging Possible
RCS business messaging opens up a new world of possibilities for brands to connect with customers for marketing and customer care purposes. While brands in any industry can benefit from the advanced features of RCS, let's highlight a few examples in key vertical markets that will benefit immediately from RCS business messaging.
Financial Services: Banks, credit card companies and other financial service providers can use RCS business messaging to provide a streamlined and interactive customer care experience. RCS messaging can provide a platform for chatbots that can be used to provide quick updates to customers about their banking or credit card accounts.
RCS messaging allows customers to simply click a button instead of having to remember and type in keywords (such as BAL or PAY) when communicating with their bank to get account information. RCS messaging can also speed up brand-initiated communications such as fraud alerts by allowing users to instantly tap a button to confirm an account activity or dial a fraud specialist.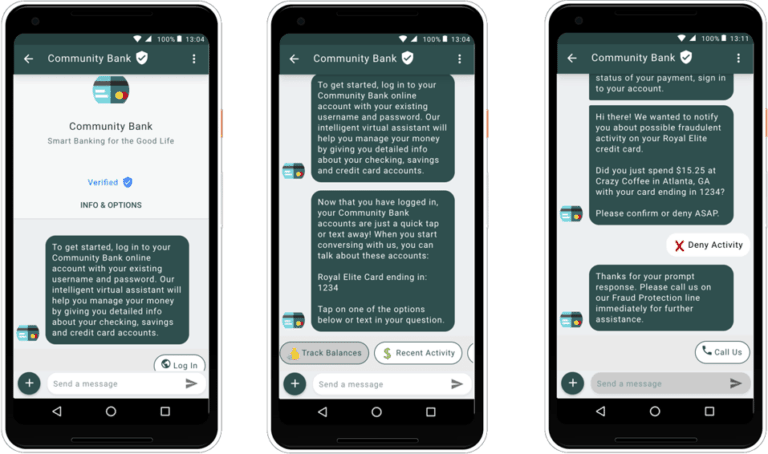 Retail: Brands can leverage the advanced features of RCS messaging to provide their customers with a personalized and compelling messaging experience. This can include:
Using rich media such as audio, video and image carousels to showcase special deals and new offers.
Facilitating easier redemption of coupons using dynamic QR codes.
Making in-store appointments for visiting a salon, starting a gift registry or other reasons.
Finding the nearest store location.
Utilities: With RCS messaging, cable providers, utilities and telecom companies can create a virtual customer support agent to instantly perform many of the functions a human agent can do, such as:
Troubleshooting basic issues.
Providing one-touch answers to Frequently Asked Questions.
Scheduling appointments, including sending out reminders and providing a convenient way to reschedule.
Allowing customers to track a service technician's location in real-time so they know exactly when to expect them to arrive.
mGage is working directly with Google and have full integration with Google's RCS Business Messaging Platform. RCS capabilities have been integrated into our Communicate Pro campaign management tool, include the ability to check devices and fallback to an SMS message if the device is not RCS-capable.
Future RCS enhancements to Communicate Pro include improving existing Conversational Messaging capabilities and adding support for Chatbot-style programs. In addition, we will be adding RCS API services to our gateways.
RCS is truly the future of business messaging. If you are a brand using text messaging to communicate with your customers, it's critical you prepare for RCS messaging or risk being left behind. As Google partners for RCS, we are launching a pilot program to help companies get a head start on their RCS implementation.
This post originally appeared on the mGage blog and is reused with kind permission.
Join the first Europe's seminar on RCS
mGage is partnering with Vodafone, GSMA to bring to London the first Europe's seminar on RCS.

Join a panel of experts within the A2P messaging market and learn the basics of RCS, including how it benefits brands and consumers. You'll get a chance to see a demo from mGage and Vodafone, learn more about the timeline for RCS and ask questions of our experts.