Get the latest announcements from MEF Members across the mobile ecosystem globally in this weekly review of member news…
Gemalto, the world leader in digital security, believes that the implementation of PSD2(Payment Services Directive 2) offers European banks a unique opportunity to deliver digital innovation, robust protection and seamless user experience that will be critical in a new era of open markets. The Regulatory Technical Standards (RTS) have just been published in the EU Official Journal, and detail the responsibilities and obligations of all banking and payment stakeholders concerning access to account, customer data protection, user convenience, and payment security.
Gemalto believes that long term success will be built around solutions tailored to individual requirements, whilst drawing on products and services already proven to deliver the core principles of PSD2.
"The clock is ticking and banks must face up to the challenge of meeting all the requirements of PSD2," said Patrick Kleuters, SVP Europe, Banking & Payment, for Gemalto. "The good news is that we have integrated solutions that can achieve these new objectives: our Mobile Authentication & Biometrics suite to forge smoother and secure digital journeys for customers, or our Assurance Hub to manage the risk assessment just to mention a few. As a recognized leader in this field, Gemalto is committed to offering banks expert guidance as they seek to innovate and adapt."
Barclays has teamed up with seven watch makers, including Guess and Timex, to bring its bPay wearable contactless payments technology to the masses.
Guess Watches, Mondaine, Timex, Kronaby, Suunto, Adexe and LBS have all agreed to embed the bPay chip into a host of devices, from traditional timepieces to fitness trackers.
Building on last year's Fairfield Contactless watch, Timex will roll out eight bPay-enabled pieces in May, while Guess is working on a six watch strong range. LBS will introduce a contactless strap that can be fitted to any watch.
Barclays says that wearable payments are surging in popularity, with spending via bPay jumping 129% year-on-year in 2017.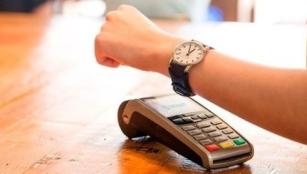 MYPINPAD, an innovator in payments software authentication solutions and Ingenico Group, the global leader in seamless payments, have announced a partnership to pilot 'PIN on Mobile' (PoM) solutions for SME merchants & mobility transactions in Europe.
PoM is the latest innovation in payment acceptance for in-store transactions and is set to revolutionise the industry. It has been developed to enhance and expand the current mPOS market offering and to meet the ongoing demand for increased card acceptance points across the globe.
Global Head of Mobile POS Solutions at MYPINPAD, David Poole, added: "Ingenico is an ideal partner for our global PoM delivery. Their knowledge, understanding and reputation for securing payments is renowned globally. Together we have produced a pioneering payment solution that is designed to meet scheme requirements. We know that ubiquitous smart devices have a significant role to play in powering the growth of card acceptance points and we expect to lead that drive. PoM has the potential to become the most widespread form of face-to-face payment authentication."

SpotX, a video advertising and monetisation platform, has extended their strategic partnership with Pluto TV, the free OTT television service in America.
As part of the renewed collaboration, SpotX will match media buyers to Pluto TV's premium inventory and power the programmatic monetisation of Pluto TV's free, over-the-top (OTT) content.
Pluto TV offers over 100 free live channels and on-demand programming and has partnerships with TV networks, movie studios, publishers, and digital media companies. The company entertains millions of monthly unique users who tune-in to watch premium news, TV shows, movies, sports, live events, cartoons, and trending digital series on a free, ad-supported service.
"As viewership continues to grow in OTT, many advertisers are unsure about what to buy in the space, or how to effectively buy it," said Mike Shehan, co-founder and CEO at SpotX. "Pluto TV offers a seamless, TV-like viewer experience, and we're excited to help create a more powerful offering by connecting advertisers with their inventory."
Twilio the leading cloud communications platform, today announced Twilio Flex, the first contact center platform that gives businesses complete control of their contact center experience. With Twilio Flex, companies can instantly deploy an omnichannel contact center platform and also programmatically customize every element of the experience including the interface, communication channels, agent routing, and reporting to meet the unique needs of the business.
With the launch of Flex, Twilio introduces a new type of platform for applications which has the potential to disrupt traditional monolithic application vendors in the same way API platforms disrupted traditional infrastructure services for communications, compute and payments. Flex is built on the same elastic Twilio infrastructure that supports hundreds of thousands of contact center agents and handles nearly 40 billion interactions a year.
"Hundreds of companies including ING Bank, Zillow, Simply Business and National Debt Relief have built customized contact center solutions using Twilio's communication APIs," said Al Cook, head of the contact center business at Twilio. "With Flex, we are providing a contact center platform that has a point-of-view based on the best practices we've learned, offers options for those who want to get up and running quickly, and gives businesses unlimited flexibility as they design their customer experiences."