Michael Becker, shares comments from Cameron D'Ambrosi, Managing Director, Liminal, recorded at the recent Personal Data & Identity Working Group meeting, who shares his thoughts on the current and future state of the global identity infrastructure market ecosystem.
Have you heard? Mobile is a big deal. The majority of the world's population carries a mobile device, and there are billions of connected devices integrated throughout nearly every part of our daily life. Why does this insight matter? Putting it another way, mobile is the guiding light that leads enterprises down the path of commercial success.
Commercial success requires the 3Cs: Connection, Communication, Commerce. One of the four core threads that connect these three stepping stones to commercial success is mobile; the other three are communications, content, and identity (aka personal information). Everyone in an enterprise must understand this, from the C-suite to the employee. Why? Because today's connected [mobile] individual is the point of everything along the customer journey. They are the points of:
"We see the mobile device as playing an almost irreplaceable role in terms of this linkage between a physical person in live space, or meatspace, you might say, and the digital realm."  Cameron D'Ambrosi, Managing Director, Liminal 2021 – MEF PD&I Working Group Guest Speaker, 2021
Discovery
Consideration
Sales/transaction
Engagement
Loyalty
Exit
At each point of engagement, mobile identity plays an irreplaceable role. We are still early days in mobile identity, but the market is shaping and reshaping up quickly.
Mobile Identity: A Pillar for Commercial Success
Mobile identity sits at the heart of most commercial experiences. Identity can help organizations know, with varying levels of assurance, who is on the other end of a device (aka "know your customer"); likewise, soon but not quite yet, it will enable individuals to know the enterprise too (aka "know the sender").
The ability for enterprises and the connected individual to know, with absolute assurance (aka deterministic identity) or with varying degrees of assurance (aka probabilistic identity), who the human or entity is on the other end of a device is extremely important. When we have identity assurance, we can have transparency in our transactions, communications, and relationships. This transparency fosters trust, which in turn leads to lasting connections, effective communications, and commerce.
Moreover, this transparency will allow organizations to better serve people at every stage along the customer lifecycle (acquisition, consideration, conversation, adoption, loyalty, and off-boarding), while simultaneously meeting their contractual, legal and regulatory obligations and protecting themselves and their stakeholders from fraud and other cybercrime. With the systematic foundation of trust that mobile identity enables, a world of abundance can lay out our feet.
Liminal's Perspective on the Global Digital Identity Ecosystem
At MEF's Personal Data and Identity working group in September, Cameron D'Ambrosi, Managing Director, Liminal (formerly One World Identity), joined the meeting to  share his thoughts on the state of the global identity infrastructure market ecosystem, both today and in the years to come.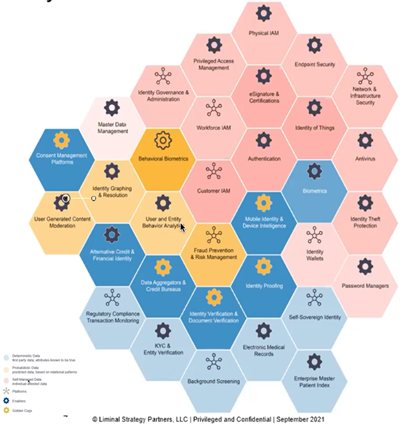 Cameron shared Liminal's framework for evaluating identity infrastructure, the "Honeycombs." He talked through the structure of the Honeycombs, how "anchor" identity solutions sit in the center, adjacent solutions fuse together to support use cases, and various other solutions specialize in the three types of data: deterministic, probabilistic, and self-managed, and their persistent or transitory states. He touched on a number of important topics, including;
The Liminal "Identity Honeycombs" framework
The three data types and their two stages
Digital ID: A How, not a What
Use Case examples
Strategies for navigating the landscape
Risk/reward management
Identity orchestration
And more
Personal Data and Identity at MEF
MEF undertakes and engages its members in a range of initiatives that generate insights, stimulate interaction, and make a positive impact. Much of the MEFs work happens at a grassroots level in its workgroups and holds free-to-attend industry events. For example, the Personal Data & Identity Working Group, chaired by Andrew Parkin-White, has its focus around key activities and outputs including:
Mobile identity
Emerging personal data economy
Growth and application of people-centric regulations (e.g. GDPR, CCPA)
Evolution of mobile verification and authentication
Annual MEF global trust study
MEF's global survey of 450 enterprises examining attitudes, plans and opportunities in the areas of personal data, identity, verification and authentication
The working group meets monthly to discuss and prioritize the effort across all its initiatives. For more information contact Andrew.
An Invitation to Become Involved
I hope you enjoyed this peek into the identity infrastructure marketplace. If you have thoughts and ideas as to where you think the marketplace is going, please do reach out.
With MEF, I'm working on a personal data & identity market assessment report. I'd love to connect with you, see MEF Personal Data & Market Assessment Project (Schedule Interview and Share Insights) to learn about the project, schedule an interview with me, or share your insights and resources.
Join the MEF Personal Data & Identity working group

The MEF Personal Data & Identity working group is undertaking a PD&I market assessment effort.

Please reach out to Michael Becker if you have insights (consumer insight, operational insight, solutions and technical insight, use case, recommended organization and leaders) that you think can help the MEF and its members make an impact.