Don't miss the latest news on devices, networks, solutions and services that will shape the mobile industry in 2020. The biggest telecom event of the year has happened (online mostly), but many have missed it completely. Here, Dario Betti, MEF's CEO, shares what the digital connectivity ecosystem needs to know.
A stop to MWC 2020 in Barcelona does not mean that the industry stops: announcements and press releases continued as expected. However, MWC was traditionally the occasion for many mobile professionals to stop business as usual and immerse themselves in the announcements, discussing with clients and competitors, testing handsets and services hands-on. Many will be missing the direct insight that MWC provided. Here, MEF can step in and give you a full round-up of the MWC that never was.
Samsung devices: the future is foldable, spooky cameras and more high prices
In London Samsung announced its next device with a foldable screen the Samsung Galaxy Z Flip (a clamshell form with a foldable screen). The tech problems for foldable devices abound across all vendors. Samsung promised that the issues of the Galaxy Fold from last year will be a distant memory: the hinge of its new device can sustain 200,000 open-close motions without damage (I know people that would hit that number in three to four of months though…!). It seems likely that foldables are a category still maturing in terms of hardware durability.
The price dropped: it went from $1,980 for the Samsung Fold to $1,380 for the new device, making it cheaper than the existing Motorola RAZR (at $1,499). Samsung Galaxy Z Flip provides good multitasking and a thinner form factor that the RAZR thanks to new glass material used.
The other announcement from the Korean company was the launch of the S20 series. No, do not worry, you did not miss a decade of Samsung phones: S11 to S19 series seems to have had the same unfortunate life as MWC 2020, chopped in one single blow.
The S20 might sound bigger and better than the Apple 11, a new war of numbers might be coming soon. It does not stop here, while Apple provides 2 tiers for its devices (a Standard and Pro version), Samsung is now promoting 3 tiers: S20, S20+ and S20 Ultra.
As expected, they are marginally different in size and camera specs, just as per Apple's offering. The marketing for the smartphone market is now resembling more and more the disposable shaving razor market. What would Gillette do your smartphone camera? Yes, you've got it: most have 2 cameras by now, Apple sports 3 cameras but now the Samsung's Galaxy S20 Ultra is claiming to be the most powerful camera-phone in the world, with 4 cameras on its back!
This might be a clear winner in terms of bragging rights. However, the auto focus at launch has failed to impress. Samsung had to announce an update for its software to deal with the issue. As the phone is not expected to reach shops until March the 6th many might not notice the glitch. At the moment the Ultra offers a spooky 100x zoom. Obviously, this is the perfect phone for spies, and voyeurs – these are clearly the only people that might truly need a 100 times magnification. Many more people might feel that their privacy is at risk: better invest in bigger and thicker curtains for your windows.
One thing that certainly differentiates mobile phones from shaving razors is the price: the S20 starts at $999, S20+ $1,199, the S20 Ultra will be $1,399. They all support 5G (but a 4G versions will also be made available in certain markets).
At the moment the Ultra offers a spooky 100x zoom. Many more people might feel that their privacy is at risk: better invest in bigger and thicker curtains for your windows."
Huawei Smartphones: better folding, new focus on own Apps
Huawei also presented its devices in London and via streaming: the lead device is the Mate Xs foldable smartphone (an updated version with improved durability of the foldable device and hinge). Its early version was actually only sold in China after the problems were found, the Xs will now be sold globally from March at an eye watering price of €2,499.
The Mate Xs is moving away from smartphone device category to launch a new smartphone+tablet+laptop. Some would note that you could comfortably buy mid-range smartphone, a tablet and a laptop for less than that, but you could not show off the foldable screen. The previous version of the Mate X was released too soon, but the updated version of the flagship brings quality under control.
The US$ 15 billion research and development spent in 2019 is transpiring. Huawei is proving that it is not a brand for low end phones. In terms of volume of devices sold the company is also a strong player. It claimed its position as the world's second-largest smartphone manufacturer, with 240 million smartphones shipped in 2019, representing a 16.8 per cent year-on-year growth.
Full support for 5G is now a must for all high-end phones and Huawei follows in this trend. Apple must be taking notes by now – not offering a 5G version by the end of 2020 would look remarkably odd for the Californian company. Huawei also launched its new tablet, the MatePad Pro, with a 14.6mm thickness and weight of 1.33kg.
Of note, Huawei is getting ready to replace Google apps and the Google Play app store, with its own services and App Gallery. The USA ban is having an effect, and China is getting ready with its local app response. This ramification of the Android world could have significant long-term impact for apps developers. Watch this space.
LG still competing on prices
LG announced the new V series phones – winning the prize for best tongue twister at un-MWC2020:  the "LG V60 ThinQ 5G". Luckily people were spared the embarrassment of struggling with the long name in Barcelona after a 'cerveza' or two. LG has been suffering from the progress from Huawei and other 'mid-range' device brands in the recent years.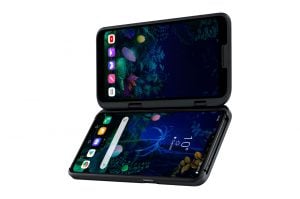 The LG V60 does not wow but it tried to provide a sensible priced phone with a bit of novelty. The device has an optional Dual Screen that should offer a foldable like experience. This is a case which attaches to the device and provides a second identical display with a 360-degree hinge (you might have seen this on existing devices such as the LG G8X and V50). The Dual Screen phones uses the USB-C connector to transmit the video and touch inputs, to charge the LG V60's impressive 5000mAh battery while using the two screen means you have to use a wireless charging unit. This LG compares in specifications to similar flagship phones without exceeding in any area, but it is a winner in the price category. You can play with two screens and receive 5G signals but spending less than $1,000.
Sony: looking for entertainment high-end
Sony's handset maker is struggling to find a financially rewarding segment, but it is continuing to offer high-end smartphone market with a proposition linked to entertainment and photography. The iXperia 11 II offer a triple-lens camera, with 20 frame per second definition on the imaging side. For the TV lovers it has and a front stereo speaker, 4K video resolution in 21:9 format and improved acoustic processors to enjoy video on the small screen. A special mobile gaming experiences with a partnership with Call of Duty Mobile is included for the device. Sony is presenting 5G across the series. A lot of claims, but they do not differ significantly from last year.
Networks and Silicon: Huawei is filling up 5G, Nokia may be slimmer
Huawei presented its new network solutions, with a series of improvements. First its products offer an optimised 5G line up (with version for home coverage, in-door, metro and rural). The focus on indoor was refreshing; much of the 5G improvements for users and IoT will be linked to in-building coverage.
Key advancements were also in energy consumption and support to AI for network optimisation. The focus on edge computing was common across all vendors. The processors lined up is now in full view: with a strong chipset offering Huawei is covering all steps. In the background the USA vs China discussion still looms for Huawei though.
The debate on the future Nokia has outshined its product line up: there are multiple discussions that a slimmer Nokia might be on the cards. Fierce competition has put pressure on the Finnish network equipment maker's earnings, and a series of restructuring, acquisition, and cost reductions has not managed to turn the corner.
Nokia's acquisition of Alcatel-Lucent in 2016 helped to broaden its offering in fixed telecom and gave higher exposure to North America. However, it may have slowed down product development as Nokia focussed on organisation and product restructuring. Advisers are now looking at potential sales of divisions and mergers. The results might be a smaller and more focussed Nokia and/or a competitor acquiring its product lines. Few options are available for suitors. As discussions with Huawei and ZTE are politically difficult that would leave Ericsson as the main partner. However, Samsung might have similar interests to review its product line up and favouring a market simplification.
No major news from the Qualcomm chipset people, but the company is driving a vision of a change in market with a push to virtual reality (AR/VR). This push is a long term one, but the processors people are getting ready.
MWC 2020 may have been rightfully cancelled, but with many MEF Members were still in Barcelona to hold meetings, catch up with colleagues and discuss the issues facing the Global telco ecosystem, MEF created a line-up of sessions across our programmes. MEF Members – log in now to watch the presentations and download the slides.