While this week's MWC Barcelona was cancelled, many companies decided to still travel and a series of events took place across the city. MEF responded to the request from its members and hosted a series of meet-ups to discuss key topics across the mobile ecosystem and provide a networking hub for those attending unMWC. MEF's CEO Dario Betti summarises some of the highlights. MEF members can access the presentations and recordings here.
Walking the streets of Barcelona this February was refreshing: the city was buzzing in the warm sun. Of course, the mass of MWC delegates were not around, but many tourists and telecom professionals still enjoyed the capital of the Catalunya region.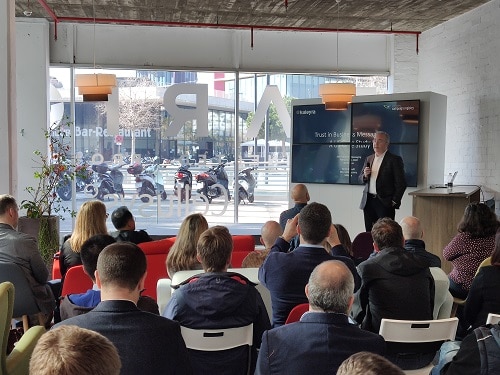 After the abrupt cancellation of MWC Barcelona a series of smaller gatherings were quickly set up by multiple organisations and brought together (by our estimation) over 850 industry attendees to discuss business across mobile, video, content, advertising, payments, messaging, security and IoT. This accounts for less than 1% of the official annual attendance of MWC, but still demonstrates a milestone for the industry calendar with one third of attendees participating in MEF and partner events.
Thanks to the support of members Cellusys and Summit Tech, MEF was able to provide an anchor space for meetings, and an open area for debate. The importance of face to face interaction is clear – and while large events may not be possible in the current conditions, smaller more focused events let the industries talk to each other and progress on important questions.
Below are some of the key messages from our working group discussions from MEF @ Barcelona 2020. MEF members that could not join in the event should feel free to watch the videos and share their views via the comments below or via email.
Messaging is evolving – innovate with it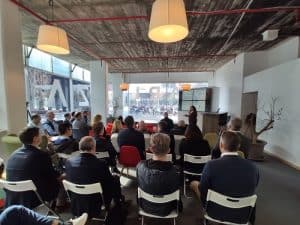 The messaging medium is developing fast and Doug Makishima CSMO of Summit Tech showed the potential of telecom services API: RCS, AR, Chatbots and IoT elements were mixed to create advanced interactive communication for consumers. The messaging world is changing: TikTok and Instagram are challenging our understanding of what messaging is, the industry needs challenge itself to rethink messaging. Bring your questions and ideas to the next Future of Messaging meeting.
Trust is key to maintain the growth in mobile messaging
There is no growth in messaging without security and trust. We have seen how email has been dwarfed by spam and fraudulent messages. MEF's Joanne Lacey provided the latest updates from the Future of Messaging Programme's fraud workstream including a Spanish version and review of the Code of Conduct.
Soren Schafft GM at Kaleyra, shared the new Campaign Registry for ten-digits number (long-codes) that is under deployment in the USA. The capability of controlling the veracity of the business messaging is a key value that the industry wants to maintain in mobile messaging. The MEF Messaging Fraud group is actively involved in solutions in multiple countries: share your experiences with the group.
Consumers driving change
Nick Millward, VP Europe at mGage previewed latest research from the UK that included multiple insights on how consumer understand and use messaging. Linking back to the session on trust it flagged multiple security concerns to be addressed with only 25% of smartphone users are confident about messaging security and privacy. It also highlighted support for multimedia and advanced security such as RCS as necessary next steps for the industry.
RCS Deployment – ready for interconnections
MEF's RCS working group discussed the next steps for RCS in terms of agreed best practice and the potential for greater collaboration across the industry. This was demonstrated in practice with the large attendance at another #unmwc event hosted by Mobilesquared and Kaleido Research looking at the latest business messaging market forecasts.
Digital onboarding – improving One Time Password (OTP) and more
MEF recently reported that Apple is proposing to standardise the format of OTP SMS for the two-factor authorisation processes, with messages to contain a URL that browsers and apps can recognise within the message to automatically complete the authentication process and minimise the risk of being directed to a fake site as part of a phishing scam. Overall this is seen as a positive step by MEF members.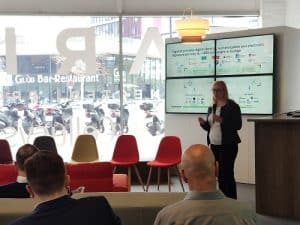 In Barcelona digital onboarding was a hot topic. Iain McCallum, MEF's Advisor on Personal Data & Identity led a session which featured Laurent Frainais, VP Carrier Partnerships Americas & Europe at Boku who spoke about header enrichment solutions available for merchants to confirm OTP and identity without a single action required from the user. Meanwhile Marie Austenaa, VP Market Development at Signicat shared a insightful case study on Telia. The Swedish MNO was challenged by increasing fraud in its digital channels but it manged to increase security while maintaining a simple customer journey through digital identity.
Iain McCallum, MEF Advisor on Personal Data & Identity, announced a forthcoming MEF whitepaper "Identity: towards a Password-less World". If would like to participate and share your experience email Iain.
Fraud in Direct Carrier Billing: let's act to stop it, together.
Payments over mobile is a mature model but at risk and the industry needs to unite to take on the fraudsters was the direct conclusion from the DCB session managed by MEF's feature editor Tim Green. Brian Pettit, Technical Director of MCP Insight and Roland Kneisler Executive Director Product at Freenet Digital shared live fraud examples and statistics from the most affected markets. In some instances, apps are injected with fraudulent code that can wake up and run an invisible web browser (at 0x0 pixel definition). The infected code can then start payments to the fraudster service. It should be said that most of these cases were reported as side-loading (outside of secure app stores) – but while an uncommon instance it still remains as key industry concern." Christopher Henseler Operations Director Central Europe at Telecoming is clear the long-term sustainability of this channel is dependent on better market education and market clean-up. The group agreed to continue the discussion in a MEF work group – if you're interested in getting involved contact Joanne.
AI Regulation: Clarity required
The first regulatory frameworks have been published in Brazil and in early whitepapers in EU regarding AI regulation. Rafael Pellon, MEF Board Director for LatAm discussed some of the early concepts and implications. The first learning is that regulators may have to better understand the complexities and rethink their approaches: AI is a new field and requires new thinking.
Concepts and implementations need more definitions. Currently companies are able to amass data and test algorithms without much limitations. MEF will collect the ecosystem's views on this topic with the goal of providing guidance. New GDPR-like regulation is in the making – the industry should be part of this dialogue. If you are interested to join the AI Framework Roundtable – contact us.
Mobile IoT: roaming is not IoT ready
MEF's final session in Barcelona saw intense debate when Andrew Parkin-White, MEF Advisor on IoT, controversially asked the group: are the MVNOs winning for flexibility in the IoT world? The answer seemed to be 'Yes'. However, is also true that in reality most telecom companies are turning into MVNOs to solve the problem of IoT roaming. IoT roaming is still not optimised for its use, and based on old consumer voice roaming. IoT roaming has to change – join the MEF Mobile IoT Working Group to speak up on the topic by emailing Member Manager Ewa Peppitt.
MEF Members can log in now to watch all the presentations and get the slides from the MEF sessions in Barcelona this year.