The evolution of M-Pesa from simple payment tool to full fintech solution is still underway. Here, Dario Betti, CEO of MEF, reports on the results of the latest addition to Safaricom's mobile money solution: micro-loans.
M-Pesa is the long champion of mobile payments in Kenya and a number of African countries. But success brings higher expectations, and it is now looking to expand in other financial services such as micropayments. As of November 2019, M-Pesa accounts for 33.4% of Safaricom's revenue (Safaricom is the Kenyan mobile operator that owns and runs M-Pesa, and part of the Vodacom/Vodafone group).
The financial growth of Safaricom is tightly linked to M-Pesa and its future growth- as the de-facto standard mobile payment in the country, M-Pesa has to look to other services to grow above the rate of GPD.
The evolution of services is nothing new for mobile payment giants:
M-Pesa started in 2007 with a simple mobile money transfer solution (and it biggest success),
By 2009 it added payments for services and utilities such as Kenya Power.
In 2011 it added international money transfer.
By 2012, M-Shwari, the savings and loans product was launched
By 2013, a full payment solution for goods and services had been launched with the name 'Lipana M-Pesa' (integrated with merchants)
In 2017, the platform added features such as: scan to pay, one tap payment.
In January 2019, Fuliza, the micro-loans solution
Fuliza is partnership between Safaricom, CBA , the bank for capital and credit, and Huawei, the technology platform behind it.
The charges for the micro loan are as shown below: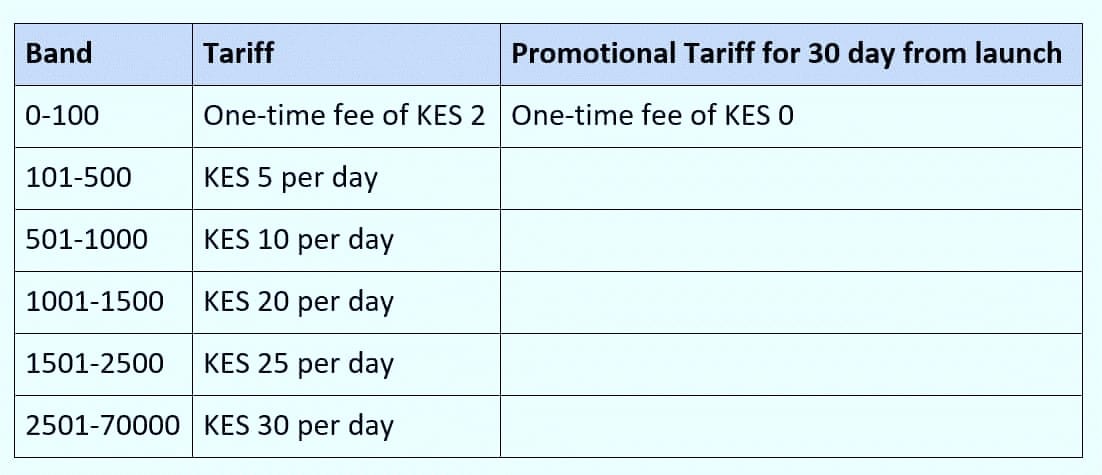 The platform collected 4.4 million users in its first month – showing the strength of M-Pesa as a customer acquisition tool.
By May 2019, it had already reached 12 million users. This represents penetration of 1 in 3 Safaricom users in Kenya. Safaricom serves 34.6 million and a 63.4% market share.There are over 23.6 million active users for M-Pesa.
Fuliza, can be said to have reached mass market with at a surprising speed, but it has done so with good commercial results too:
98% of the total value from the loans has been repaid
US$ 1.4 billion has been disbursed since launch
1 million daily users are active on the platform
13 loans are processed per second