Do consumers want brands to message them? Yes. Are brands responding? Not nearly enough. So says Sinch's new Mobile Consumer Engagement 2020 report. Tim Green dug into the findings.
It's a great time to be alive and in marketing. The era of hit-and-hope consumer segmentation is coming to an end.
Today, marketers can use tech channels – not least mobile – to talk directly to their customers. They can gather behavioural data with which to build accurate profiles. These twin capabilities give every brand a superpower: to treat their customers as individuals at last.
It's the era of personalisation.
And what consumer wouldn't welcome this? Personalisation equals better information, targeted recommendations, intuitive interfaces, real-time contextual notifications and more.
Everybody wins.
Many brands believe they are making good progress in the march to personalisation. When a 2019 Harris Poll asked US marketers if they think they're delivering 'excellent customer experiences', half said yes.
  Mobile messaging offers a promising route. Consumers value it highly. In dramatic contrast with the email finding, the Sinch report revealed that just four per cent of people have 50 or more unread mobile messages in their inboxes."
So why is it that when Harris asked consumers the same question, fewer than 25 per cent agreed?
What's missing?
To dig into the question, Sinch interviewed more than 2,000 global consumers. It also interviewed leaders at brands such as Cisco, Uber and Adobe.
Sinch published its insights in its Mobile Consumer Engagement 2020 report.
The research certainly confirmed the belief that customers do value everyday interactions. It revealed that 65 per cent of consumers say a positive brand experience is more influential than great advertising.
So to repeat the question: why are these positive interactions so often missing?
Some insiders point to the data. Brands might have lots of customer information – but that doesn't mean they are interpreting it well. Pierluigi Bosco, senior CRM channel manager at Shell, said: "With all the data available about consumers' online and transactional behaviour, marketers tend to cluster customers into segments. The challenge is to make sure we treat every customer individually rather than as part of a bucket of people."
To make matters more challenging, it's getting harder to acquire user insights in the first place. Regulation is becoming tighter. Consumers are growing more guarded about sharing their data.
First party channels are also in decline. Branded app download rates are falling. More than half of smartphone users download zero apps in a typical month.
Finally, there's the problem of overload. Consumers are drowning in a sea of not-especially personalised brand messages. Consequently, they're ignoring them.
Sinch's research shows 40 per cent of consumers say they have at least 50 unread emails in their inboxes. Nearly one in 10 admit to more than 1,000.
So how can brands deliver genuinely personalised offers without infringing privacy? And where can consumers go for 'positive brand experiences' while avoiding overload?
Mobile messaging offers a promising route. Consumers value it highly. In dramatic contrast with the email finding, the Sinch report revealed that just four per cent of people have 50 or more unread mobile messages in their inboxes.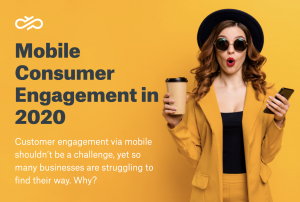 Even more dramatic, it found that consumers are 35x more likely to open mobile messages than emails.
The unlikely takeaway is that, while customers are busy ignoring email campaigns, they would actually welcome more brand messages. The report revealed how this applied to real-life scenarios:
62 per cent of people would like to confirm service appointments using messaging, but just 41 per cent have the opportunity to do so today.
70 per cent want banks to message them about suspicious activity in their accounts, yet only 35 per cent receive those kind of notifications today.
Obviously, the highly personal nature of mobile messaging has a downside. Get email wrong and your brand is ignored. Get mobile wrong, and it feels like a violation.
Thibaut Pajot, manager marketing automation EMEA at Adobe, told Sinch: "Mobile is a private channel — much more private than an email in your inbox. Adobe is very careful to ensure our customers don't feel we are invading their space. This is from a legal perspective, but also related to brand perception."
So brands need to tread carefully.
For those that do, the potential of mobile messaging is set to increase. Rich messaging via RCS and OTT apps is set to go mainstream. It will bring images, video and even payment into every chat session.
Sinch's report gives a glimpse of what might be possible. It cites the example of Direct Tire & Auto Service. The US-based car repair company currently pairs its messages with a video walk-through of all the repairs made to each vehicle.
Jonathan Bean, CMO at Sinch, believes such stories show how powerful mobile messaging can be – so long as brands use it responsibly.
"CX leaders understand that even with access to dozens of channels to reach customers, they must use restraint and find the right touchpoints for each individual," he said.
"The research shows consumers are open and willing to engage with businesses through mobile messaging, so long as businesses provide high-value information that's personalised."