Get the latest announcements from MEF Members across the mobile ecosystem globally in this weekly review of member news…
Upstream, a global specialist in mobile marketing technology, showcased the power of Rich Communications Services (RCS) to push multi-channel marketing campaigns to new heights at the MEF RCS World forum.
Upstream says that it showcased how its RCS solutions have become indispensable for leading brands across the world, driving a rise in conversion rates of 37% over SMS and 137% higher click-through rates at Google's European Headquarters innovation centre in Dublin.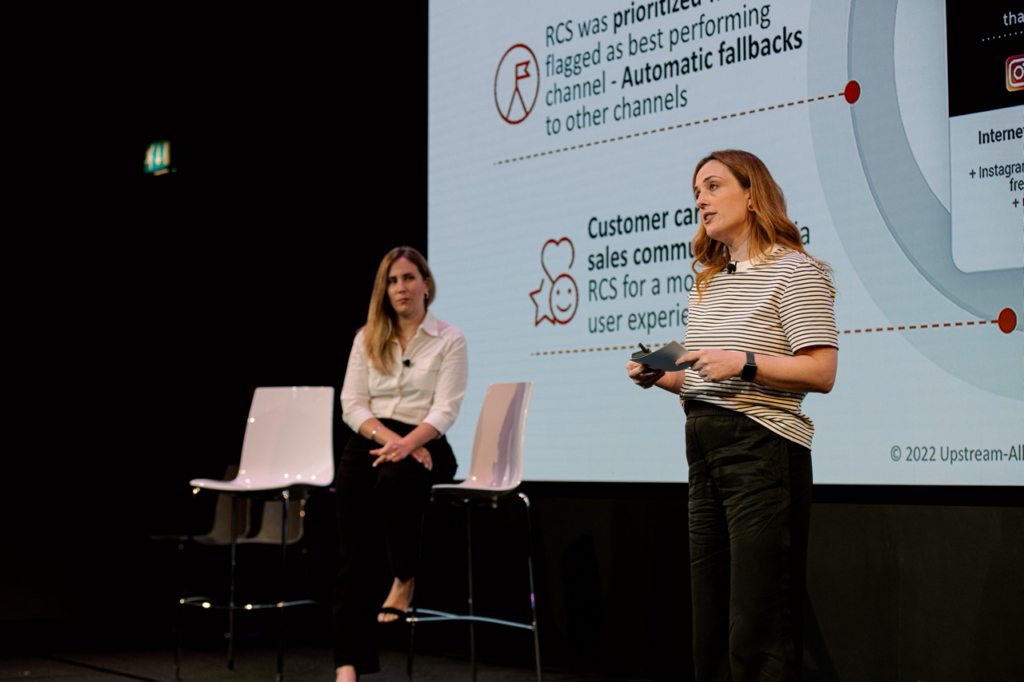 "Not all users are the same, so communications shouldn't be either. Every channel has a different dynamic and purpose, and the more channels a brand uses, the more potential users it can also reach," says Katerina Matthaiou, product innovation director at Upstream.
Matthaiou adds, "However, RCS has a clear advantage when the aim of the campaign strategy is to engage with consumers in highly interactive and visual ways. RCS messaging is a game-changer for boosting brand awareness, improving customer service and support as well as converting users and lead generation."
Consumers want far more personalizedmobile banking experiences that make it easy for them to get real time 1:1 support anywhere, says a survey of 3000 global consumers in more than 10 countries including India, commissioned by Sinch (Sinch AB (publ) – XSTO: SINCH). With 64%feeling comfortable discussing personal/sensitive financial matters with their bank via mobile messaging, but about 62% wishing to have human conversations for personal finance advisory,the survey shows customers would benefit from a greater level of interactive personalized communicationwith their banks and financial partners.
"At the back of Digital acceleration, consumer demand for banking services through their mobile phones, has increased significantly, accessing their account from anywhere 24/7," said Nitin Singhal, MD, Sinch, India. "People have less time than ever to call their bank or go into a branch and many, especially younger generations, prefer the convenience of mobile banking to in-person banking, yet banks are not always answering this demand yet by making mobile banking a true two-way communications process. Most banks now provide online services, but our survey shows that they can do far more to engage with customers and differentiate themselves by providing secure, personalized, frictionless engagement with their customers so they can access more than just their account balance or make a payment.
Many banks have started the process to becoming customer-centric digital banks that appeal to today's consumers. But it is only when they partner with a reliable communication solution (CPaaS) provider, to improve both customer engagement and trust and provide secure technologies across communications channels their customers prefer and are familiar with, that banks improve the real customer experience consumers are clearly asking for."
British face authentication firm iProov has won £17.5 million in contracts from the UK government as part of its One Login programme, while the government's digital ID framework moves into beta.
The Government Digital Service, part of the Cabinet Office, agreed a brace of two-year contracts with iProov in June, with both contracts starting from 27 July 2022. One £11.6 million contract covers document checking, including capability to read biometric passport data via NFC on Apple and Android devices, as well as OCR for machine-readable documents; the second £5.9 million contract covers biometrics.
While One Login will only cover government services, DCMS is also moving forward with development of a "digital identity and attributes trust framework" under the Office for Digital Identities and Attributes, created in March. An alpha version of the framework was released almost exactly a year ago – and in June 2022 DCMS published the beta version.
"Over the past 18 months, we have worked with over 250 organisations across civil society, industry, standards bodies, and academia to test whether we've got these rules and standards right," said then-minister for digital Julia Lopez in her foreword.
"We will use sandboxes and live market testing to ensure that the trust framework is fit for use in the real world. Testing during the beta phase will also allow industry to show consumers how trustworthy digital identity and attribute products can benefit them by offering simple and secure ways for people to prove things about themselves," she added.
Mobile content is a profitable niche with well-adjusted flows. Since the early 2000s, mVAS offers have been blossoming all around. Mobile Value Added Services have been on the market for as long as cell phones have become mainstream. Today, it's hard to imagine not having an opportunity to subscribe to a music streaming service, watch a movie, or choose a game to play with the help of DCB technology – but with it comes fraud, writes Golden Goose.
In general, there are two types of fraud: advertising fraud, when attackers earn payouts with fake clicks generated by dedicated software, and DCB fraud, connected to the payment method itself and targeted at end-users and carriers. We'll get into details on fraud types in the dedicated section of this article.
This piece also explains the importance of fighting fraud in the mVAS vertical and how to combat deceitful schemes. It also includes interviews with anti-fraud companies that deal with scammers in mobile content.
Q: What makes fraud in mVAS different from fraud in other niches? Are there any specifics in mobile content fraud? Is it easier or harder to fight fraud in mVAS than in other niches?
Evina's Lilit Melikyan: The mVAS market, being a highly efficient market with optimized billing flows, attracts the most sophisticated cybercriminals. For this reason, it requires equally sophisticated high technology that is continuously kept up-to-date in real-time to protect mVAS payments. This is the price to pay for such an amazing payment system with the high conversion rates it offers.
By James Stokes (country manager UK & Ireland, Infobip).
In 2010 the Linguistic Society of America voted 'app' as its 'Word of the Year' – the same year that marked the start of Generation Alpha. This was also the year that saw the launch of the iPad, and as described in recent research from the University of Sydney, these technological innovations have had a profound impact: "Generation Alpha is quite different from the preceding generations, especially because their reality, and all aspects of life, has been dominated by technology."
Today's children have grown up in a world of instant and on-demand technology, with information, influencers and entertainment just a touch away. How they learn, interact, and communicate is fundamentally different to any previous generation. For businesses this means Generation Alpha is a catalyst for change.
Meeting new expectations means accelerating digitalization, and placing new standards of customer experience at the heart of transformation. To serve the customer of the future this transformation must start now. Here we reflect on our latest research, exploring the habits and expectations of Gen Alpha to uncover how organizations can build the digital foundations they need now, and in the future.
Omnichannel messaging services provider Mitto has now attained direct connectivity with all mobile network operators in Argentina following the announcement of its partnership with CATEL's MVNO imowi.
By expanding its strategic relationship with operators, Mitto seeks to support companies' omnichannel marketing and growth strategies through fast and efficient message routing. The expansion of Mitto's relationship with operators in Argentina builds on the company's growing ecosystem of operator partners, which drives comprehensive, high-quality customer engagement through omnichannel communications for global brands.
"Thanks to the continued expansion of our direct connectivity in Argentina, we have never been in a better position to help companies reach their customers in the right way. In such a saturated market, a strong commitment to the customer becomes imperative to achieving success, whether as a local or international company," said Carlos Losada, Mitto's Regional Director for LATAM.
A statement from CATEL noted: "imowi is the first national cooperative mobile phone provider with nationwide reach, the fourth carrier in Argentina… With Mitto as a partner, international brands will be able to successfully and positively connect with their customers and offer them a reliable and optimal A2P experience."
Consumers are increasingly wary about the information they share on social platforms and how their data is being used
Consumers have low levels of trust for social media advertising, but will pay more to purchase from a trusted brand, a new report from Cheetah Digital reveals.
According to Cheetah Digital's new Digital Consumer Trends Index, 67% of consumers do not trust the advertising they see on social media platforms. And more than half (63%) don't trust social media platforms with their data.
In a recent Cheetah Digital-hosted webinar, Teresa Sperti, Founder and Director, Arktic Fox said she doesn't find the results surprising at all.
"Over time, there has been an erosion in the level of trust for social platforms," she points out. "As a whole, this has led consumers to be increasingly wary about the information they provide on these platforms and how their data is being utilised."
"From a data privacy point of view, consumers' expectations are changing broadly," Teresa adds. "Consumers are less trusting of brands when it comes to providing data. They don't believe brands can be trusted to protect personal data or utilise it effectively. As a result, we're seeing a wave of greater skepticism from consumers as a whole."