Get the latest announcements from MEF Members across the mobile ecosystem globally in this weekly review of member news…
The biggest study of mobile wallets in the world, released by payments fintech Boku, with data from Juniper Research, reveals that Europe will be home to four of the ten fastest-growing countries for mobile payment transactions by 2025. Russia, Germany, Portugal, and Sweden are projected to grow the fastest in Europe, comprising four of the ten fastest globally, with France, Norway, Spain, Denmark, Netherlands, and the UK, being the other European nations helping make up the top 20.
"eCommerce payments continue to be the primary driver of digital wallet usage around the world. This is a result of outdated payment types, such as cards and cash, not being designed for eCommerce." Said Jon Prideaux CEO of Boku. "Consumers are gravitating to mobile-first payment methods and 'super-apps' that offer a better user experience, better security and better rewards. If merchants want to attract, convert, and retain mobile-first consumers, they need to accept the mobile-first payment methods they have and use. For European merchants with global ambitions, this requires a new strategy for payment acceptance that goes well beyond cards and into mobile-first payments."
Ad tech companies are trying their best not to get caught with their hand in the cookie jar. In the wake of tracking restrictions on Apple's iOS 15 and the death of Google's third-party cookies in Chrome come 2023, ad tech companies that have relied on cookies for years are confronting not just a business problem, but a branding issue.
So they're distancing themselves from the taboo technology with cheeky brand campaigns. Cheetah Digital is another martech firm positioning its brand for the post-cookie world. The company released a brand campaign this week starring actor Wayne Knight, best known for his role as Newman in Seinfeld.
The campaign, created in-house, includes three spots where Knight, who plays a creepy marketing manager named Dennis, watches his computer screen while following consumers around the web and anticipates their behaviors to send targeted ads. The campaign humanizes the technical process behind the scenes of cookie tracking, said Tim Glomb, VP of content and data at Cheetah Digital.
"We believe that the third-party cookie — this creepy, snooping and tracking technology which has permeated the marketing landscape for the last decade — is the wrong way to activate and humanize communications or connections with consumers," he said. "We believe [companies] should reach consumers through personalized, one-to-one communication."
Gupshup, the leader in conversational messaging, today announced that it has acquired New Jersey based Dotgo. Dotgo is the global industry leader in RCS business messaging (RBM), with award-winning technologies such as the RichOTP®, RichSMS™, Bot Store®, and MaaP (Messaging as a Platform) that foster the growth of RCS Business Messaging. A strong partner of Google, Mavenir, Synchronoss, Vodafone, and Orange, Dotgo manages RBM in several markets, and operates the world's largest RBM Hub with global connectivity to RCS users across the world. Dotgo is uniquely positioned to help brands integrate, with simple APIs, the RCS channel into their customer communications, whether for sales, support, services, or other business processes.
Dotgo, powered by a founding team with a rich history of tech innovation, is a Cohort 6 graduate of the IIT Startups accelerator. Dotgo grew rapidly in 2021 as RCS gained traction in North America, Europe, India, Brazil, and Nigeria. Dotgo's MaaP, offered in partnership with, and pre-integrated with, Google Jibe platform, has been selected to operate RCS business messaging at several mobile operators. Dotgo has been a leading contributor at the Mobile Ecosystem Forum and GSMA in defining standards and processes for RCS business messaging.
Inderpal Singh Mumick, co-founder and CEO of Dotgo, said, "RCS business messaging is destined to change the way businesses communicate with their customers. We started Dotgo to create APIs that make it easy for brands and other players in the ecosystem to adopt RCS, while taking care of and hiding all the backend complexity from our customers. With the addition of RCS, Gupshup will undoubtedly be the strongest IP messaging company, and thus helps us accelerate our mission."
iBASIS, a leading provider of communications solutions for operators and digital players worldwide, announced today at Cloud Comms Summit that it has joined the Cloud Communications Alliance (CCA).
"iBASIS builds bridges between communities, technologies, and opportunities," says Guillaume Klein, VP Product Management at iBASIS. "Our mandate is to propel monetization opportunities for the Cloud Communications ecosystem at the incredible pace now demanded by the market."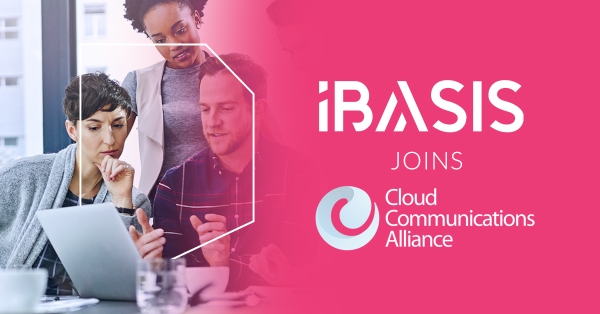 iBASIS brings to the CCA a diversified technology global perspective with a quarter of a century of leadership in a broad set of connected fields. "With more than 100 patents across multiple products such as IP connectivity, anti-fraud, quality monitoring, and IoT domains, innovation is embedded in our DNA," adds Klein.
"We have connected several global CPaaS players to iBASIS' global network to allow interworking between cloud and traditional networks," says Klein. "We have also created our own telecom APIs (Number, IoT) and continue to add our own APIs and those of our partners to our marketplace. As an independent carrier, our partnership model enables carriers, service providers, and digital players with all their global communications needs – fixed voice, mobile, messaging, data, IOT – as well as security. Our customers benefit from instant access to a global reach, scale, and expertise so they can offload the complexity of managing international communications to us and focus on their core business."
Sinch, a global provider of cloud communications for mobile customer engagement, has entered into a definitive agreement to acquire MessengerPeople, a leading German software-as-as-service platform for conversational messaging.
Sinch will pay a total enterprise value of €48m, with a total cash consideration of €33.6m and €14.4m paid in the form of new shares in Sinch.
"I'm very impressed with the MessengerPeople team and their success in bringing innovative products to market. Most businesses have yet to discover the benefits of conversational messaging, and together we are superbly placed to win in this market as uptake now begins to accelerate," comments Oscar Werner, CEO of Sinch.
With easy-to-use applications that are designed for business users, MessengerPeople complements Sinch's API-based offering for larger enterprises and channel partners. The MessengerPeople platform is particularly well-suited for pre-sales and customer care, which accounts for around 85% of current volumes. Monetisation is based primarily on subscriptions and monthly active users, through a software-as-a-service (SaaS) model, rather than on transaction volumes.
Subscription is a global trend that has also impacted South Africa, which currently has 7.2M active subscriptions. The subscription economy, or Subscronomics in the country, will be around $ 530M this year, according to the latest analysis presented by Telecoming (https://bit.ly/3ibgQLt), an international company specializing in digital service monetization technologies. The subscription-based economic model will grow in South Africa at 14% each year to exceed $ 820M in 2025.
"Subscronomics is a global trend about marketing products with a revenue model based on recurring payments. Subscription-based business models have become global and really popular thanks to technology. It is a disruptive model because it changes the relationship between brands and their customers. More and more companies see this model as an opportunity to grow steadily, and new actors are joining the scene. In some sectors, it will mean a real revolution," explains Javier del Corral, Country Manager South Africa at Telecoming.
Technology and data allow companies to build a scalable offer based on users' interests. The digital context forces companies to adapt the storefront and the range of products and services, as well as the payment methods. Also, the ease and speed of delivery, the management of returns, and, above all, customer loyalty are key to building loyal communities.