Get the latest announcements from MEF Members across the mobile ecosystem globally in this weekly review of member news…
Bango, the mobile commerce company, has expanded the use of its billing integration technology, enabling customers to sign-up for Amazon Prime Video with Vivo (Telefonica) in Brazil.
Vivo is Brazil's largest telecom operator with over 96.7 million clients.

Bango technology ensures that qualifying customers have the opportunity to subscribe to Amazon Prime Video as part of the customer's mobile, fixed or broadband plan. Vivo is the first mobile operator in Latin America to offer its customers Prime Video as an additional option. This follows Bango's initial launches with Amazon in Asia, USA and UK.
"This partnership gives Vivo customers an amazing opportunity to enjoy Amazon Prime Video with their Vivo plan",commented Ray Anderson, CEO, Bango. "Bango is where merchants and operators come together to thrive."
A digitised national identity scheme planned for Bermuda could be used by millions of people worldwide, a leader of the project said yesterday.
Bruce Silcoff, the chief executive of blockchain technology firm Shyft, said three jurisdictions were keeping a close eye on the plan designed to protect island residents from attacks on their personal information. He added: "It's proof of concept, it's a test market because it's small enough to run a pilot.
Mr Silcoff said Shyft had teamed up with Bermudian-based data management technology company Trunomi to deliver a scheme to give people control over their own records, which would mean only they could allow access to organisations like the Government and banks.
Mr Silcoff, who was in Bermuda for talks with Stuart Lacey, the founder and CEO of Trunomi, said the island was well placed to be used as a testing ground for his firm's "electronic highway".
He added: "It's putting this whole country on an electronic ID platform, Perseid, which stands for personal e-ID.
Upstream, the technology company leading the mobile internet revolution in high growth markets, has unveiled that Alcatel smartphones are sold with a suspicious pre-installed weather forecast app, also available on Google Play.
Upstream's security platform, Secure-D, detected suspicious activity initiated by an Android application named "Weather Forecast – World Weather Accurate Radar" in Brazil and Malaysia. This application was later found pre-installed on Pixi 4 and A3 Max devices from Alcatel, a brand owned by Nokia. The devices are manufactured under licence by Chinese electronics company TCL Corporation, a manufacturer of Alcatel and Blackberry branded mobile phones.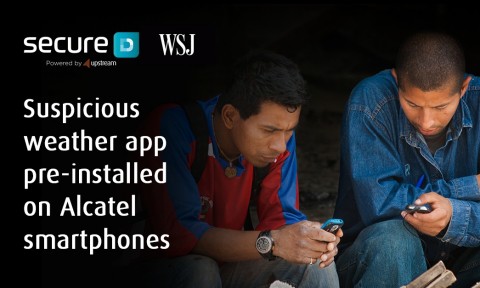 Guy Krief, CEO of Upstream commented: "The combined growth of smartphone penetration and mobile advertising is providing the ideal set-up to perpetrate ad fraud, mainly with mobile malware. This year only, an estimated $19 billion will be stolen through ad fraud, which can become payment fraud in emerging markets, affecting not only brands but also consumers' wallet and privacy."
Gemalto , the world leader in digital security, is helping simplify and secure IoT connectivity for AT&T customers by integrating its embedded SIM (eSIM) inside the Cinterion® LTE-M IoT module.
The new solution streamlines development for OEMs and reduces the cost and complexity of IoT deployment by eliminating the need for SIM card integration after manufacturing. In addition, the eSIM helps maintain the strongest security levels with continuous security updates for the long life of IoT solutions. Samples of the new module are available with volume shipping to follow shortly.
With an AT&T eSIM integrated in the Cinterion EMS31 LTE-M module, customers will take advantage of the power and bandwidth efficiency of Low Power Wide Area Networks (LPWAN) without having to buy and install SIM cards. The tiny eSIM is more than 90% smaller than traditional SIM cards making it ideal for size-constrained devices such as wearables and trackers that often need extra space for a larger battery. With fewer components to integrate, the all in one eSIM IoT module saves development effort and speeds time to market. In addition, achieving scalability is easier and the Total Bill of Materials (BOM) is reduced.
Neustar®, Inc., a trusted, neutral provider of real-time information services, today announced it has completed the acquisition of TRUSTID, the leading provider of caller authentication and fraud prevention systems for contact centers.

Neustar has begun integrating its mission-critical call-centric fraud, risk, & compliance solutions with TRUSTID's inbound call engagement capabilities to deliver the most comprehensive caller authentication solutions available in the market today.
"We are delighted to welcome TRUSTID customers, partners and employees to the Neustar team," said Neustar VP and GM of Risk Solutions Robert McKay. "The combination of the two companies is a major win for customers. Neustar's powerful identity data joined with TRUSTID's market-leading authentication system will drive even greater efficiency within call centers by increasing the precision for risk stratification of non-authenticated inbound calls. Further, our joint workforce brings together two very talented teams with new and complementary skills and experiences."