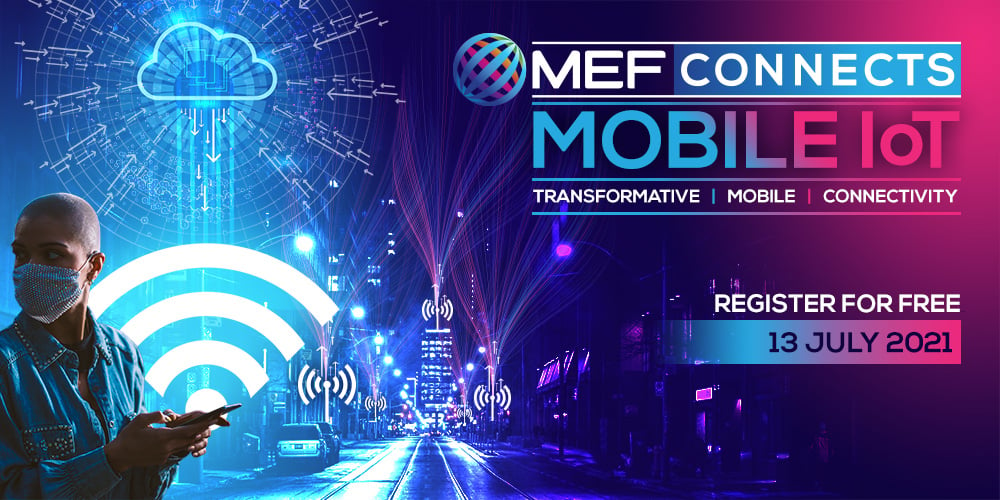 MEF CONNECTS Mobile IoT – Transformative Mobile Connectivity
IoT is scaling rapidly towards a forecast of 25bn connected devices by 2030. This fast- growing market enables the enterprise to transform digitally to achieve new ways of working, to reduce costs and increase productivity. For suppliers, there are abundant opportunities in driving these changes with efficient devices, effective global connectivity, robust security and sustainable solutions.

MEF CONNECTS IoT brought together speakers from companies including Telefonica Global Solutions, Orange, Tata Communications, Nokia, Adaptive Mobile, Palo Alto Networks, IPification, WMC Global, NokNok Labs, Neustar, Cellusys, Global Message Services, Mobileum, ZARIOT, Pelion, POD Group, Apiro Data, GSMA and Credential Master.
What are the opportunities for enterprise Private IoT networks
Steffen Sorrell, Chief of Research – Kaleidointelligence
Sylwia Kechiche, Principal Analyst, IoT & Enterprise – GSMA
Fawad Noory, VP, Product Management CEaaS – KORE Wireless
Christian Wagner, CEO – Bayfu
Cédric Jarkovsky, Head of IoT Product Management – Transatel
MEF Global IoT Survey: What really matters to Enterprises
Andrew Parkin-White, IoT Programme Lead – MEF
Phil Todd, Director – Stereoscope LTD
Dario Betti, CEO – MEF
Robust IoT Security is Critical to Market Development
Terry Norman, Independent Consultant
Jason Longley, Technical Leader, Service Provider – Palo Alto Networks
IoT the global position and regional perspectives
Andrew Parkin-White, IoT Programme Lead – MEF
Nicolas Damour, Director, Technology Partnerships Development – Sierra Wireless
Nassia Skoulikariti, Founder/CEO – Apiro Data Ltd
Dawood Ghalaieny, CEO – Zariot
David Hambling, CEO Asia Pacific – Pod Group
IoT – a key to a sustainable solution
Martin Garner, COO – CCS Insight
Vinay Venkatraman, CEO – Leapcraft
Nassia Skoulikariti, Founder/CEO – Apiro Data Ltd
The evolution of the IoT roaming market
Andrew Parkin White, IoT Programme Lead – MEF
Fernando Llobregat Baena, Head of Enterprise Sales IoT & Mobility – BICS
Graham Hart-Ives, Head of IoT Sales – JT (IoT) Ltd
Dawood Ghalaieny, CEO – Zariot
Steffen Sorrell, Chief of Research – Kaleido Intelligence
What opportunities 5G creates in IoT – hype or game changer
Shiv Putcha, Founder – Manadala Insights
Ankur Bhan, Global Head of WING Business Line – Nokia
Jimmy Jones, Head of Security – Zariot
How eUICC is changing the IoT landscape
Sam Brown, Independent Advisor, IoT – MEF
Niall Strachan, Head of Product Strategy – Pelion
IoT Automotive – opportunities – Security
Matt Hatton, Founding Partner – Transforma Insights
Andy Greig, Vice President, Business Development and Strategic Partnerships – Aeris
Philip Skipper, Head of Strategy and Business Development – Vodafone Business IoT
Stellan Ohrn, Sales Director, Automotive Group Function Technology & Emerging Business – Ericsson
Critical IoT for Healthcare
Elson Sutanto, Principal Analyst – Juniper Research
Alex Nash, Founder & Director – Alcuris
Power Shifts in the IoT Competitive Environment – Impact of hyperscalers, future role of the MNO and connectivity providers
Matt Hatton, Founding Partner – Transforma Insights
Sylwia Kechiche, Principal Analyst, IoT & Enterprise – GSMA
Niall Strachan, Head of Product Strategy – Pelion
David Lindblad, Senior IoT Product Manager – JT (IoT) Ltd
Benoit Tournier, Marketing Director, Mobile IoT Solutions – Sierra Wireless