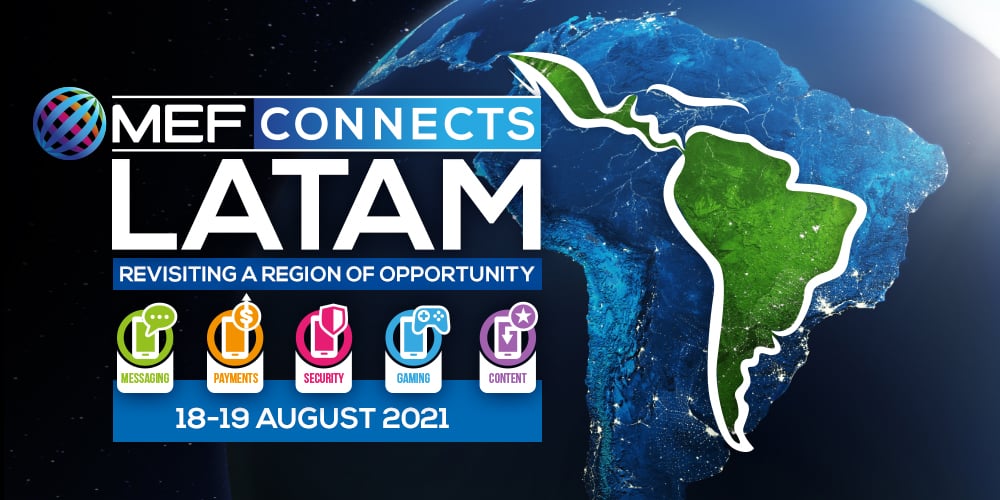 With a population of 650 million, and being one of the most urbanized regions in the world, Latin America has huge potential for rapid further growth. Brazil alone has over 30% of the region's population with subscribers there leading the way in app usage.
Through our MEF CONNECTS LATAM event we will be shining a spotlight on this region. MEF's aim is simple: to connect industry stakeholders from around the world with regional players and those opportunities. Both members and non-members doing business across Latin America will be able to showcase their work to an international audience.
MEF CONNECTS LATAM was spread over two days: the first looking at LATAM as a whole, the second day zooming in on Brazil.
KEYNOTE: The journey to human-centered, digital transformation
Charlie Vayas, Digital Transformation Regional Manager – KFC
10 mind-blowing insights about Business Messaging in LATAM
Andy Jones, Principal Consultant – mobilesquared
Mitchell Cutmore, Advisor – MEF
Entertainment Trends in a Pandemic
Charlie Vayas, Digital Transformation Regional Manager – KFC
Edgar Lomeli, Country Manager México – Digital Virgo
Luisa Muneratti, VP Europe and Latam – Docomo Digital
Tomas Cohen, Commerical Director – AWG
Gregory Avelino, Marketing & Editorial Manager, Latin America – Napster
The important role of Rich Messaging in CX transformation
James Williams, Director of Programmes – MEF
Ramy Riad, Vice President Future Messaging – imimobile
When Payments, Messaging and Digital Identity Meet
Jason Pareja Jauregui, Product Development Manager – B89
Breno Pilar, Vice President – Ipification
Ramy Riad, Vice President Future Messaging – imimobile
Sean Whitley, Vice President of Sales – Mitto
Michael Becker, CEO – Identity Praxis, Inc.
Combatting Fraud to Unlock Carrier Billing Opportunities
David Lotfi, CEO and Founder – Evina
Adrian Caneva, Data Science Manager – AWG
RCS in LATAM – What next?
Jenny Whelan, RCS Consultant
Tathiana Adam, Business Development Manager, Communications Products Partnerships, LATAM – Google
Marcos Rodriguez, RCS lead – Telefonica Global Solutions
Sergio Collazo, VAS Engineering Senior Manager – Telcel/América Móvil
Antenor Henriquez, Enterprise Sales Director, Quiubas
Firewalls in LATAM – an urgent requirement facing regulatory restrictions
Felipe Castillo, Senior Consultant – GTC
Ignacio Nunez, Technical Account Manager – Adaptive Mobile
Florencia Mardaras, Mobile Marketing Specialist – Movistar Argentina
Mauricio Rojas, Solution Manager – Infobip
Mobile Identity – building an ecosystem of protection
William Giraldo, Senior Operator Partnership Manager LATAM, Infobip
Oscar Tello, Subgerente de Prevención y Tratamiento del Fraude – Banco de la Nación
Omar Fortun, Project & Business Manager – ENTEL Perú
The Mobile Payments Landscape in Brazil

Mitchell Cutmore, Advisor, MEF
Gustavo Victorica – Co-founder & COO, RecargaPay
Dario Betti – CEO, MEF
Breaking down the latest MEF Brazil report – a conversation with Phil Todd

Mitchell Cutmore, Advisor – MEF
Phil Todd, Director and Founder – Stereocope
James Williams, Director of Programmes – MEF
SMS Phishing in Brazil – an ongoing threat
Luanna Luna Sena, Sales Manager – Intis Telecom
Mike Round, Project Director, MEF
Liz Zorzo, Traffic Fraud Manager – Sinch
Business messaging – what's happening now, what's coming next?
Tim Green, Editor – MEF
Vinicius Cerqueira, Sales and Partnerships Director – Syniverse
Developing the Digital Customer Onboarding Channel in the Brazilian Market
James Williams, Director of Programmes – MEF
Pat Flynn, Co-Founder & Director of Business Development – Nettzer
IoT in Brazil: Challenges and Opportunities
James Williams, Director of Programmes – MEF
Nassia Skoulikariti, Founder & CEO – Apiro Data Ltd
The future of Cloud Gaming with 5G
Mitch Cutmore, Advisor – MEF
Marcus Bulhões, Regional Manager South LATAM – AWG
RCS in Brazil – how to scale the audience to tipping point
Lucas Amadeu, Marketing Consultant
Tathiana Adam, Business Development Manager, Communications Products Partnerships, LATAM – Google
Aline Andreola, Senior Marketing Analist – Vivo Ads (Telefonica)
Marcello Hassib, Marketing Specialist – TIM Brasil
Henrique Angeli, Operations Director LatAm – Sinch
Emanuel Rodrigues, Senior Operator Partnerships Executive – Infobip
LGPD in Practice: impacts during implementation
Thais Bento, Data Protection and Privacy specialist – GTC
Luanna Luna Sena, Sales Manager – Intis Telecom
Nathalia Santos, Associate Lawyer – Pellon de Lima Advogados
Gabriel Eiras Villa, Business Designer – Claro Brasil
Next steps for MEF in LATAM
Mitchell Cutmore, Advisor – MEF
Edwin Carvalho, Senior Carrier Services Director – Vonage
James Williams, Director of Programmes – MEF
Luanna Luna Sena, Sales Manager – Intis Telecom
Juan Francisco Di Nucci, CEO – AWG
Event Partners