This week the mobile world is at Mobile World Congress in Barcelona.  Here we bring together the big news stories from Day 1.   Handsets, services, IoT, networks and more…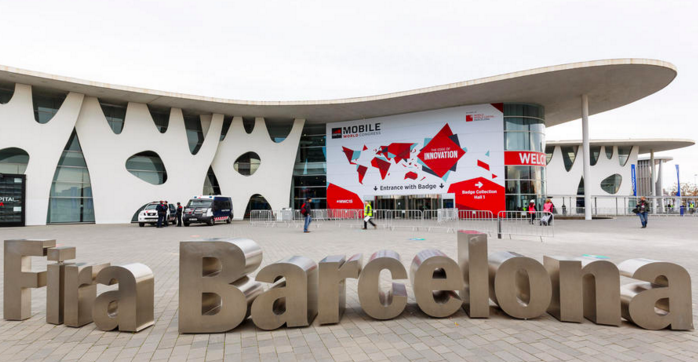 Nokia's 3310 phone has been relaunched nearly 17 years after its debut.
Many consider the original handset iconic because of its popularity and sturdiness. More than 126 million were produced before it was phased out in 2005.
The revamped version will be sold under licence by the Finnish start-up HMD Global, which also unveiled several Nokia-branded Android smartphones.
One expert said it was a "fantastic way" to relaunch Nokia's phone brand.
"The 3310 was the first mass-market mobile and there's a massive amount of nostalgia and affection for it," commented Ben Wood from the technology consultancy CCS Insight.
German incumbent collaborating with Carl Zeiss on AR glasses; Höttges expects more differentiation in devices.
Deutsche Telekom CEO Tim Höttges on Monday predicted that the smartphone will be superseded by new form factors that make accessing information and communicating more intuitive.
He made his prediction as he revealed that the German incumbent is collaborating with optics specialist Carl Zeiss on augmented reality glasses.
Spanish multinational telecommunications provider Telefonica is looking to put its customers in control of their data using a digital personal assistant.
The so-called 'fourth platform' of Telefonica's building blocks is named Aura. The AI-powered app enables users to control all Telefonica services by voice, offers full transparency regarding data, and decide whether or not to share this data with third parties like Facebook or Google
Possibly inspired by the wave of nostalgia carrying the resurrected Nokia 3310, https://mobileecosystemforum.com/wp-content/uploads/2022/07/MEF-Day-One-104-Large-1.pngsung has unveiled its own throwback device of sorts.
The company has teamed up with Staedtler to create an S Pen that looks like the iconic Noris pencil.
Designed to work with the freshly launched Galaxy Tab S3 and Galaxy Book, the digital version of the Noris is essentially https://mobileecosystemforum.com/wp-content/uploads/2022/07/MEF-Day-One-104-Large-1.pngsung's new S Pen repackaged.
The French manufacturer's latest concept isn't as wildly futuristic as earlier creations — and that's the point.
Over the decades, Peugeot has earned a reputation for developing zany concept cars, like the Jetsons-like 1986 Proxima, the rocket-shaped Asphalt, or Moovie — an urban two-seater that looks more like a computer mouse than an actual car. The French manufacturer's new Instinct concept, unveiled at Mobile World Congress today, doesn't look as wildly futuristic as some of its previous creations — but according to Peugeot's design team, that's exactly the point.
The read-it-later service will continue operating as a Mozilla subsidiary.
Mozilla, the company behind the Firefox web browser, is buying Pocket, the read-it-later service, for an undisclosed amount. Pocket, which is described by Mozilla as its first strategic acquisition, will continue to operate as a Mozilla subsidiary. Founder Nate Weiner will continue to run Pocket, along with his team of about 25 people.
Pocket, previously known as Read It Later, lets users bookmark articles, videos and other content to read or view later on the web or a mobile device. It's great for things like saving offline copies of web articles to read on plane rides or subway commutes, especially where internet access is sparse.
Bigger screens don't cut it anymore. Now, we need taller screens. I've been playing with the LG G6 for the past 24 hours. In many ways, it is just another phone. But the company is trying something new with a 2:1 aspect ratio display — essentially a normal 16:9 display that can fit a few extra lines of text at the top and bottom. And it makes a big difference.
At first, I was quite skeptical about this new format. For instance, if you watch a video, there are narrow black bars on each side of the video. And I'm sure many games haven't been optimized for this aspect ratio. But in real life usage, the taller screen makes a big difference.
https://mobileecosystemforum.com/wp-content/uploads/2022/07/MEF-Day-One-104-Large-1.pngsung is set to announce the Galaxy S8 smartphone in late March, but the two videos and a couple of images embedded here appear to show working units.
The videos show the phone's refined design. The curved screen of the S7 remains as does the 3.5mm headphone port. The phone looks very similar to its predecessor though it's missing the physical and capacitive buttons found on the previous model. Instead, it looks like https://mobileecosystemforum.com/wp-content/uploads/2022/07/MEF-Day-One-104-Large-1.pngsung is employing a row of software buttons.
The videos are short and do not show off much of the phone's design. Though with the phone's official unveiling a month away, there will likely be more leaks and previews.
Leica, GoPro and Pantone partner up for Huawei's new P10 phone, and Huawei Watch 2
Huawei has teamed up with GoPro, German optics firm Leica, and Pantone for the latest release of its p-series phone: the P10 and the P10 plus, which have been unveiled alongside its latest series of smartwatches at the Mobile World Congress.
Like the P9, the P10's big drawcard is its camera. While there's no upgrade from 12 megapixels, the collaboration with Leica to develop a dual lens back camera is now also available on the front. Huawei has also joined up with GoPro for the editing software, which is similar to the camera company's Quick editing app.