MEF CONNECTS LATAM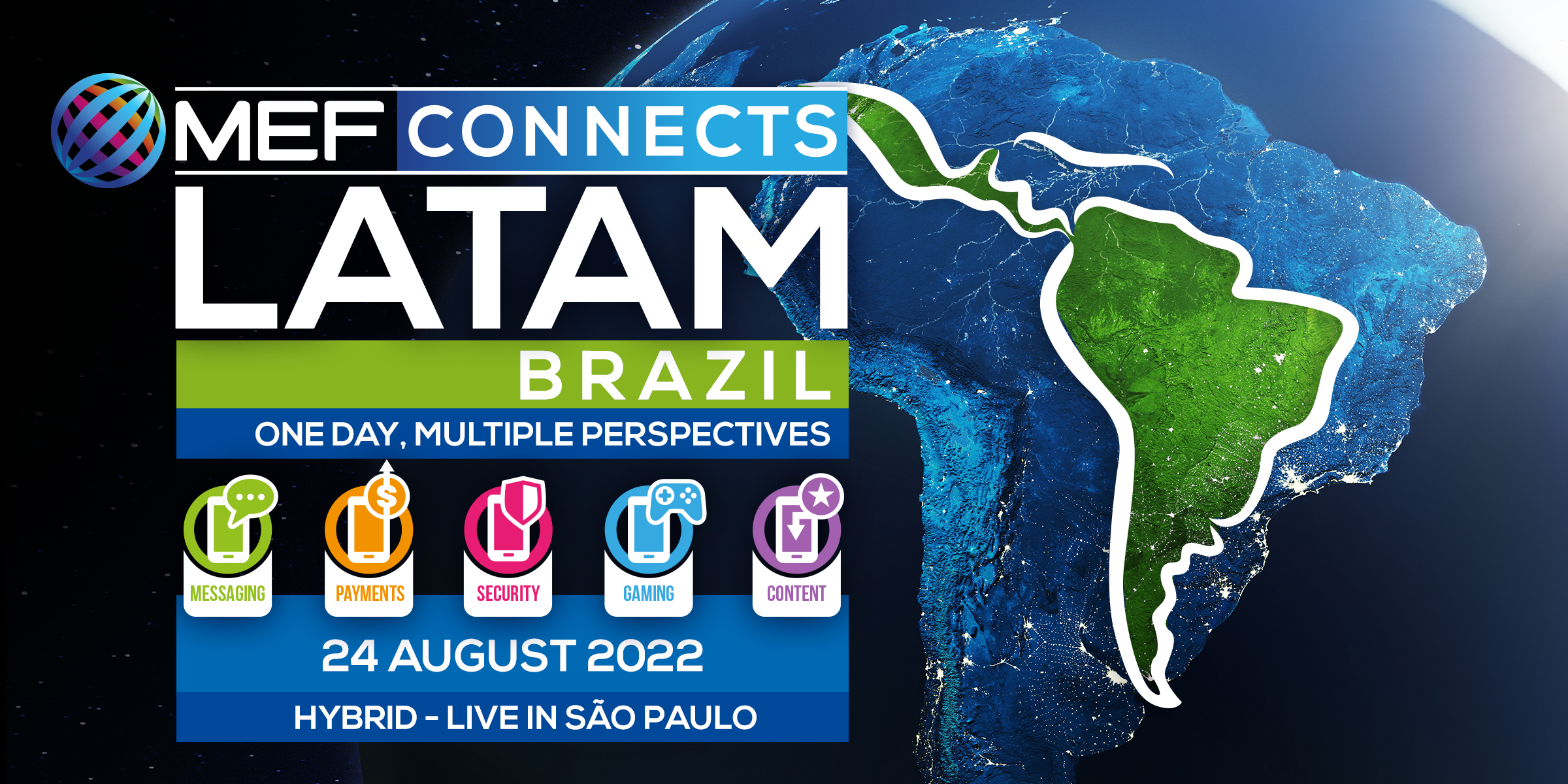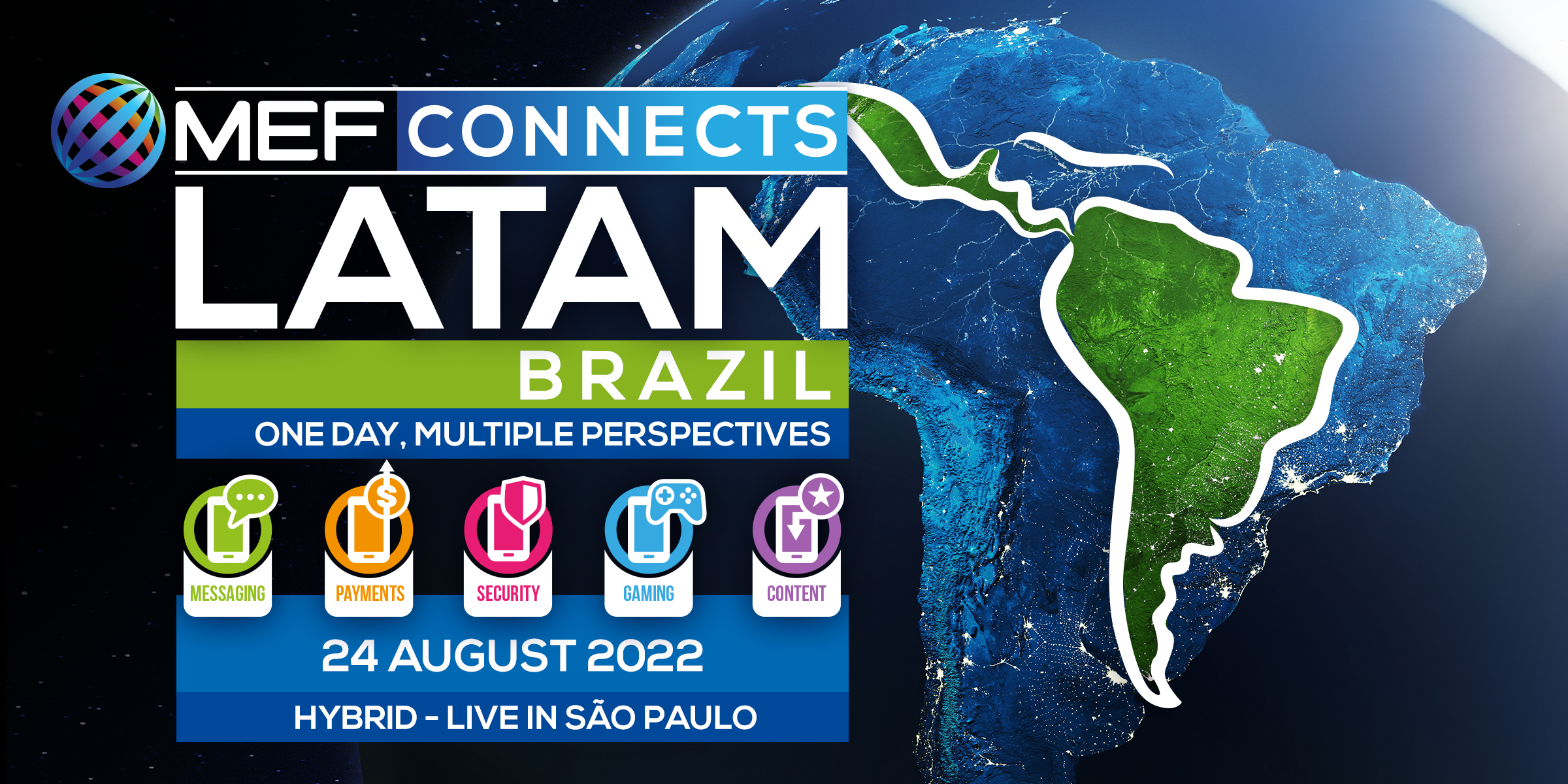 Get your FREE ticket here
Since MEF's inception Latin America has been a focus as a region of exciting new developments and opportunities across the mobile ecosystem. In 2021 we hosted the first MEF CONNECTS LATAM online-event. It was hugely successful with requests to do more in the region. Therefore, we are delighted to announce that this year the event will be in-person and hybrid on August 24th. The venue is the Unibes Cultural space in São Paulo, Brazil.
Sessions in both Portuguese and English throughout the day will offer: what is new in mobile Payments, Enterprise Communications, Personal Data, Games & more. Register to network and connect with the key players; to learn; to interact and to have a great time with MEF members and guests. The agenda will be released soon, but as the venue has a limited capacity, please register early to guarantee your seat.
9:00 – Reception & Breakfast Networking
10:15 – Analyst Briefing: 5G in Latin America and the World
Ari Lopes, Senior Manager, Service Provider Americas Markets – Omdia
10:45 – New Conversational Commerce Tools – The potential of the Google Business Messages
Kaio Marin, Market Lead, Partnership Manager, Business Messages – Google
11:15 – Enriched messages: SMS in steroids – The Future of Business Messages
Dario Betti, CEO – MEF
Vivian Jones, LATAM VP – Infobip
Jason Choy, Director of Communications Products and Services, Global Partnerships Europe, Middle East & Latin America – Google
Leonardo Kenjii, Commercial Perfimance Senior Manager – Vivo
Rafael Pellon, Global Board Director – MEF
11:55 – Flash Calling – The Future of A2P Voice?
Dario Betti, CEO – MEF
Markus Balasus, Product Manager – Deutsche Telekom Global Carrier
Juan Felipe Santos Segura, Vice President Strategic Partnerships Latam – VOX Solutions
12:25 – The importance of numbering information for validation, routing and fraud management
Dario Betti, CEO – MEF
Tim Ward, Sales & Marketing VP – Xconnect
12:45 – Lunch & Networking
14:00 – The Future of Mobile Payments in Brazil
Rafael Pellon, Global Board Member – MEF
Valter Pinheiro, Pix Superintendent – Itaú
Tamires Sorreano, Product Manager, Specialist
Elaine Shimoda, Head of Payments – PicPay
Luisa Muneratti, Senior Vice President – Americas & Europe – Docomo Digital
Marco Barbaceli, Commercial Director – Digital Virgo
14:40 – RCS as a reality – the Use Case from TGS and Quero Quitar
Marcelo Luz Leite, Sales Manager – Telefonica Global Solutions
Marcelo Ferreira, Chief Operating Officer – Quero Quitar
15:00 – RCS in Brazil – Moving Forward & Faster. What are the MNOs expecting for the Future?
Mitch Cutmore,Senior Consultant & Data Analyst – GTC
Tathiana Adam, Business Development Manager, Communications Products Partnerships, LATAM – Google
Leonardo Kenjii, Commercial Perfimance Senior Manager – Vivo
Gabriel Portugal, Head of Advertising – Claro
15:20 – 5G & Cloud Gaming
Marcus Bulhões, Commercial Director LATAM – AWG
15:50 – Combating Smishing in Brazil
Mitch Cutmore,Senior Consultant & Data Analyst – GTC
Sebastian Morando, International Solutions Engineer – The Campaign Registry
Adrian Chavez Batta, VP International Sales – The Campaign Registry
16:30 – How can MNOs explore the security market? Mobile Identity and its benefits
Pity Sehbe, Moderator
Emanuel Rodrigues, Senior Operator Partnerships Executive – Infobip
Caio Borges, Sales Director Latin America – Infobip
Ageu Dantas,Head Data Insights – Claro
17:10 – Closing Remarks + MEF Meet-up

Related Events