Global Carrier Billing Summit
October 6, 2020

-

October 7, 2020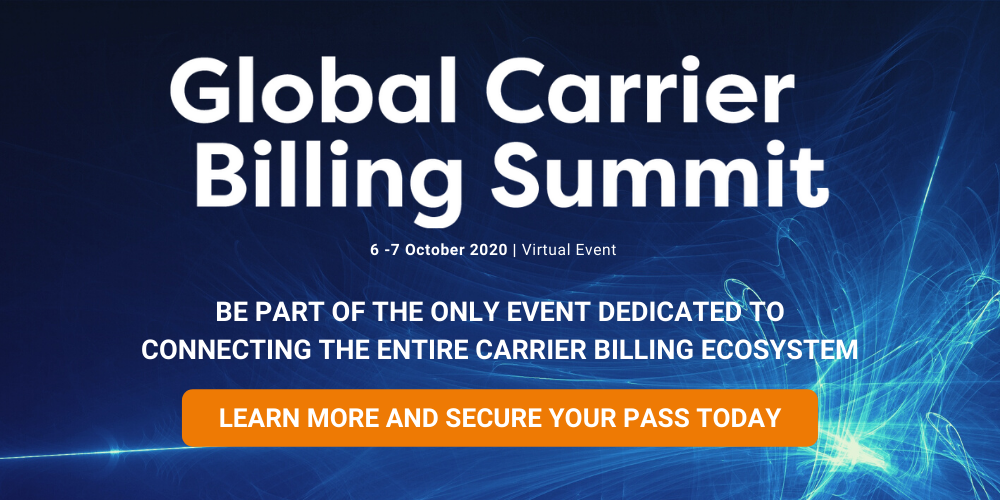 Global Carrier Billing Summit
October 6 & 7
Global Carrier Billing Summit – Industry Insights survey

As part of our mandate to further the wider DCB community, they have released a short industry insights survey, in partnership with our Media and Sponsor stakeholders. This survey will gain further insight into the challenges and opportunities that are shaping the Carrier Billing market in 2020 and for the years to come.

Thank you in advance for completing the survey and helping the industry identify how it can move forward in these unprecedented times.

Complete the survey here >>

Please note: The survey comprises of 3 sections and shouldn't take you more than 10 minutes to complete.

CELEBRATING EXCELLENCE AND INNOVATION AT THE GLOBAL DIRECT CARRIER BILLING AWARDS – ENTER TODAY!

We're thrilled to launch the virtual Global Carrier Billing Summit Awards 2020. This prestigious event, taking place on 6 October during Global Carrier Billing Summit will celebrate the past year's most impressive industry achievement and developments as well as innovative individuals driving Carrier Billing success!

Entering and winning a prestigious Global Carrier Billing Summit award guarantees that you will be seen as a leader in your field and will benefit from increased business opportunities and, especially this year, improved team morale and motivation.

Learn more about the categories and entry requirements here >>

Submit your entry here >>

Enter before 2 September for your chance to win!
Over the past four years, Global Carrier Billing Summit has brought all sectors of the Carrier Billing ecosystem together in one place to engage, learn and do business.

As the global situation with Covid-19 continues to be carefully managed, we feel it is in the best interests of our community, many of whom travel internationally to attend, to transform Global Carrier Billing Summit into an online, fully virtual event for 2020.

We are committed to adapting Global Carrier Billing Summit into a virtual format and are passionate about providing a platform that brings everyone together to ensure the innovation, change and progress within our industry continues to thrive and help the world in these uncertain times.

Wherever you are, you'll be able to network with your peers, clients and prospective partners across the globe, access the quality panel discussions, presentations and case studies you've come to expect from our face-to-face event, and if you are unable to join at the time you will be able to watch on demand versions whenever suits you.

We'll be releasing more information very soon, giving you a better idea of what to expect from a virtual event.