Europe 2021 GCCM Lisbon
June 24, 2021 @ 08:00

-

June 25, 2021 @ 17:00

BST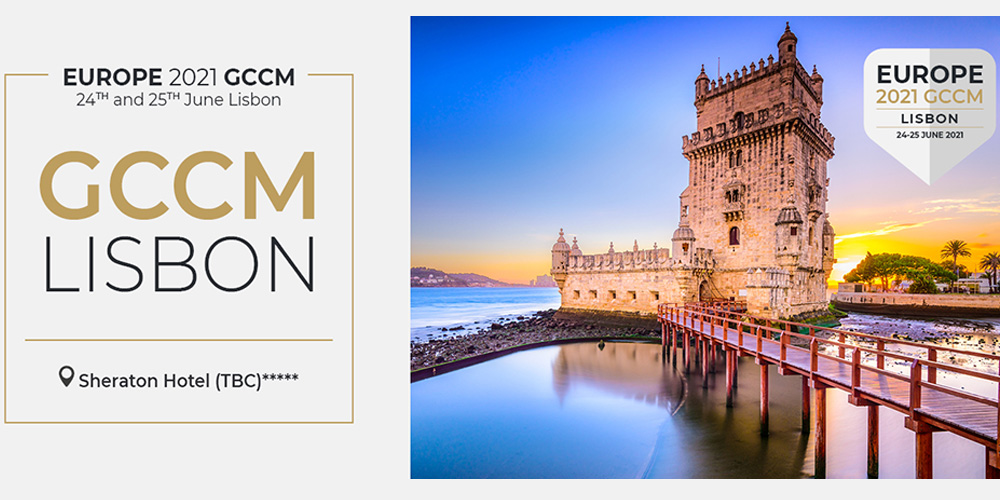 Europe 2021 GCCM – Lisbon 24th & 25th June
Carrier Community (CC) has decided to move the EUROPE 2021 GCCM from LONDON, UK to LISBON, Portugal due to the current travel restrictions in UK.  The EUROPE 2021 GCCM will take place as planned on 24-25th June 2021 at the Sheraton Hotel Lisbon.  To provide more comfort and secure environment for the members to network, CC team has taken a few health and safety measures due to the current pandemic such as: face masks, rapid test booth, spacious environment with sufficient distancing, temperature checking booth, hygienic and disinfection booth, signages with reminding guest to frequently wash their hands and other measures.
The two-day event includes knowledge-sharing panel sessions taken place on site and broadcasted via CC-Webinar.live platform and evening networking receptions to: meet peers, explore new business opportunities, discuss latest market trends, showcase latest products and solutions, and broker deals. Members will also have access to an online meeting portal to schedule individual meetings with attendees.
Europe 2021 GCCM welcomes members and Telco Ecosystem partners from all sectors, such as: Data, Voice, SMS Messaging, Mobile, OTT/ Content Providers, VAS, Enterprise, Satellite, ISP, Data Centres and other related areas. This prestigious event aims to bridge relations between both our members (predominantly from the wholesale telco service provider's arena) and operators from MVNO, Audio Text, Digital Cloud and Submarine. All Europe 2021 GCCM registered members and partners have full access to the below highlighted features.
Current Covid-19 Policy and Travel Status to Portugal:
Flights to and from Portugal are allowed for:
– from the countries of the European Union, from Schengen Associated countries (Liechtenstein, Norway, Iceland, Switzerland) and from the UK.
– from Australia, China, South Korea, New Zealand, Rwanda, Singapore, Thailand, and the special administrative regions of Hong Kong and Macau (subject to confirmation of reciprocity).
"Essential travel"* only:
– Brazil, India, Lithuania and South Africa (travellers are required to quarantine for 14 days at home or in a location assigned by the Portuguese authorities)
– other countries (travellers from countries with an incidence rate equal to or greater than 500 cases per 100,000 inhabitants are required to observe 14-day quarantine at home or in a location indicated by the Portuguese authorities).
"Essential travel" is defined as trips allowing the transit, entry into and departure from Portugal for professional purposes, study, family reunions, health and humanitarian reasons and under the reciprocity principle. The prophylactic isolation does not apply to passengers traveling on essential trips and whose period of stay in national territory, attested by a return ticket, does not exceed 48 hours.
Carrier Community does not take any liability for the updates provided. With regards to the COVID-19 latest status, please kindly contact the local embassies/ consulate or visit official government site to obtain further details before booking your trip. For EU related latest updates, please visit also this page: LINK, however we do not take any liabilities for the validity of the information provided, hence to double check again other sources.  We will keep updating our page as soon as we have further information. Should any of our events be rescheduled as a result of Covid-19, the Carrier Community team will notify members at the earliest opportunity and provide an alternative date. For more information or to register your place at any of our industry events, please email: info@carriercommunity.com.
Contact the MEF Team to get your member discount
Related Events