CC – SMS Messaging Summit 2020 – Berlin
August 24, 2020

-

August 25, 2020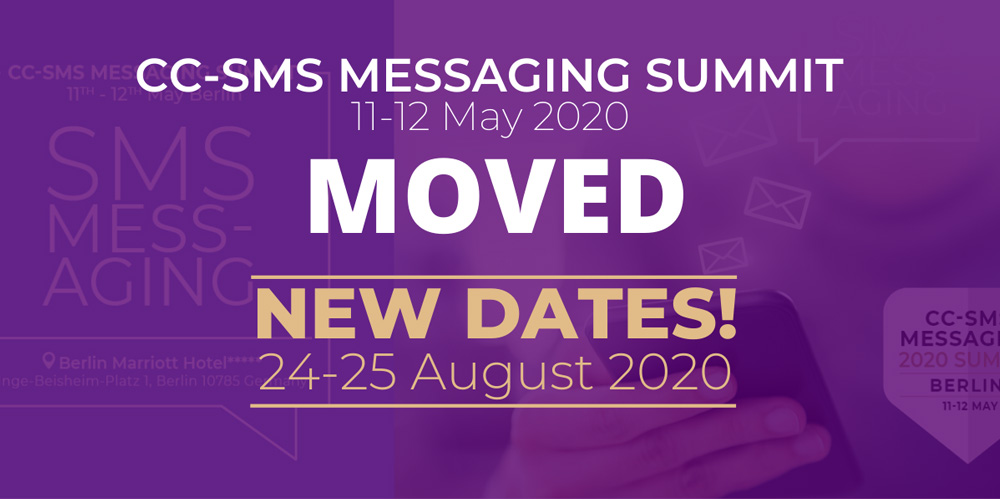 CC – SMS Messaging Summit 2020 – Berlin
August 24 & 25
The SMS and A2P Messaging industry is changing and growing fast. More enterprises are using SMS messaging to provide better customer services to their clients. Carrier Community (CC) is organising for its members the 3rd annual CC – SMS Messaging Summit designed for Telco Wholesale and Enterprise companies which takes place on 24th and 25th August 2020 in Berlin at the Berlin Marriott Hotel (conference room Zürich) bringing together mobile network operators (MNOs), aggregators and wholesale carriers, Enterprises but also leading messaging players and technology innovators to meet and network in Berlin.

CC member executives representing decision makers globally will convene in Berlin to network and do business. CC also organizes various knowledge sharing/ executive discussion panel sessions to address the latest telco industry hot topics, trends, and case studies while discussing news opportunities and challenges within the SMS Messaging industry.

During the same week, CC organises its 7th annual CEE 2020 GCCM in Berlin on 25th and 26th August 2020 at the Berlin Marriott Hotel, Ballroom Berlin 1, please click here to view the event highlights. The 4th annual CC Global 2020 Awards – Berlin will take place on 25th August 2020 at Marriott Hotel (Ballroom Berlin 2-3). To obtain further details on how to register for the CEE 2020 GCCM and Global Awards Ceremony, please contact us at info@carriercommunity.com. The 4th  CDO-Breakfast Summit takes place on 26th August 2020 at the same venue, please click here to view the past event highlights: LINK

All CC-SMS Messaging Summit registered members and partners have full access to the below highlighted features and activities in Berlin. For those members with travel restriction, CC team can assist further and share alternative options to join. CC Team is undertaking Healthy Safety Measures at the event to protect member guests' health and comply with the rules and regulations. For further information please feel free to contact CC Event Team at events@carriercommunity.com.
MEF members can have a discount on tickets. Contact the team for more info.
Related Events