Capacity Europe 2020
October 19, 2020

-

October 22, 2020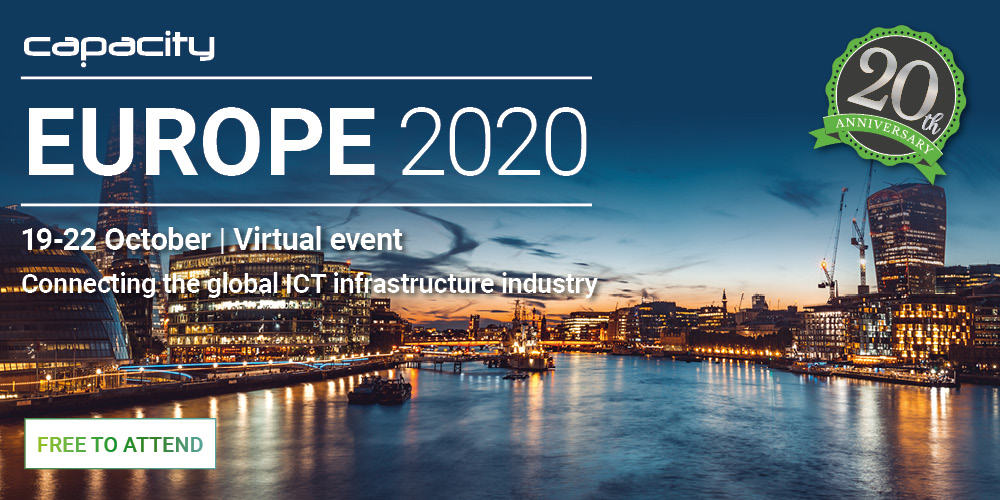 Capacity Europe

October 19 – 22
Capacity Europe 2020 is the unmissable annual event in the global ICT infrastructure industry's calendar. It is taking place on 19 – 22 October.

Keeping the world connected for 20 years, Capacity Europe unites carrier, data centre, cloud, content, peering, SMS, and satellite communities to network, trade and learn.

The event supports important annual trading deals by offering several meeting platforms to retain clients and engage with new business prospects. Alongside meetings, the event's conference programme covers the latest trends such as softwarisation of carrier networks, TMT's response to Covid-19, the emergence of LEO satellites, business transformation, and global inclusion and diversity initiatives, led by C-level executives.

The 20th anniversary of the event promises an exciting return on 19 – 22 October, with more sophisticated networking and even more content. Keeping the world connected during these challenging times continues to be our mission. That is why we have decided to make the event free to attend for the global ICT infrastructure industry.

DON'T MISS – Messaging & SMS at Capacity Europe 2020!

The Messaging & SMS track at Capacity Europe enables key stakeholders in the global messaging community to explore the latest developments in areas including RCS, chatbots, A2P, as well as fraud and security solutions. This stream, which will run throughout the entire day of the Tuesday conference programme, will highlight the need to continually innovate at a time when SMS has been the preferred communication of choice for enterprises during the Covid-19 pandemic.
Related Events