Andrew Parkin-White, Founding Partner of TecFutures, shares insights from their report, examining the survey of 75 MNOs and MVNOs who are all active in enterprise IoT, and their complex non-connectivity requirements.
In the latest report from TecFutures, we explore enterprise needs beyond IoT connectivity based on our recent survey of IoT CSPs. An interesting picture starts to emerge around the extent of those needs and we researched 14 of those needs including security, use of other technologies (cloud, edge and digital twins) and in-life device management. The complete chart is available in the report.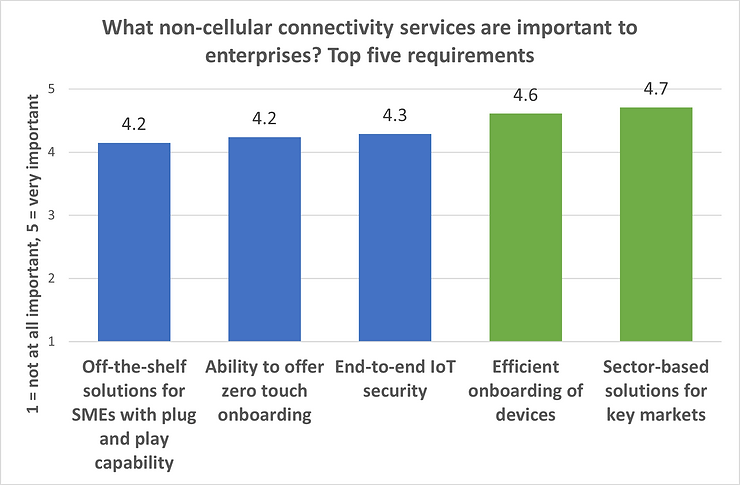 While there is not a wide range in ranking from each of the criteria analysed, we do see some clear messages from the research.
1. Sector-based solutions is the most in-demand non-connectivity need, followed closely by efficient IoT device onboarding
2. Managed solutions appears to be least in-demand, while the majority of other services have a comparable overall demand profile
3. CSPs managing larger customer bases tend to see overall higher demand for non-connectivity services. The implication is that enterprises with higher connections are more demanding.
4. Demand for end-to-end security is not so much driven by CSP geographic focus, but more by the number of connections managed (and likely use case or application)
5. Enterprises clearly need an IoT solution that encompasses connectivity and non-connectivity elements and suppliers should offer a full solution particularly to larger enterprises
The greatest demand for sector-based solutions is in Europe. The MENA region is similar to Europe in terms of demand for sector-based solutions, so differs significantly from the rest of Africa. CSPs managing 250,000 to 500,000 IoT connections seem least interested in sector-based solutions. But demand rises significantly over 500,000 IoT connections. Demand for sector-based IoT solutions is driven by MNOs with a global geographic footprint rather than MVNOs, but the key driver is geographic focus rather than just the type of IoT CSP.
CSPs scored efficient device onboarding at 4.6 / 5 in terms of importance to enterprises. There is a higher demand in Sub Saharan Africa and S. Africa. Efficient onboarding is generally in demand across all enterprises, though especially so with enterprises with high connections. MNOs, with their generally larger footprint, see more demand for efficient device onboarding than MVNOs. It is interesting to note that CSPs with a global focus saw notably less demand for efficient onboarding than other CSPs. Global CSPs do see a notably higher demand for zero-touch onboarding.
End-to-end security is also rated highly at 4.3 / 5 for importance. The need for end-to-end security does not seem to depend on the number of connections as such but is more likely to be driven by other factors such as application or use case. MNOs, with a generally larger geographic footprint, see more demand for end-to-end security than MVNOs. This may reflect the scale and size of IoT implementations they support.
The share of connectivity, as part of the overall IoT value chain revenue, is also falling to around 8% for every dollar spent by enterprises on IoT from around 10% a few years ago.
The research points to the need that CSPs need to either continue in their strategies to offer services beyond connectivity or urgently develop a broader portfolio of more non-connectivity wraparounds including security, analytics and service management tools. A race to the bottom on prices is not a viable strategy and enhancing the CSP IoT portfolio to include non-connectivity offers will longer term build competitive advantage.
This guest post originally appeared on the TecFutures Blog and is reprinted here with kind permission 
TecFutures provides a range of bespoke and custom research services to help clients with their Commercial and Technology market strategy decisions around IoT and adjacent technologies. We specifically help management teams solve critical issues in market research, analysis, and sales enablement.
Enterprises have a complex set of requirements that go beyond their needs for pure connectivity. The report from advisory firm TecFutures explores these non-connectivity requirements by presenting the findings from its survey of 75 MNOs and MVNOs who are all active in enterprise IoT. The report explores key issues including:

Which non-connectivity needs are most valued by enterprises?
What blended solutions do CSPs need to offer the enterprise beyond connectivity?
How does this vary by enterprise size?
Are there considerable differences between larger and smaller CSPs?
What is the relative importance of IoT security, seamless onboarding and sector-based solutions?