Chief Revenue Officer & Co-Founder of MEF Member Enabld Carlos Villanueva shares his top 5 enablers for telcos and wholesale carriers, exploring CPaaS, Routing solutions, testing tools and more.
CPaaS, or Communications Platform as a Service, is a cloud-based technology that allows businesses to easily integrate various communication channels such as SMS, voice, video, and chat into their existing systems. This allows companies to streamline their communication processes, increase efficiency, and improve customer engagement. By leveraging CPaaS, businesses can easily add new communication channels and scale their capabilities as needed, without the need for expensive and time-consuming infrastructure investments.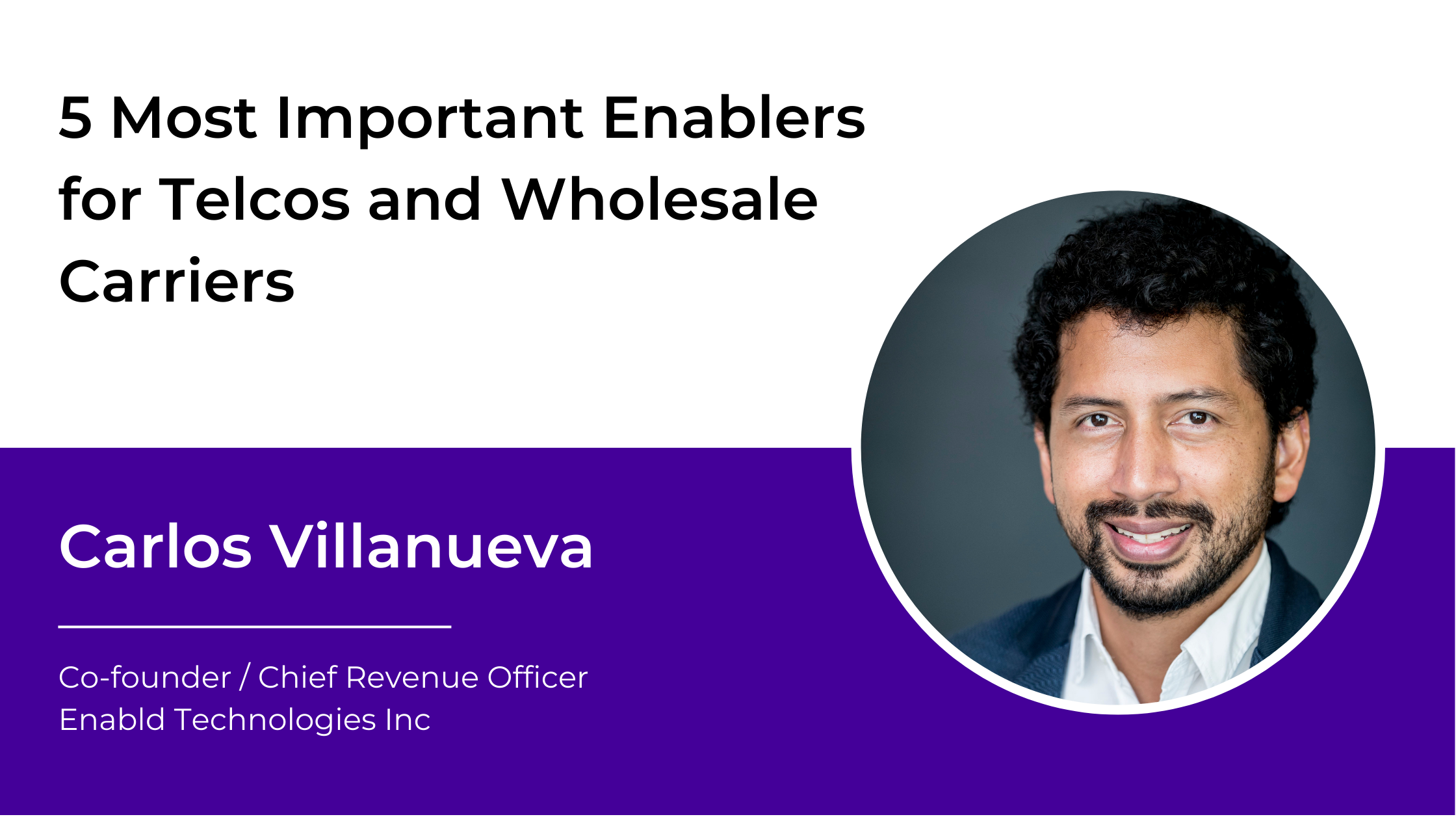 CPaaS is also a powerful enabler that allows developers to add real-time communication features and messaging capabilities to their applications without going above and beyond to ensure each feature is ready to be deployed and functional. This is achieved by encapsulating the Platform with essential tools such as 2 Way SMS Routing, Testing Tools, Advanced Routing (LCR, Sender ID Management & Content Based Routing), Client Enterprise Portal, and Number Management that do not require extensive maintenance while still providing the full spectrum of functionality. This can be beneficial for wholesale carriers as well, who can use CPaaS technologies to build custom communication solutions that meet the specific needs of their business.
Jumping a bit ahead of ourselves, CPaaS technologies enable providers by improving their communication capabilities, reducing costs, and increasing agility, which in turn can be beneficial for business growth.
One of key tools within CPaaS technologies is 2-Way SMS routing. This refers to the ability to send, receive and automate text messages between a business and its customers in real-time to offer a more convenient and efficient communication channel. This is accomplished through the use of SMS gateways, which are software or hardware solutions that allow businesses to send and receive SMS messages using their existing communication infrastructure.
With 2-Way Routing organizations spanning from businesses to governments can ensure that their messages are being delivered at the right time to the right audience. This can be relevant for any type of key business, celebratory or fundraising events, campaigns, elections, big product updates or any other occasion you can possibly think of.
For example, 2-Way SMS Routing can help attendees confirm their presence during a conference or a similar event. Governmental institutions are also valued customers, when it comes to back-to-back SMS exchanges as they are common during elections for poll stations confirmations or updates. Not to mention running campaigns, fundraisers and drives for NGOs. Whatever the cause may be, Telcos and wholesale carriers have a job that needs to be upfront, and 2-Way SMS Routing plays a vital role as an enabler.
Other use cases for 2-Way SMS routing may include:
Sending alerts or updates to customers about their orders;
Responding to inquiries or requests for information;
Providing customer support and handling complaints;
Sending marketing messages or promotions.
The 2-way SMS routing tool from Enabld also helps automate inbound campaigns by introducing keyword-based responses and rules turning simple messaging into connected conversations. Other benefits of our solution include hassle-free integration with APIs, Web Interface, and HTTP. In addition, multilingual support allows for a more seamless configuration of keywords and sub-keywords, providing insightful analytics, faster response times, and the ability to select short and long codes across multiple countries – whatever the business needs!
Some potential benefits of 2-Way SMS routing for Telcos and wholesale carriers include:
Widened reachability of the business for potential customers.
Improved customer service, satisfaction and loyalty.
Streamlined and more efficients messaging processes, that requires less time and resources to communicate with customers.
Greater reach – SMS is a widely used communication channel, which means that 2-Way SMS routing allows Telcos and wholesale carriers to reach a large number of customers quickly and easily.
Advanced Routing
Advanced Routing and Least Cost Routing (LCR) are two different approaches that carriers can use to route SMS messages. The main differences between the two include:
Efficiency: Advanced Routing may be more efficient than LCR, as it takes into account a wider range of factors when determining the best route for a message.
Quality: Least Cost Routing may prioritize cost over quality leading to lower delivery rates compared to Advanced Routing.
Cost: Advanced Routing may be more expensive than LCR, as it involves the use of more sophisticated tools and algorithms.
Advanced SMS routing refers to the use of sophisticated routing algorithms and tools to determine the most efficient and cost-effective way to route messages. This can involve taking into account factors such as network coverage, message volume, and message type, among others.
By using the advanced routing feature of the Enabld Communication Platform, our customers can also benefit from sender ID and content-based Routing. This tool allows to use the content of the message as the main factor for determining the optimum delivery route, ensuring that the correct message is being delivered at all times.
Some examples of how Telcos and wholesale carriers might use advanced SMS routing include:
Routing high-priority messages through the most reliable networks to ensure timely delivery;
Using routing algorithms to optimize the delivery of messages based on network conditions and message volume.
Least Cost Routing, on the other hand, involves routing SMS messages through the network or provider that offers the best cost per message. This is typically done in order to minimize expenses and maximize profits.
Some examples of how Telcos and wholesale carriers might use Least Cost SMS routing include:
Routing normal and low-priority messages through the most cost-efficient provider;
Using routing algorithms to minimize costs by selecting the least expensive route for each message.
Overall, advanced SMS routing and least cost SMS routing are two different approaches that Telcos and wholesale carriers can use to route SMS messages, with different trade-offs in terms of cost, efficiency, and quality.
Delivery testing tools
Delivery testing tools allow Enabld users to test and optimize the delivery of SMS messages early on. These tools are beneficial for Telcos and wholesale carriers in a number of ways, but mostly to ensure that SMS messages are delivered accurately and in a timely manner. Some examples of how Telcos and wholesale carriers might use SMS delivery testing tools include:
Testing the delivery of SMS messages to different networks or regions to identify any issues that may be impacting delivery.
Identifying and fixing issues related to message formatting or encoding that may be impacting the quality of SMS delivery.
Using analytics and reporting tools to track the delivery of SMS messages and identify any trends or patterns that may be affecting delivery rates.
For example, the notifications can be returned undeliverable due to the route setting not matching your message or gray routes that are unreliable and cannot guarantee high delivery rates. These are just a few most common reasons that can easily be determined by using Enabld testing tools. More complex delivery issues would include fake delivery reports from unreliable providers which lead to more expenses and skewed campaign data.
Our customers can detect these issues early and proactively respond – whether by tweaking or relaunching campaigns or considering moving to more trustworthy partners.
Some potential benefits of SMS delivery testing tools for Telcos and wholesale carriers include:
Improved overall delivery rates driving growth in customer satisfaction and loyalty;
Enhanced delivery quality backed by catching issues with message formatting or encoding early;
Increased efficiency with reduced time and resources required to troubleshoot and resolve delivery issues.
Greater reach supported by increased overall delivery accuracy allowing Telcos and carriers to reach a larger audience and potentially increase customer base.
With a testing tool enabler, you can send your messages to multiple supplier routes ensuring the messages are delivered correctly. For example, you can identify Fake DLRs, Sender IDs, Content, SMSC, PDU, UDH, latency, delivery to ported numbers, and more by sending test messages to real, local numbers.
Client Enterprise Portal
The Client Enterprise Portal is explicitly tailored for the clients. The portal is especially present to help make accessibility easier. The portal allows self-management, visibility on traffic, invoicing, buy services, Campaign management, and Inbox – a convenient, white-labeled tool for enterprises willing to reach out to their clients via flexibly defined communication channels.
Enterprise Portal enables the user to carry out SMS marketing campaigns – that is, bulk mailouts of messages to a predefined list of subscribers. Additionally, it allows sending SMS from third-party applications and websites (for example, confirmation codes and other notifications).
For example, as a Telco or wholesale carrier, we provide services for your business that help regulate operations inside the company. It manages all processes, integrating information and managing employees' availability, enhancing customer relationship management, content management, time tracking, order tracking, data analysis, accounting, database, product lifecycle, and supply chain management.
Numbers Management
Cloud numbers management refers to the ability to control the use of phone numbers within a cloud-based communication platform, such as a CPaaS application. Some of the main benefits Number Management can bring include:
Increased flexibility: quickly and easily add or remove phone numbers as needed, without the need to invest in additional hardware or infrastructure. This can help Telcos and wholesale carriers respond more quickly to changing customer needs or market conditions.
Improved efficiency: track and manage phone numbers more easily, resulting in more streamlined communication processes and reduced costs.
Enhanced security: ensure that phone numbers are being used appropriately and securely, which can be important for maintaining customer trust and protecting their business.
Greater control: Telcos and carriers can have greater control over their phone numbers, including the ability to set usage limits or block certain numbers as needed.
Enabld provides an advanced web portal and APIs for Telcos and wholesale carriers to manage, set up and configure Cloud Numbers right from the application. In turn, the carriers can offer a strong management system with a diversified range of actions to their respective clients:
The numbers ordering and purchasing process;
Setting of addresses;
Assign the connections to phone numbers;
Know how the voice and SMS traffic will be routed;
Place the porting number request from one network to another;
Detailed report of outgoing and incoming calls and SMS from/to purchase phone numbers by the client.
Sender ID approval and management
Conclusion
Enabld is the perfect choice for Telcos and Wholesales Carriers looking to diversify their communication channels and generate new revenue streams. With our CPaaS technologies Telcos and Carriers can benefit from:
Increased agility: quickly and easily add new communication features to their applications without the need for complex infrastructure or in-house expertise. This can allow them to respond more quickly to changing market conditions and customer needs.
Less expenses: reduce IT costs by eliminating the need to maintain and update their own communication infrastructure. This can also help them reduce their overall operational costs by streamlining their communication processes.
Increased scalability: scale their communication capabilities up or down as needed, without the need to invest in additional hardware or infrastructure.
Improved customer experience: offer their customers a more personalized and seamless experience.
Whether your use cases are simple, like automating text message reminders or complex, like a fully seamless integration, compatible with existing systems, Enabld will bring the best options to you and your customers.