Get the latest announcements from MEF Members across the mobile ecosystem globally in this weekly review of member news…
(Alliance News) – Bango PLC on Wednesday said it has signed a new Digital Vending Machine deal with the Japanese employee benefits platform Benefit One Inc.
The Cambridge, UK-based mobile commerce company said that Bango Digital Vending Machine technology enables "a wide range of subscriptions to be offered to consumers, significantly reducing development time and effort."

From April 2023, employers in Japan that use the Benefit One employee benefits and incentives system will be able to offer subscription services to their employees.
Bango Senior Vice President Andy Suzuki said: "We're excited to work with Benefit One to add the latest and greatest subscription services to their range of member benefits. Bango technology takes away the complexity and makes it as easy as possible to get to market fast with the products and services members really want."
International communications platform company BICS has strengthened its network with a new SDN (software-defined networking) controller developed by Nokia.
The new intelligence module automates optimal traffic routing on the network, improving overall performance for consumers while laying the groundwork for 5G network slicing.
The new SDN controller will be used to manage capacity and flow routing across its global network. The controller monitors routing paths across the network and makes decisions to adapt and optimize traffic flow at all times. The SDN has been tailored to create a bespoke model for use cases specific to BICS' needs.
Jorn Vercamert. VP Products and Solutions at BICS – BICS is investing heavily in its software solutions ecosystem, and this new module is just the latest development in this effort. Greater network intelligence is worth investing in – it means even better service for our customers, and by extension, the end-customers of those operators. BICS' network carries around half of the world's roaming traffic, so this move re-affirms our strength in the global communications landscape and is also a future investment for when the industry fully moves to 5G and looks to deploy network slicing at scale.
iconectiv executives showcase how communication service providers are mitigating fraud, caller ID spoofing, smishing, illegal robocalling, network inefficiency and more

BRIDGEWATER, N.J.–(BUSINESS WIRE)–Consumers and businesses depend on voice calls and SMS not only to communicate, but also to enable security safeguards such as two-factor authentication for bank accounts. That's why fraudsters also look to voice and SMS for illegal robocalling, smishing, account takeovers, PBX hacking, one-ring scams and other types of communication fraud.
At MWC Barcelona 2023, iconectiv executives will highlight the work of the industry's Superheroes—who are propelling the communications industry's momentum by keeping people connected, businesses running and commerce flowing. They will also discuss the progress that service providers, regulators and associations such as CTIA, ATIS and GSMA are making to protect businesses and consumers and boost operational efficiency. For example:
"Illegal robocallers and other fraudsters aren't the only villains attacking the trusted communications ecosystem. They're joined by network and asset management complexities that undermine service providers' bottom lines, making it challenging to continue innovating," said Richard Jacowleff, iconectiv CEO. "But those villains are losing the battle on every front thanks to the growing legion of Trusted Communication Superheroes. From porting numbers to rolling out 5G, they're thwarting fraudsters, restoring consumer trust and ferreting out inefficiency and inaccuracy needed to accelerate digital transformation efforts and move conversation commerce forward."
Global cloud communications platform Infobip has been ranked as the number one Communications Platform as a Service (CPaaS) provider by tech analyst Juniper Research. Its number one ranking underlines Infobip's position as the leading full stack omnichannel communications platform for every platform.
Juniper Research ranked Infobip as the number one CPaaS provider of 19 vendors, exceeding all its competitors in its capacity and capabilities. Infobip "offers extremely comprehensive coverage of different messaging technologies" further strengthened "by its acquisition of OpenMarket", according to Juniper Research.
Ivan Ostojić, Chief Business Officer at Infobip, said: "Juniper Research anticipates that CPaaS market will grow to $42.8 billion by 2027, up from $21 billion this year. We've cemented our position as the market-leading CPaaS provider, as our number one ranking by Juniper indicates, and we're well-positioned to take advantage of these growth opportunities. Our continued expansion reflects the fact that customers increasingly demand seamless interactions between businesses, people and things. And we're keeping our foot on the gas to ensure we remain the leading full-stack omnichannel communications platform for every platform, which means providing the most powerful communication infrastructure to our customers and partners, through a variety of programmable channels, advanced platform functionalities and conversational solutions." 
A new study from Juniper Research has found the value of the retail roaming market will reach $19 billion by 2027 globally; a substantial increase from $10 billion in 2022. This growth of 98% in revenue will be driven by both an increase in the number of 5G roaming subscribers across key international travel corridors between North America, Europe and Asia Pacific, and data generated by these new 5G connections whilst roaming internationally.
The research anticipates this increase in roaming data will be attributable to new devices, such as cellular-enabled laptops, wearables and tablets. It warns this growth will necessitate increased operator reliance on roaming vendors to manage the ever-growing complexity of roaming ecosystems.
The report predicts international travel will return to pre-pandemic levels by 2024. In turn, it urges roaming vendors to provide solutions that enable operators to create novel roaming services, such as real‑time self-management platforms protecting subscribers from data overuse whilst roaming. By providing these solutions, the report predicts that operators will be able to reduce the number of silent roamers and thus maximise roaming revenue from international travel.
Rakuten Viber on Monday said it launched its new chatbot AI Chat & Create which allows users to ask questions and design images directly through the Viber app.
AI Chat & Create provides easy access to AI text and image generators such as DALL-E and Davinci, Rakuten Viber said.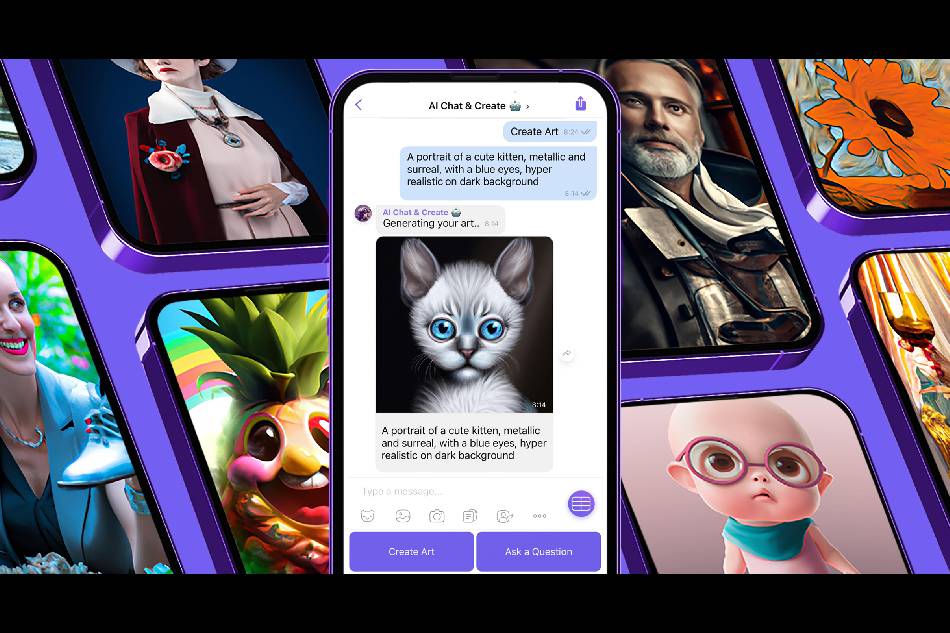 "We provide access to these industry-leading AI tools directly on the app and users can quickly share their creations or answers. Right now, the chatbot offers two options – one for images and one for text – and we're looking continuously to expand the offering in the near future," Rakuten Viber CEO Ofir Eyal said.
Viber said users can subscribe to the chatbot and have unlimited access to the AI technology.