Get the latest announcements from MEF Members across the mobile ecosystem globally in this weekly review of member news…
With advertising spend predicted to grow by 2.6% over the next 12-months, many CMOs are placing marketing technology at the top of 2023's buying list. Global mobile penetration is at an all-time high, meaning many businesses, and mobile network operators (MNOs) are looking towards mobile marketing to engage consumers and boost sales.
So finds Upstream, a global mobile marketing technology specialist, which sharing its vision for the industry in 2023 as CMOs prioritise delivering personalised offers, exceptional customer experiences and targeted multichannel campaigns in the year ahead to support revenue growth, amid wider economic cooling.
"The door has opened for a reshuffling of media investment with advertisers laser-focused on the technologies and strategies that provide the most return-on-investment and long-term sustainability. Market turmoil might be fanning the flames left in the wake of the pandemic for much of the technology industry and wider economy, but it is also feeding an ever-growing consumer demand for richer, digital experiences and services," said Dimitris Maniatis, CEO, Upstream.
Mavenir, the Network Software Provider building the future of networks with cloud-native software that runs on any cloud, today announced the availability of its Fixed Wireless Access solution (FWA) combining Mavenir's Open Virtualized RAN, Converged Packet Core and OpenBeam™ portfolio of radio units. This offering provides a competitive solution in a low-footprint deployment that leverages public and private cloud infrastructure. Mavenir's FWA solution delivers high throughput, differentiated QoS control, geo-restriction, home-zoning, differentiated charging, advanced power savings, and many more features.

"Fixed Wireless Access using LTE or 5G radio formats provides much more stable performance than the 802.11-based links that are popular today. In my testing, a CBRS-based LTE link has only 0.1% packet loss compared with 8.5% for an 802.11-based FWA link," said Mobile Experts' Joe Madden, Chief Analyst. "Four years ago, higher packet loss may have been acceptable, but today's work-from-home environment requires a very stable, reliable link for video conferencing. For that reason, our forecasting anticipates a strong trend toward 3GPP technology in FWA, and Open RAN solutions will be popular due to their low cost."
Vonage, a global leader in cloud communications helping businesses accelerate their digital transformation, has been identified as a Leader by Aragon Research, Inc. in the Aragon Research Globe™ for Conversational AI in the Intelligent Contact Center, 2023*.

Modern consumers expect their issues to be resolved quickly and efficiently all while having a high-quality, intelligent, seamless experience. To meet these growing expectations, an increasing number of intelligent contact center (ICC) providers are integrating conversational AI technology into their product offerings – from intelligent virtual agents (IVA) to omnichannel connections to low-code/no code natural language solutions.
"The era of low expectations for contact center engagements is coming to an end as users are demanding enhanced, flexible and intelligent engagement with brands across all industries," said Jim Lundy, Founder & CEO of Aragon Research. "If artificial intelligence (AI) is the fuel that's driving the modernization of the ICC, then conversational AI is the vehicle making the UX much more enjoyable. And with a full, integrated portfolio and an increasing focus on intelligence and AI, Vonage is uniquely positioned to meet the growing demand for intelligence in the contact center through the power of the Vonage Communications Platform."
A new study by Juniper Research has found that global OTT (Over the Top) business messaging traffic will rise from 93 billion in 2023, to 254 billion by 2027. This growth of 172% will be driven by increased availability of open OTT messaging APIs and competitive pricing models; creating a viable rich media alternative to established operator-led channels, such as SMS.

The research identified consistently low OTT business messaging pricing as a key driver of adoption by CPaaS (Communications Platforms-as-a-Service) platforms. As OTT messaging pricing is set by the platform itself rather than operators, this provides a far less volatile pricing model compared to SMS.
Research author Elisha Sudlow-Poole commented: "The volatility in wholesale SMS business messaging pricing provides an opportunity for OTT messaging platforms to grow their revenue, by offering stability for CPaaS platforms when negotiating traffic subscriptions with enterprises."
Customers of BICS can now receive near real-time insights into the traffic being carried thanks to a software deal by the communications platform.
The company says it has deployed an automated assurance and operations solution that will power its advanced analytics for both telco and enterprise customers.Franco Messori (pictured), chief of product strategy and company transformation at BICS's software supplier, Infovista, said: "Our cloud-native automated assurance and operations solutions provide the scalability, openness, interoperability, and reliability that BICS needs for a lower [total cost of ownership] and a faster [return on investment]."
BICS will customers using the cloud-based software to monitor, control and optimise the quality of their global communications services, including 3G, 4G and 5G networks.
Laurent Missa, senior operations support systems team leader at BICS, said: "We are already seeing the benefits today and I am confident our collaboration will continue to deliver the value excellence in our solutions which our customers have come to expect from us."
La profesional será la responsable de liderar el plan estratégico global de comunicación de la compañía tanto a nivel interno como externo
Telecoming ha nombrado a Cristina Robledano como communications director. Con más de 15 años de experiencia en el área de comunicación y marketing digital, Cristina, que comenzó su andadura profesional en la empresa Siemens, ha desarrollado la mayor parte de su carrera en agencias de comunicación y relaciones públicas en España y Reino Unido, tales como Tinkle y Antidote Communications.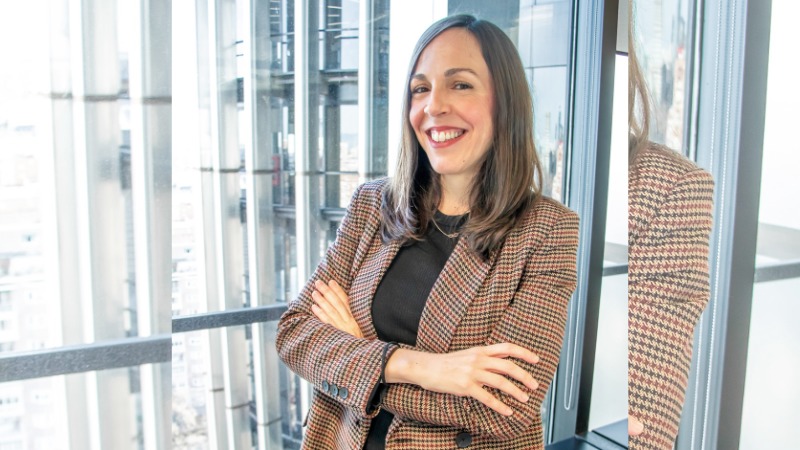 En ese tiempo, ha trabajado en la creación e impulso de las estrategias de comunicación y marketing digital, para mercados nacionales e internacionales, de distintas firmas como Veuve Clicquot, Ikea, Trasmediterranea, Abbvie, Channel Advisor y Gedesco, entre otros. Robledano es Graduada en Dirección Periodística y Publicidad por ESERP Business & Law School, cuenta con un Master en Dirección de Comunicación por CESMA Business School, y Diploma en Marketing Digital por la University of the West of England de Reino Unido.