Globally, telecom users have been putting up with Robocalls, or nuisance calls for years. The USA and Canada introduced a form of call origin verification capability: knowing where the call was coming from could help stop unwanted and fraudulent calls reach the final consumers – based on a collection of standards referred to as STIR SHAKEN.

Different levels of protection have been rolled out, but the problem seems to persist, causing some to ask, should we allow more time for STIR SHAKEN to mature or is it time to check the lessons learnt and optimise the model?

We asked these questions to three experts in the field: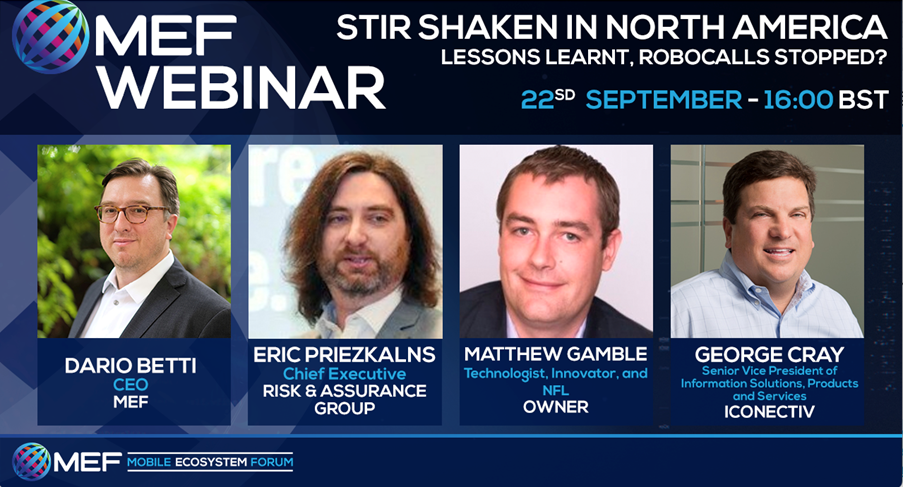 Matthew Gamble, Principal at INT13 Consulting and a deep understanding about Canada
Eric Priezkalns, Chief Executive at the Risk & Assurance Group, and a critic of the North American policy implementation
George Cray, Senior VP of Information Solutions, Products and Services at iconectiv, one of the main enablers of the STIR SHAKEN technical solution

Robocalls still exists in North America and STIR SHAKEN did not prove to be the magic bullet that some were hoping for. More realistically, the launch of the technology is now generating insight on the implementation strategies and the regulatory policies require by this tool.

Nowadays, information provided from STIR SHAKEN is powering more strategies and solutions to fight fraudulent traffic. The application of STIR SHAKEN is evolving and in some instance it is becoming more of a fraud tracing tool, or a potential blocking solution. And while USA and Canada did not completely stop robocalls, France is now also adopting this technology.

STIR SHAKEN is still the main reference point in the market, however, the industry needs to reflect and understand more how to use this tool. The interconnected nature of the telecom system is its main strength but also a challenge here – could more be done to support an international solution?

Join this lively discussion with George, Eric, Matthew and Dario.
For more unique interviews, opinions, panels and webinars, subscribe to the MEFTV YouTube channel, and stay up to date with MEF Members and the global mobile ecosystem.