The global audience for eSports is a remarkable 532 million. Unsurprisingly, the mobile ecosystem sees great potential in the space. Cookies Digital has already made its move, as it explains in a MEF Webinar…
The rise of eSports  has to be one of the most surprising facets of popular culture. Few would have predicted that people would pay to watch other people play video games – or that professional gamers would become global celebrities. But here we are: eSports is a big deal.
How big? Well, according to market watcher NewZoo the eSports  industry is one of the fastest-growing entertainment sectors in the world. In a 2022 report it stated:
eSports will generate nearly $1.38 billion in revenues globally by the end of 2022
The global eSports audience will grow by 8.7 percent in 2022 to reach 532 million
In 2025, the total eSports audience will surpass 640 million
By 2023, the annual growth rate will be approximately 10.4 percent
No wonder eSports has been described as "one of the investment opportunities of the coming decade".
In its early days, eSports was played mostly on PCs. However, as the gaming industry as a whole has migrated to mobile, there's been a similar shift in eSports  . As a result, there are now plentiful opportunities for mobile companies to enter this exciting new market.
These opportunities lie in content production and also in associated support activities such as advertising and payment (direct carrier billing).
Many MEF members are now exploring this exciting new market. None more than Italy's Cookies Digital.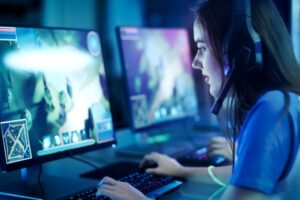 In 2021, Cookies announced Play And Play – a mobile-focused eSports  platform. It also unveiled Split Screen, a series of 20 specially made in-depth interviews with the world's most celebrated eSports  players, casters or entrepreneurs. Its presenter is former footballer Alessandro Del Piero, the second highest Italian goal scorer of all time. In the series, Del Piero traces the history of this movement from the LAN parties held in basements 25 years ago to the sell-out stadium events of today.
Cookies Digital clearly sees immense potential in the eSports space.
Last week, it outlined its vision in an exclusive webinar for the MEF entitled: Building an eSports Universe to Drive User Adoption, Engagement and Revenues.
The session was led by Simone Trimarchi, eSports manager at Cookies and a veteran of the market (as former pro-player, caster, journalist and event organizer). He was joined by Emiliano Spinneli, account manager at AFK Creators and an active eSports  professional.
Trimarchi began by describing the ecosystem itself. He explained how eSports  revenues are split by events, TV rights, merchandise and sponsorship. He also revealed that the industry is dominated by just five games: Dota 2, League of Legends, Counter Strike, Call of Duty and Valorant.
However, Trimarchi showed the potential of mobile-based eSports when he revealed that the biggest eSports event of 2021 was based on Free Fire – a mobile game. Free Fire World Series generated a peak viewership of 5.41m.
This was the context for Cookies Decision to create Play and Play and Split Screen. Trimarchi said: "eSports tournaments are fun. I love them. But they are niche. We wanted to build a platform that welcomes both hardcore and casual gamers, as well as people who maybe don't play but are just curious."
Del Piero also joined the webinar to explain his collaboration with Cookies. He said he was surprised to find out how dedicated eSports stars are. He said: "Their preparation is the same (as that of footballers). They spend a lot of time in mental and physical preparation. They really put all of themselves into it."
Cookies is now preparing to roll out its eSports products with MNO partners around the world and to monetise them using DCB and even by licensing the content to TV broadcasters.