MEF CEO Dario Betti explores the changing face of the African mobile markets and discusses the potential the continent offers – with expert input from a variety of MEF Members active in the region.
The World Bank and African Development Bank report there are 650 million mobile users in Africa, surpassing the number in the United States and separately in Europe. In some African countries more people have access to a mobile phone than to clean water, a bank account or electricity. Africa is largely a mobile first continent, where fixed networks have been bypassed.
The level of advancement in mobile fintech in Kenya or Nigeria rivals the rest of or the world. The different markets that make Africa have shown a surprising level of innovation and creativity in content, payments, and utilities.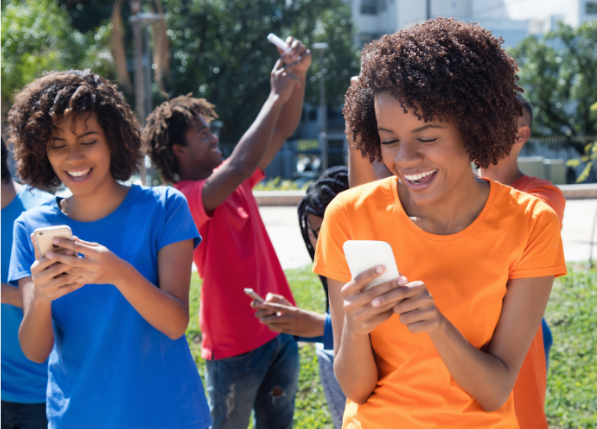 But there the nuances between African countries are significant and as such must be understood and respected to ensure success.  Youth are using mobile phones for everything: communicating, listening to the radio, transferring money, shopping, mingling on social media and more. Furthermore, the industry has transcended divides between urban and rural, rich and poor.
As Gregory Brophy, the Chief Executive Officer of Itouch points out "The mobile market in Africa, powered by youth, has great potential for investors because of the huge numbers." iTouch Messaging Services is one of the very first wireless service solutions that show the potential of this market, starting in 1995 and growing for other 25 years.
There is a great potential in the African mobile market, and it pays to enter in Mobile Africa early on. Gregory points out: "Brands who engage early generally in Africa become household names – the generic for the sector. In South Africa Colgate is toothpaste, OMO is washing powder, Grandma is head-ache powder. When you're asked for a Grandma you're actually being asked for something for a head-ache. So, the advice is engage early, pay your school fees, and be handsomely rewarded over and over again. Patience is a virtue. Adages manifest their truths."
The UN projects that Africa's population of 1.3 billion would quadruple over the next two decades reaching 4.3 billion by the end of the century. While Asia's share of global working-age population would be declining, Africa's would be ascending eventually overtaking Asia by 2100. By the end of 2100, Africa's population would most likely surpass Asia with a middle class that would be more than 50% of the population. The economic growth is moving towards Africa. An 80-year forecast is a challenging one, and history has not been kind with African economic revolution. However, the trajectory of this change is something that can be noticed now.
To grow in this market is to position for a historical change.
Mobile Data is changing the opportunities
The market is now enjoying a considerable move to digital channels thanks to the progressive adoption of smartphones.
It is not just fintech that is growing. According to Ali Karaosman from Telecoming:  the content market is enjoying a boost too, and this mobile monetisation firm has seen a dramatic change "The arrival of online consumption of VOD through mobile phones has converted it into an immediate platform for entertainment consumption."
The key in African Innovation is adapting technology to the African reality, using airtime as a wallet, insurance, or money transfer all is possible. So the mobile has become the new TV center.
Anzelle Robertson from SAM Media reports how even virtual reality is working in Africa. Virtual Reality has not been a straight success across the globe, but their VR services 'Mobio360' has 700,000 African subscribers enjoying international city tours, extreme sports or exotic locations.
Mobile is the market channel for the content. Taha Jiwaji, the CEO of Mobile Messaging solution specialist Beem Africa "Telecoms and omni-channel communication continue to thrive and grow across African markets. As consumers move to smart phones and digital channels in droves, businesses are having to follow them to continue to serve them and wow them with new mobile experiences." Operating a Communication platform in West Africa, Alchemy Telco sees the huge business potential.
However, Malick Dibba the CEO and founder of Alchemy Telco believes that both regulatory and mindsets have a long way to go to embrace the business model and the benefits wireless networks provide. There are still improvements to be made.
The impact of COVID can be seen in the mobile market. Tracy Molete, from Apprentice Valley confirms that "The pandemic drove agile developments and increase in investment and adoption of digital technologies to enable remote working, remote learning, self-assessment apps, e-commerce platforms and digital cash transfers and payments. The wave has come, it is getting bigger, Network Operators are driving towards
acquiring more spectrum and scaling infrastructure in order to meet the imminent demand brought by the fantastic innovations and adoption thereof across the continent."
Teniola Stuffman, Business Development Director, VAS2Nets Group adds that there are issues with the stronger adoption of data: " the 3G and 4G networks are starting to suffer. It is too early to image a strong 5G roll out for African – more investment in fibre networks to support the mobile delivery.  More network build will be necessary, but the infrastructure is growing."
Regulators had to allocate additional spectrum to cater for the increase in digital traffic.  We have also seen a lot of IOT and chatbot technologies that have emerged and became even more prominent recently for remote monitoring and war room dashboards aimed at monitoring and attending to societal problems just in time, coupled with drones and robotics.
Changing Regulations
Regulations within Africa are tightening up dramatically, and Ryan Louw, the CMO of  SMS Portal thinks this is a good thing: "Customer Data Protection policies have been implemented and an Opt-in policy has become the staple for mobile communication in Africa. This becomes paramount in keeping the market customer centric and paves the way for a fruitful future for both marketer and customer." 
South Africa saw the start of consumer activism in 2008 with the  Consumer Protection Act 68 of 2008 laid a foundation for subsequent regulations related to the protection of personal information.  Network Operators and Wireless Application service providers had to make drastic changes to align with the consumers' expectations and regulations. South Africa has paved the way, but many other countries are now busy establishing frameworks and regulation. Overall, the importance of fighting cyber-crime is intensifying.