When was the last time you talked about Mobile Content? Well, I assume the readers of the MEF are probably more engaged with the topic, but I cannot stop thinking that its not enough. Mobile content is a market valued at $120 billion revenue – it should have more clout globally.
I believe that the success of the app story and the maturity of other mobile content services are not really fully appreciated.  Mobile Content in 2020 was worth three times the combined cinema box office and music recording industries in revenue. It might be worth less than a third of the market for smartphones but content is definitely big.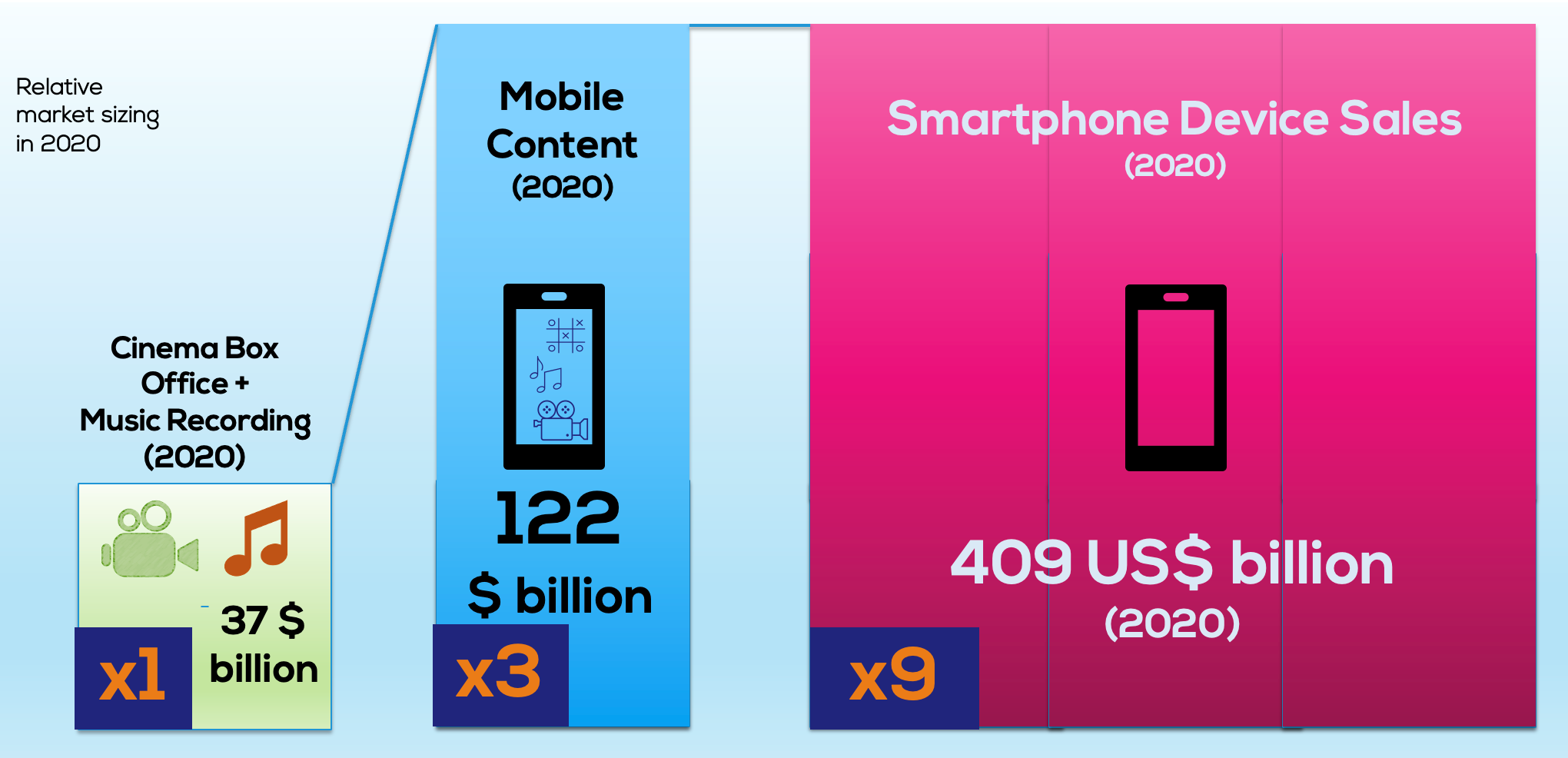 This week the Mobile Ecosystem Forum published a short market sizing report to give food for thought on the trends in mobile content. It is a good excuse to catch up with an 'old friend' and remind ourselves of what has been accomplished from the first ringtone sales from more than 20 years ago.
As always, I should remind all that the most important thing in market sizing is not the number, it is the definitions. Understanding the growth of education, lifestyle and ePublishing segments requires the complex activity of parsing apps and services, and the same could be said about mobile payment mechanisms.
The industry does not talk the same language. But it probably did not have the chance to look at the new service types, when games dominate with 69% of the revenue in 2020 and an increase from the year before.
The industry does not talk the same language. Conversation on its multiple components is limited as games dominate with 69% of the revenue in 2020, and an increase from the year before. Also Apple and Google's app stores are the huge; between them they represent 88% of paid services. It is worth stressing that Apple – not Google – is the leader in revenue (58% of total revenue vs. 30%). However, the market for premium rate, operators bundles and other stores are still large – worth billions of dollars.
In terms of payments methods we can report that our exercise saw credit card being the biggest payment channel, brining $61 billion.  Pandemic expenditure was a boost in markets such as the USA and Europe where credit cards are well positioned. Direct Carrier Billing has also enjoyed a bump in 2020, bringing $33 billion in total. Again a large transactional revenue by itself – a number that has surprised many. DCB is now part of the app stores charging methods, and available for OTT services as well, while mobile operators services have faded new monetisation opportunities are still strong. Bundling should probably be names the strong growth story – as operators market content services with their telecom services into single packages- it is now worth $14.5 billion in estimated content value.
This sizing exercise is here to make you talk, we would like your opinions and your debate on the state of the Mobile Content industry in 2021. Let us have your comments to info@mobileecosystemforum.com