MEF Connects Rich Communications sessions are all available to watch on demand – Here, our panel explored the WhatsApp Business Solution as a messaging channel, sharing exclusive customer use cases from the FMCG sector. Cloud Communication Platform provider Routemobile and Vestige Best Deals, a leading online grocery store in India, join Giulio Sinibaldi of Analysys Mason for the discussion.
The speakers:

Giulio Sinibaldi – Senior Analyst @ Research, Analysys Mason, moderator
Alyque Sequeira – VP Product Management @ Route Mobile
Badrinath Mishra – VP and Chief of Business @ Vestige Best Deals

Watch the session in full below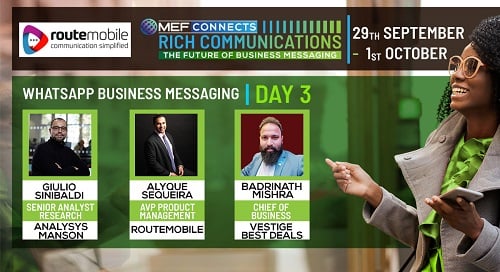 Over 3 days, MEF Connects Rich Communications brought together enterprises, brands & agencies to connect online with MNOs and messaging providers to showcase the business messaging channels that are transforming customer engagement. If you missed a session, check out our Video On Demand page below. MEF Members can visit the Member only On Demand page to get presentation slides as well.