Get the latest announcements from MEF Members across the mobile ecosystem globally in this weekly review of member news…
Croatia's leading software company and global cloud communications provider Infobip said it signed a definite agreement with US firm Amdocs to acquire mobile messaging solutions provider OpenMarket for a gross cash amount of some $300 million (254 million euro).
"This combination brings together two world-class companies to form a leading global player in cloud communications, with combined revenue runrate of more than $1 billion," Infobip said in a statement on Wednesday.
"Combined, Infobip and OpenMarket have some 10,000 customers, including many of the world's leading enterprises. We will now be better able to meet the customers' needs in every region, with best-in-class direct connectivity to more than 650 mobile operators and a best-in-class combined portfolio of cloud-based messaging and SaaS offerings," Infobip co-founder and CEO, Silvio Kutic, said in the statement.
Infobip serves and partners with leading mobile operators, messaging apps, banks, social networks, tech companies, and aggregators. Established in 2006, it has expanded to include over 65 offices on six continents, with the capacity to reach more than seven billion mobile devices and 'things' in more than 190 countries connected directly to over 650 telecom networks.
Global cloud communications software and solutions provider, IMImobile PLC, today announced it now offers Google's Business Messages as an additional customer communication channel for enterprises.
Today, billions of customers find businesses through a simple Google search, often resulting in website visits or phone calls. With Google's Business Messages, brands can offer the ability for consumers to message them within organic Google search results – such as Search or Maps – with just one click.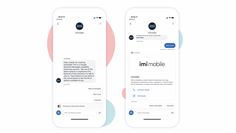 Business Messages enables rich features such as carousels, cards, quick replies, photos, and more to create interactive, engaging messaging experiences. Chatbots and customer service agents can easily use these features to deliver scheduling, support, and even purchasing journeys seamlessly via this new messaging channel.
Sudarshan Dharmapuri, EVP Products at imimobile, commented, 'We're excited to now support Google's Business Messages and offer it as another channel for our clients. Business Messages will help turn billions of searches by Android and iPhone users into conversations between customers and brands – delivering richer interactions, improving customer experience, and reducing costs for businesses.'
The U.S. Department of Homeland Security has awarded iProov $198,407 in phase four funding to pilot its Genuine Presence Detection and biometric anti-spoofing capability in a full-scale operational environment of DHS' Customs and Border Protection (CBP).
The award was made through the Silicon Valley Innovation Program (SVIP) following development over the first three project phases. CBP is seeking to streamline cross-border travel at ports of entry while also identifying travelers and their status with a high degree of confidence, according to the announcement.
"A critical challenge when delivering digital services that require some manner of identity verification is the need to ensure that the entity being verified is a real live human and not a replica or a recording," states Anil John, SVIP technical director. "The pandemic has accelerated the need for high-value remote digital service delivery, and iProov has now adapted its technology to provide their anti-spoofing solution to a broad range of applications."
"In a year filled with uncertainty, businesses have had to adapt the way in which they operate and as such communication and customer engagement has seen increased demand and significant change. Multiple device use has played a pivotal role in keeping businesses and consumers up to date, making mobile messaging a vital tool for the future success of any business in this new economic climate."
So says Nick Millward, VP Europe at mGage, who highlights how 65% of consumers are basing their future purchase decisions on a company's response to the current situation according to Edelman, making the understanding of customer needs and requirements more important than ever before.
There is a strong incentive for brands to utilise Rich Communication Services (RCS) messaging within an omni-channel strategy to deliver exceptional customer service and loyalty reward programmes that consumers have come to expect," adds Millward. "Combining app-like features with the simplicity of SMS, RCS messaging offers a unique capability for consumers to interact with organisations like never before, while providing lower customer management costs and increased Return on Investment (ROI) for brands."
As attitudes shift and technology advances further, companies that incorporate conversational messaging within their communications strategy will be able to offer a far more personalised experience that fits in better with the ever-changing demands of consumers and the needs of the industry.
Subscribers of TrueMove H, recently judged by Frost & Sullivan as one of the best mobile carriers in Asia Pacific, can now pay for their Netflix streaming subscriptions conveniently and securely as part of their mobile phone bills, thanks to the payments platform enabled by DOCOMO Digital, leaders in direct carrier billing.
There are over 50 million internet users in Thailand, with 85% of those between the ages of 16 and 64 surveyed by GlobalWebIndex reporting that they already buy products and services online. The overall market for digital content in Thailand is close to US$400 million in sales per annum.
"We have been at the forefront of digital innovation in Thailand, and enabling Netflix subscriptions for our consumers via carrier billing in partnership with DOCOMO Digital is yet another example of our commitment to digital excellence," said Mr. Justin Ang, Deputy Group Chief Commercial Officer at True Corporation Plc.
Jonathan Kriegel, CEO at DOCOMO Digital, commented, "We are delighted to be partnering with TrueMove H, a pioneering mobile carrier in South East Asia, to bring the most sought after OTT services like Netflix to their subscribers. We are confident TrueMove H will leverage our platform to offer even more exciting services to its subscribers, in line with its vision to be the best carrier in the region in the times to come."
Sinch, a global leader in cloud communications for mobile customer engagement, has received two gold global Mobile Marketing Association SMARTIES X awards for its Text For Humanity campaign that enabled people to send a positive message to a stranger – and receive one in return – before and during the COVID-19 pandemic.
The SMARTIES awards, judged by the world's top marketers, honor innovation, creativity, and success. Hundreds of brands, agencies and technology providers submitted for the awards which evaluate creative, strategy, execution and business impact.
"Text for Humanity supported Sinch's mission to be a purpose-led brand that is driven by passionate people and innovative conversational technology," said Jonathan Bean, Chief Marketing Officer at Sinch. "Using something as simple, powerful, and ubiquitous as a mobile message, we sought to act on the growing epidemic of social isolation by doing what we do best: connecting people instantaneously, across the globe.
"We are proud that our technology was used in such a meaningful way."