MEF IoT Advisor Andrew Parkin-White looks ahead to next week's MEF Connects Wholesale event, and taking a deep dive on IoT connectivity with an expert panel session exploring the changing IoT landscape, key drivers for IoT connectivity and which segments, applications and regions hold the best opportunities for growth and monetisation.
The IoT connectivity market is large and growing. According to research by specialist IoT research firm, Transforma Insights, there were 7.6bn active IoT connections at the end of 2019. By 2030, the overall IoT market value will be $1.5trn with 24.1bn active devices representing a CAGR of 11% per year. Estimates are that connections over cellular will grow from 1.2bn to 4.7bn in this period, with connectivity accounting for around 10% of the overall market value. Connectivity is very clearly an important and valuable market.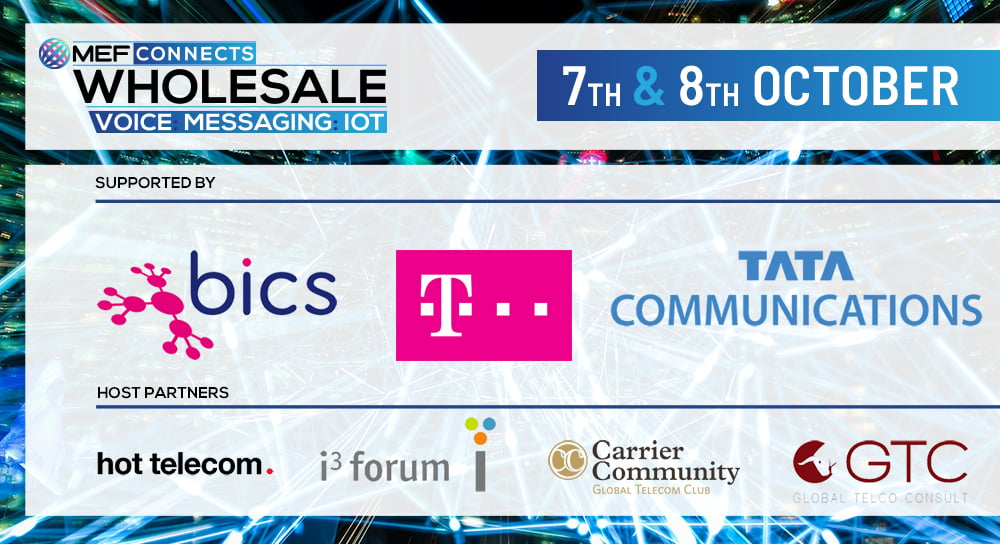 MEF is bringing together a panel of experts to explore market development in IoT connectivity comprising:
Fernando Llobregat Baena, Head of IoT Sales for Enterprise, BICS
Martin Garner, COO, CCS Insight
Olaf Giehl, Senior Project Manager DT Carrier Services
Craig Price, SVP, Mobility Products and Marketing, PCCW Global
David Hambling, CEO Asia Pacific, Pod Group
Stuart Mitchell, Chief Evangelist and Head of Product, Zariot
The discussion will be wide ranging and thought provoking. We will examine the key drivers for IoT connectivity and explore which segments, applications and geographies offer the best opportunities and the role of network technologies in delivering solutions.
Businesses face challenges in deploying IoT solutions and have a clear need to prove the business case and benefits, understand the impact on legacy systems, navigate through a fragmented technology environment and master issues such as security and analytics."
Opportunities are becoming apparent with industrial IoT being an important market. Connected vehicles will account for 7% of connections by 2030 with smart grids totalling 14% of connections in this period. Other important markets include smart cities, smart buildings, street lighting, asset tracking and inventory management.
We anticipate that North America, China and Europe will be key IoT markets with further growth in developed Asia. We will also turn our attention to less developed markets including Latin America, Africa and developing Asia.
We will discuss whether there will be a shakeout in network technologies and if GSMA-based technologies will dominate the market over time and how long it will take before rationalisation takes place.
We will explore the range of drivers that are increasing adoption including process automation and efficiency, cost reduction, ROI improvement, increased intelligence, more rapid service enablement and more efficient product development.
Naturally, businesses face challenges in deploying IoT solutions and have a clear need to prove the business case and benefits, understand the impact on legacy systems, navigate through a fragmented technology environment and master issues such as security and analytics.
We will investigate the challenges faced by communications service providers in addressing the IoT opportunity. Clearly, various elements need to be in place to support market growth and suppliers need to demonstrate the ease of purchasing an IoT solution with a move to more off-the shelf solutions to fuel growth while demonstrating its benefits and positive financial impact.
The supply side of the market is highly competitive. MNOs have established business units to focus on IoT and MVNOs have emerged focused on key segments or the need for global connectivity. The price of connectivity is only one element as enterprises are looking more to value add and a solutions approach rather than just the headline price.
This is good news for established and specialist players who can demonstrate value add to an organisation.
We will analyse how the competitive environment will develop over time and the characteristics of successful suppliers in the IoT space and analyse how IoT solutions will evolve. Commercial agreements could well change over time as we see more clarity on usage patterns, traffic volumes and signalling overheads.
Monetising the IoT opportunity is paramount for CSPs and we will look at different pricing models in play – such as aggregation of usage across many devices. segment-specific pricing and how pricing flexibility will drive adoption. Finally, we will look at the relationship between wholesale and retail IoT provision. Wholesale is an important business area for MNOs and they are well placed to provide network access on a wholesale basis and are strengthening their IoT presence overall. There is some debate over the willingness of an MNO to be a communications pipe when there are potentially larger rewards available.
MEF looks forward to welcoming you to this session.
MEF Connects Wholesale takes an ecosystem perspective to explore the business trends and challenges driving connectivity today and asks what will create tomorrow's business?
Across 2-days online, we'll look at wholesale trends across Voice, IoT, Messaging & RCS.
Hear from analysts & experts, connect with your peers to discuss what are the new rules, new channels and new partnerships that will accelerate the future of wholesale.