Get the latest announcements from MEF Members across the mobile ecosystem globally in this weekly review of member news…
Singapore will be the first country in the world to use facial verification in its national identity scheme. The biometric check will give Singaporeans secure access to both private and government services. The government's technology agency says it will be "fundamental" to the country's digital economy.
"You have to make sure that the person is genuinely present when they authenticate, that you're not looking at a photograph or a video or a replayed recording or a deepfake," said Andrew Bud, founder and chief executive of iProov, the UK company that is providing the technology.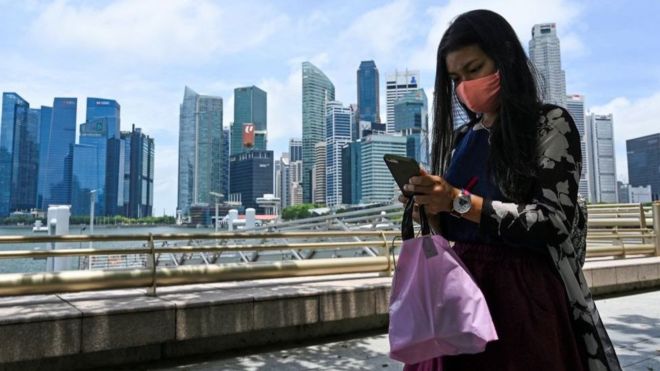 The technology will be integrated with the country's digital identity scheme SingPass and allows access to government services.
"This is the first time that cloud-based face verification has been used to secure the identity of people who are using a national digital identity scheme," said Mr Bud.
NetSfere, an award-winning secure mobile messaging service today announced its most advanced product update with the launch of encrypted group video and voice calling and real-time collaboration for mobile and desktop. The new features are designed to enhance team collaboration and drive workplace productivity through a more contextual, seamless communications experience with voice, video and text messaging, while allowing the enterprise to maintain control and regulatory compliance.

"NetSfere was built from the ground up for the enterprise with a focus on three things – security, encryption and enterprise control," said Anurag Lal, President and CEO. "Popular consumer-built messaging apps like Slack, Skype and WhatsApp have set the standard for mobile communications features, but they were never built with enterprise-security and control in mind. By adding new collaboration options to NetSfere's platform offerings, we are now able to provide enterprises with the tools they need to optimize their workforce to be more productive without compromising on security."
Over-the-top messaging apps, usually referred to as "OTT messaging apps" are instant messaging services provided by third parties as an alternative to text messaging services provided by a mobile network operator. OTT messaging apps like WeChat, Facebook Messenger and WhatsApp have become fairly popular among consumers, which has attracted marketers. However, the ubiquity, reliability, and familiarity of SMS often make it a better choice for mobile marketing campaigns. Read on to learn more about the key differences between OTT messaging apps and SMS.
SMS works the same, regardless of location and device type, and it is the only interactive mobile messaging channel that is globally ubiquitous. OTT messaging apps, on the other hand, vary significantly in popularity and functionality. For example, Facebook Messenger is the most popular messaging app in the United States, but in China, consumers use WeChat.
OTT messaging apps also vary by region when it comes to requirements, features and protocols. Since OTT apps are relatively new, governments are still developing regulations and requirements for protecting consumers. This affects the functionality of OTT apps in each country. Although regulations regarding content vary by country, SMS features and protocols are universal. You can create bulk texts to send anywhere in the world through a single platform.
If you care about trust, this article is for you.
Start by looking at your phone. Yes! Pick it up and look at the SMS app. Have a look at how many messages there are from brands, businesses and services. If it's your business to get those messages delivered to users, you care about trust: establishing a relationship, a trust-worthy communications channel between a business and its customers.
If your business gets messages delivered to users, you care about trust. You attract through trust, performance and capability. Ensuring the highest levels of security creates hat needs the best security platform, one that doesn't limit performance, nor hinders capability.
Not all of your customers share the same objectives, unfortunately. So how to identify the bad actors that damage the experience for the majority ? Acquisition of customers is a hard-fought battle, especially in high-growth phases or at just about any time in competitive environments. Acquiring bad customers can rapidly damage the trust you've worked hard to build, and destroy hard-earned growth.
Infobip delivered its SMS platform with customer relationship management (CRM) integration capabilities to food and beverage group Eat'N'Go, enabling it to align its messaging with customer behaviour, boost consumer conversion.
Eat'N'Go Limited is a Nigeria-based quick service restaurant (QSR) group that is the lead franchisee for three well-known US fast food brands, namely Domino's Pizza, Cold Stone Creamery and Pinkberry Frozen Yogurt. The group has seen continuous growth since starting operations in the West African country in 2012 and currently owns and operates 110 outlets, employing 2 600 people. The company recently announced that it plans to open a further 38 new store locations that will see it expand its footprint to 14 cities across Nigeria.
"It was really exciting to work with Nigeria's fast-growing company on this project. The synergy between our teams was great – they knew exactly what they wanted, and we were ideally positioned to deliver to their specifications." Shaun van Rooyen, Strategic Accounts and Partnerships Manager at Infobip Africa.
The introduction of Rich Communication Services (RCS) and Rich Business Messaging (RBM) are expected to bring an entirely new level of efficiency and effectiveness to consumer engagement. Its open ecosystem, however, is vulnerable to the same malicious targets of traditional communications including voice, text and email. This can open the door to spam, scams and spoofs, leading to a decline in consumer confidence and a significant loss in revenue. This is why it is critical to enable a trusted foundation from the beginning that will help establish consumer trust and make RBM a valuable customer engagement option for businesses.
During MEF Connects: Rich Communications – The Future of Business Messaging Virtual Event, iconectiv's Chief Technology Officer Chris Drake and Senior Director of Product Management Cliff Holsenbeck will join a panel of industry experts to discuss how verification and authentication can and must be the foundation for RCS, enabling legitimate businesses to protect their customer experience, reputation and bottom line.
The COVID-19 outbreak quickly and radically changed consumer behavior, and brands have had to adapt their communications approaches in tandem to meet consumers where they are: on their phones. This requires a shift to mobile-first strategies that support the new contactless reality that consumers want.
Many across the U.S. are not comfortable going to stores in person, and in many parts of the country, businesses are still closed. To adapt, many brands are shifting to a contactless approach, and it appears that contactless is here to stay. A recent study from Medallia found that 77% of consumers report that the amount of in-person interaction required at a business will factor into their decision of whether to visit it in the future.
Across the board, consumers are turning to their phones to interact with brands more and vice versa. Mitto has seen this through the global application-to-person (A2P) traffic we manage which was up 70% in H1 2020 when compared with the same period in 2019. Companies leveraging SMS as part of their omnichannel marketing strategy are better able to build relationships with customers and prospects, and ultimately earn more sales.