First there was commodification. Now there's Covid. Times are changing for industry wholesalers. The market is evolving and maybe times of crisis bring out the best in the ecosystem's most entrepreneurial players. Ahead of MEF Connects Wholesale in October, we explore the challenges and the opportunities…
Telco wholesalers are in an 'interesting' place right now. Which is putting it mildly.
The mobile industry might be founded on the hi-tech provision of remote communications, but historically, it's been a face to face business. People meet. They thrash out deals.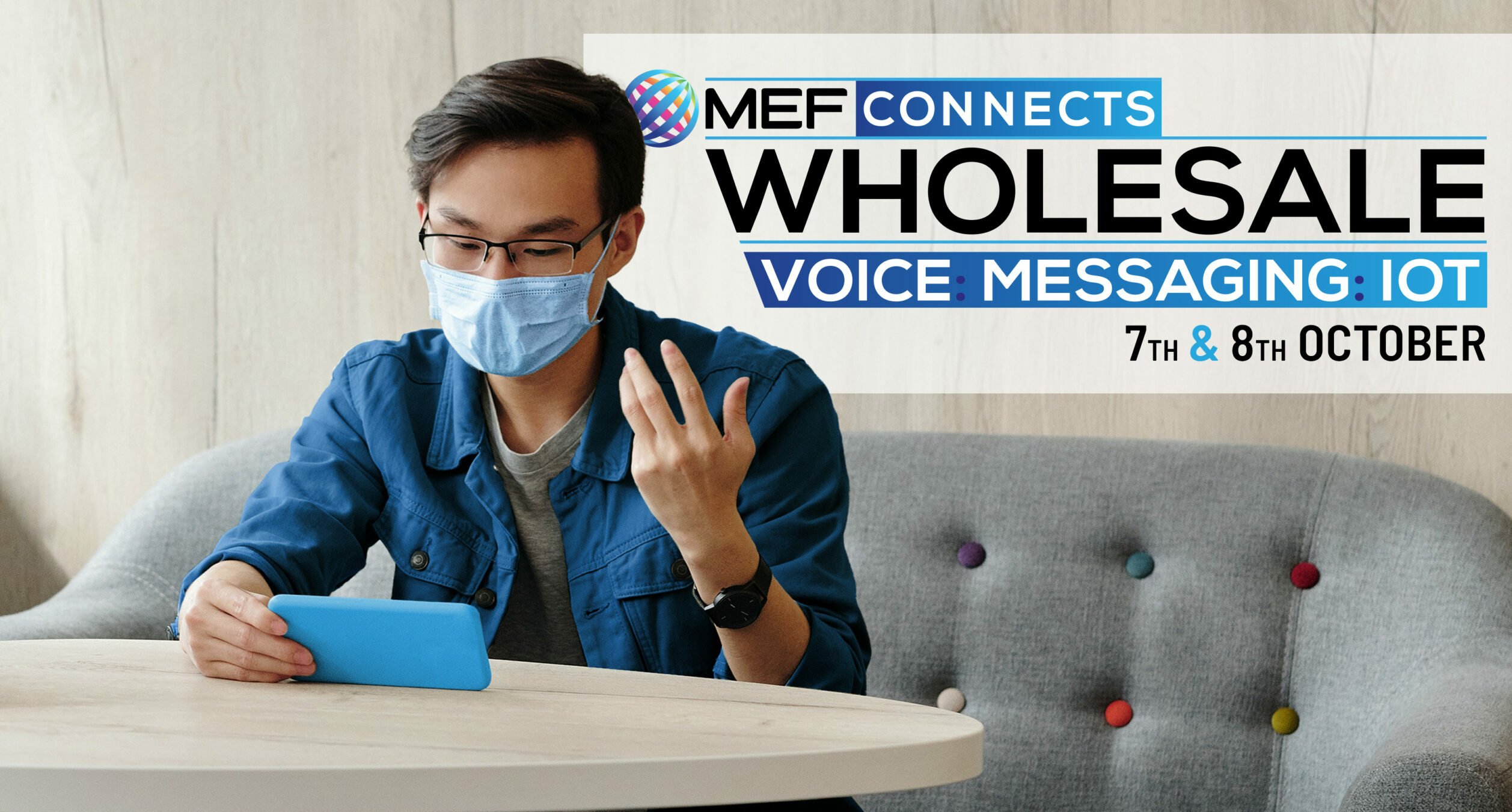 Clearly, that is not happening right now.
However, Covid not the only disruptor facing those selling wholesale telco services. The sector has been under attack on multiple fronts over the last few years.
Some of the disruption has its origin in changing consumer habits. Voice is an obvious one.  Consumers just don't talk as much as they used to. Not on phones anyway. They're talking less at work too, which is squeezing the market for wholesale selling to enterprises.
A 2020 study by Juniper Research forecasted that MNO voice revenue would drop from $381 billion in 2019 to $208 billion by 2024.
Of course, voice is declining because people are switching to alternative channels of communication – notably messaging. And they have plenty of places to get it beyond the traditional MNOs.
WhatsApp, Facebook Messenger, Viber and others are rushing into the space. And they're succeeding. Omdia (formerly Ovum) forecasts that annual mobile OTT messaging traffic will rise from 55.5 trillion messages in 2019 to 126.1 trillion messages in 2024.
So is this bad news for the wholesale market?
Not necessarily. Wholesalers are by nature deal-makers. They respond to market changes by innovating. For example, nearly 20 years ago, they sensed the potential for a business messaging market that the MNOs didn't see.
Essentially they were left to get on with it by MNOs. Out of nothing, they created a market worth around $40 billion today.
Wholesalers are by nature deal-makers. They respond to market changes by innovating. For example, nearly 20 years ago, they sensed the potential for a business messaging market that the MNOs didn't see. Essentially they were left to get on with it by MNOs. Out of nothing, they created a market worth around $40 billion today."
So the question is: what will they do next?
Well, first, they can use their entrepreneurial smarts to maintain their existing markets. They already are. They have responded to the 'threat' of the OTT invasion by co-opting it. Most aggregators sell access to WhatsApp et al alongside text and voice.
And now wholesalers are leading the effort to establish RCS as the default next-gen channel for business messaging. RCS is currently supported by 90 MNOs and has 444m end users. Great work is being done by aggregators to alert enterprises to the opportunity this represents.
Wholesalers are also seeking out new customers and new use cases. In this, they have form. Today, for example, the biggest chunk of the $40 billion A2P SMS market is for one time PINs. That market didn't exist just a few years ago. Wholesalers created it.
Who knows what new applications can be found for the simple 160 character text?
Wholesale suppliers are also countering the 'race to the bottom' on price by differentiating their offerings on quality, performance, availability, reach, resilience, and other parameters.
And this points to the most fundamental change of all: wholesalers are no longer sellers or traffic. They are sellers of solutions. They are deepening their historic partnerships with MNOs.
For example, they are taking the headache out of regulatory compliance by handling sender ID management and anti-spam rules. They are optimising traffic flows and provide back-up routing systems to ensure messages are delivered. They are providing number look-ups, and delivering detailed analytics that help customers make better business decisions.
Needless to say, wholesalers are also looking to the future – by creating new markets based on 5G data.
In a recent market report, BICs wrote about the IoT opportunity. It said: "It's not just consumers who are hungry for data. A huge range of industries – from automotive, retail and utilities, to home security, architecture and agriculture – are adopting IoT strategies which will require 5G networks to support myriad use cases."
There are so many of these use cases. Think of all those cars and trucks driving cross-border.  Who is best placed to handle the complexity of enabling and pricing the necessary roaming? Think of all those sensors sending one SMS a week, or a few kilobytes of data, back to a central server – and doing so consistently for 20 years.
This is outside the norm of a typical MNO contract. And while some MNOs are working hard to meet this IoT-based demand internally, there's little doubt that wholesalers have the ability to move faster.
But this is just scratching the surface of the market opportunities that fast and ubiquitous 5G will unleash.
Payment is one obvious candidate. Mobile commerce looks set to explode, bringing with it the potential for wholesalers to facilitate transactions. There is little doubt that wholesalers will continue to innovate. But to return to the start of this article, there remains the prosaic question of how they will thrash out the terms with MNOs. Will the fading of Covid see a return to the old-school face to face process? Or will the market's deal making ethos go virtual?
It's impossible to say. However, some analysts believe the space could do with a shake-up.
Earlier this year, Ovum wrote: "Wholesale market transactions have long relied on personal relationships between the biggest players, making it extremely difficult for service providers that are smaller or new to the market to break into that club to find and agree to terms with the players that can support their business objectives. This is particularly difficult for putative new entrants attempting to launch unconventional business models, such as those based on revenue sharing or advertising."
While more competition is good, the arrival of new players also adds complexity for MNOs and for customers. The Ovum report quoted one industry insider as saying it had 300 wholesale suppliers worldwide. The company said its stated policy was to have as few as possible, but acknowledged the need to add more "to secure the services and footprint we require".
The above statement indicates just how important wholesalers are to the vibrancy of the mobile ecosystem.
There's so much to talk about. So make sure you join us on the 7th to 8th October.
MEF Connects Wholesale takes an ecosystem perspective to explore the business trends and challenges driving connectivity today and asks what will create tomorrow's business?

Across 2-days online, we'll look at wholesale trends across Voice, IoT, Messaging & RCS.

Hear from analysts & experts, connect with your peers to discuss what are the new rules, new channels and new partnerships that will accelerate the future of wholesale.