Rich business messaging is unleashing a new era of consumer marketing, customer care and conversational commerce. It is giving people a wider choice of channels. And it is enabling post-pandemic comms with low-human contact. This is a revolution, and every brand has questions about it. Ahead of MEF Connects Rich Communications next month, we ponder a few of them…
If you want to study any consumer behaviour, here's a rule of thumb: do it with pizza. It works for measuring responses to new mobile messaging platforms. In 2018, Pizza Hut wanted to test the effectiveness of rich messaging campaigns. It sent a promotional messages to customers over SMS (in plain text) and also RCS (which supports images, carousels, barcodes, video and more).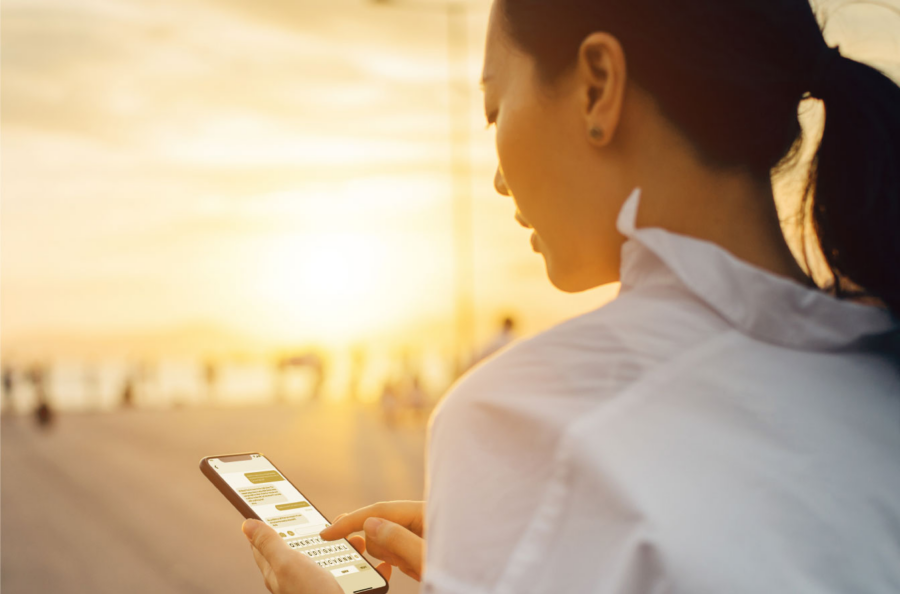 The results were emphatic. In its biggest trial, Pizza Hut sent 64,000 messages and found that click-throughs to RCS were 37 per cent per cent higher than click-throughs to SMS.
These kinds of results have been repeated again and again across various sectors – from TV to flowers to travel. (You can see case studies here)
It's easy to see why. People respond to a rich message's visual cues. They value the ability to make choices and act on them. They are reassured by official brand colours, fonts and iconography.
But rich messaging is not applicable to promotions and marketing. It achieves similarly powerful results when applied to customer care, charitable giving and even internal workplace communications.
This is why industry analysts are predicting big things for RCS, along with other 'OTT' platforms such as Facebook Messenger, iMessage, WhatsApp, WeChat and Viber.
This is huge opportunity for forward-looking brands. It raises so many possibilities, many of which will be discussed at MEF Connects Rich Communications, September 29 to October 1, Let's walk through them here.
Rich messaging could displace the native app
Brands dream of ring-fencing an army of consumers inside their native apps. But for virtually all of them, this is not realistic.
According to ComScore, customers spend 96 per cent of their time in just 10 apps.
Rich messaging gives every brand the promise of access to rich two-way conversations with customers – but without the friction of the app download process.
Lots of platforms to choose from…
Rich messaging is powerful. But it's also fragmented. Consumers have lots of options: RCS, iMessage, Facebook Messenger etc. There's no single channel through which to reach all users. That said, industry specialists now make it easy for enterprises to hit all platforms from a single dashboard.
Rich messaging is as easy as SaaS
Rich messaging is like SaaS because it is SaaS. Today's messaging providers put communications services in the cloud. They provide APIs and easy-to use dashboards, so that enterprise customers can switch messaging campaigns on and off as they choose.
'P2A' is real. Now it's time for customers to start conversations
In the first phase of business messaging, the industry began using the acronym A2P. This stands for application-to-person, since systems (rather than people) are sending the SMS messages.
Gone are the days when a customer's only channel for talking to a brand was the call centre. Today, people demand choice. They want to self-serve. That means voice, web chat, text and – yes – rich messaging."
Rich communication makes it possible to flip that. Recipients can respond to every element inside a rich message – from running a video to scanning a barcode. What's more, they can start real-time conversations with brands.
This is person to application (P2A). It completely changes customer care and commerce.
Rich messaging will supercharge the era of the chat bot
Bots have been a thing for a while – but mostly on desktop web sites.
This if fine – to a point. But bots really need to live on mobile too, so users can access them at any time, and when the need arises.
Regrettably, bot conversation is not really feasible on SMS. Too long-winded. Rich messaging solves the problem. Users can start chatting inside a session. There's almost no limit on these dialogues. And what's more, the user/bot can enhance the conversation by presenting images and other assets alongside the text.
Think of the impact on customer care. Imagine a customer buys an item from an online fashion retailer. It's the wrong size. She starts a conversation with the customer care agent, and shares a photo of the item and her receipt. The agent checks her credentials (against her mobile number) and then processes the refund.
Rich messaging is at the heart of omnichannel customer care
Gone are the days when a customer's only channel for talking to a brand was the call centre. Today, people demand choice. They want to self-serve. That means voice, web chat, text and – yes – rich messaging.
But merely making these channels available is not enough. Enterprises should link them together seamlessly. The customer should be able to text, send an email, make a voice call or start a rich messaging chat without having to repeat the same information. This is the difference between multi-channel and omnichannel.
Rich messaging makes it easier to tackle fraud
Text alerts changed the world. They gave every brand the ability to go straight to the pockets of their customers 24/7. Regrettably, they extended the same reach to fraudsters.
Today, phishing and spam remain a problem in the SMS world. Not as serious as in email, but a challenge nonetheless.
Rich messaging promises a much cleaner future. The various rich platforms (RCS, iMessage, WhatsApp etc) each offer tools for verifying senders. Industry stakeholders including MEF are currently working to establish standards that will minimise the risk of fraud in the market.
Shopping inside messages? It's coming…
If rich messaging can disrupt the native app and the mobile web, it could start a new era of mobile shopping. Brands are understandably excited about the idea. It gives them the chance to send promotional messages and process a sale in a single message session. Obviously, this can only happen when in-message payment is made possible. The industry is working on this.
The discovery question. New ideas are coming
SMS has the shortcode. The web has Google. Native apps have app store search. What does rich messaging have? If consumers want to start a rich conversation, where do they start?
This is an important question. There is no single answer. Brands can advertise their chat bot services, and introduce rich conversation that way. Another possibility is the search function inside the rich chat app itself. This could serve as a directory. Users could type in the name of a brand, just as they might type in the name of a friend.
Vodafone is already testing this. As part of a partnership with the United Nations to promote the UN75 project, it displayed the UN75 bot whenever a user performed a search inside its RCS app.
Fresh business models to suit all requirements
Ah yes, fees. Every brand wants to know how much a campaign will cost. Every provider wants to know how best to charge.
It's complicated. Replicating the per-message cost of SMS is not feasible. After all, what is a rich message? A single session might generate dozens of questions and answers. It might support hundreds of megabytes of data. It might last hours.
Rich messaging is on the move. In a post-Covid era, it looks set to define the way enterprises of all types talk to their customers – brands and consumers, governments and citizens, employers and staff.
Make sure you join us on the 29th – 1st October.
As part of MEF's Future of Messaging Programme this all-new digital event brings together enterprises, brands & agencies to connect with MNOs and messaging providers to showcase the business messaging channels that are transforming customer engagement.

The 3-day global event features the latest use cases from brands revolutionising their customer engagement strategies with RCS, WhatsApp, Apple Business Chat and more. Plus, daily analyst briefings, regional deep-dives, industry roundtables, EXPO and facilitated networking sessions.