VIVO and TIM have made an official joint offer in March 2020 for buying parts of Oi, the fourth mobile player
Brazil continues to have one of lowest global mobile ARPU, with a prepaid value of $2.48 and M2M at $0.58 per connection
In domestic currency ARPU is remaining stable
However, there are significant differences across operators in revenue level. A reduction in number of operators seems likely, due to weak performance.
The market for mobile telecommunication in Brazil is showing signs of a possible consolidation in terms of mobile networks. The current four players – VIVO, TIM, Claro and Oi – might soon become three, with Oi (currently in bankruptcy protection) leaving the mobile market and focussing on the restructuring of its fixed telecom assets.
A challenging market: but showing improvements
Teleco, the Brazilian telecom consulting company has published its regular view on the Brazilian telecom market. The market shows some of the lowest ARPU numbers in dollars: $4.39 per mobile overall, and $2.48 for pre-paid. However, Brazil also shows a small growth from the 2018 data in local currency. The large fluctuations that the Brazilian Real has suffered recently make it difficult to compare to global benchmarks. The domestic market is showing resilience, but the hard conditions seems to penalise the small players in particular. They are left with the lower end of the market. The market might soon go from 4 to 3 players.
The currency fluctuations in Brazil have distorted the story, from 2015 the Real (R$) has lost half of its value to the US dollar (it moved from R$ 2.6 to 1 dollar in Feb 2015 to R$5.30 in April 2020). Recently, between January 2020 and April 2020, the currency lost 25%. The ARPU numbers in USA dollars can be misleading.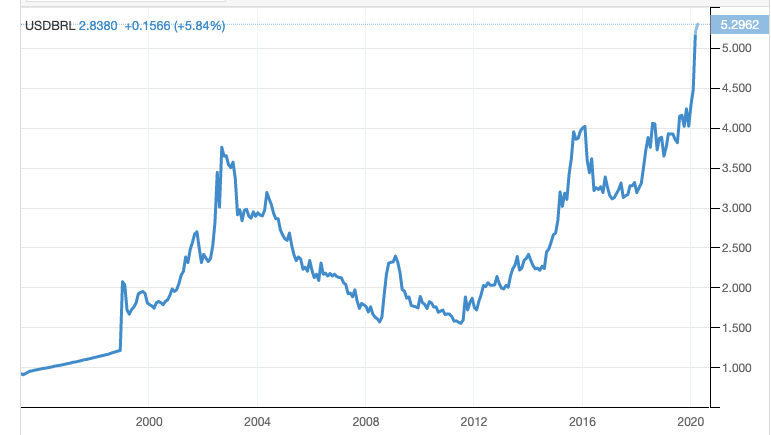 Source
Compare the historical trend of Mobile ARPU from Teleco: you will see a 5% increase in the mobile ARPU from Q1 2018 to Q4 2020 (from R$ 22 in Q1 2018 to R$ 23 Real in Q4 2019). Post-paid has managed to recover its losses in the period and pre-paid is managing to bring some much-needed improvements from the low in Q2 2018.
MOBILE ARPU (R$)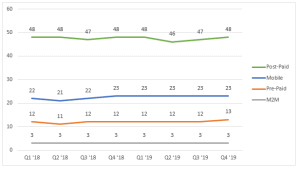 Better ARPU for VIVO and TIM
The two large operators VIVO and TIM managed to get a much higher ARPU, leaving Claro and Oi in the below 20 real mark ($3.81). In 4Q19, Vivo's postpaid ARPU (without M2M) was R $ 52.5 and TIM's R $ 39.5. In prepaid the ARPU of these two operators was closer, being R $ 13.2 and R $ 12.9 respectively. The harsh market conditions do not help Claro and Oi, the third and fourth mobile players.
ARPU BLENDED MOBILE (Q4 2019), R$
Oi, a candidate for mobile exit
Oi, formerly known as Telemar, is the largest fixed – line operator and the fourth largest mobile operator in Brazil. Oi filed for $19 billion bankruptcy protection on June 20, 2016. Its recovery has not yet finished: on March 26, 2020, Oi reported a larger-than-expected Q4 2019 net loss. The company quarterly net loss of R$ 2.3 billion ($457 million) was lower than the year before (R$ 3.3 billion). Despite the improvement, the rate of loss reduction disappointed the financial analysts covering Oi, they expected less than half of that loss (as reported by Refinitiv Eikon). The debt at Oi is not yet going down: Oi has increased its net debt to R$ 15.9 billion R$ from 14.7 billion in Q3 2019 and R$ 11.8 billion in December 2018.
There is a concrete possibility that the numbers of mobile operators in the market will shrink. On March 11, 2020, the dominant rivals TIM and Telefonica Brasil's Vivo communicated to Oi Oi's advisors an offer for kicking off talks for a potential acquisition of all or part of Oi's mobile division. It is not been confirmed how the two companies intend to divide up the business, but commentators argue that TIM, as the second largest player, would most likely get a larger share of Oi's mobile business.
The Brazilian market might be ready for consolidations from 4 to 3 network players.