The three Chinese MNOs, China Telecom, China Mobile and China Unicom, jointly announced mandatory support for RCS in 5G
As previously announced by GSMA, in 5G SMS texting will fold into RCS
Multiple device manufacturers took part in the announcement: Huawei, Xiaomi, vivo, OPPO, ZTE, Samsung, Lenovo, Meizu, Hisense, Fengdong, Jufeng
On April the 8th the Chinese MNOs showed clear unity in their vision that RCS will replace SMS messaging as its natural evolution in 5G services. In the event 11 Chinese manufactures joined the declaration, showing a full supply chain support to make RCS the next telco standard for messaging. This could position RCS as strong competitor to the successful Chinese WeChat platform.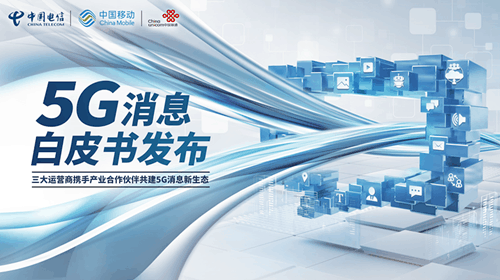 For customers, the announcement means a full compatibility with simple SMS text messaging but also a full evolution to better support of rich media, and app integrations:  with 5G devices, the RCS services will come out of the box.
For the telco messaging industry, the joint message is a much welcome advancement, showing willingness and momentum in a market that is leading the 5G roll out globally. China is betting heavily on 5G: the telecom carriers disclosed in March that they would invest about $25.5 billion on 5G this year, building 550,000 5G base stations by December. Huawei Technologies said the company will start supporting the new 5G messaging service from June 2020.  China Unicom confirmed at the event that Beijing has become the first city in China to have more than one million 5G mobile subscribers. Currently, China Unicom has already built more than 10,000 5G base stations in Beijing, achieving continuous outdoor coverage.
During the event the senior executive from the carriers ( Wang Guoquan, deputy general manager of China Telecom, Dong Xin, deputy general manager of China Mobile. Fan Yunjun, deputy general manager of China Unicom) called for cooperation from smartphone makers, content providers and platform operators to build a thriving ecosystem for the new messaging service. China is investing as messaging as a key 5G service area.
The news is welcome as RCS has not yet managed to blossom:  despite its reported 403 million active RCS users globally, the roll out is still patchy with a limited number of markets where all operators have activated the services (notably the USA, South Korea, Japan, Germany), or where Google has launched an OTT stop-gap solution called Google Guest (e.g. Mexico, UK, France). This could change with a strong 5G support.
Skeptical commentators could point out that the Chinese MNOs are just doing what was designed by the GSMA in the 5G evolution roadmap: including RCS as a mandatory requirement for 5G devices and networks. However, the term 'mandatory' in a GSMA document does not always translate into strong support in MNO's device requirements and device vendors actual support. For instance, Apple has not always followed standard requirements – preferring their own timeline, roadmap and service/technical variations.
However, the strong support by a large market such as China does put pressure on the majority of the ecosystem to support RCS in an out of the box experience.
MEF believes that the announcement is a strong support for RCS deployment globally. However, the issues of interconnection of service development are still to be dealt by the many companies currently at work on the RCS project. This is a step in the right direction, but the journey has just started.
The translated press statement from the Chinese carrier announcement is below.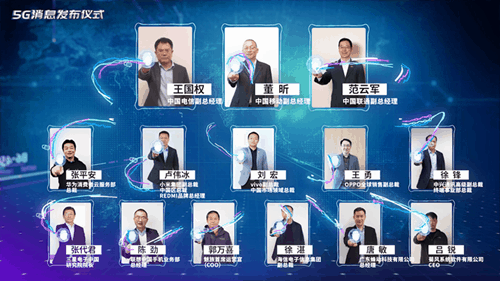 Three major operators jointly released "5G News White Paper"
On April 8, China Telecom, China Mobile, and China Unicom jointly held an online press conference to release the joint "5G News White Paper." "White Paper" presents the core concept of 5G messaging, clarifies the relevant business functions and technical requirements, and puts forward some ideas for the ecological construction of 5G messaging. Wang Guoquan, deputy general manager of China Telecom, Dong Xin, deputy general manager of China Mobile, Fan Yunjun, deputy general manager of China Unicom, and 11 companies from Huawei, Xiaomi, vivo, OPPO, ZTE, Samsung, Lenovo, Meizu, Hisense, Fengdong, Jufeng, etc. Enterprise representatives attended the press conference and jointly witnessed the opening of a new chapter in the 5G messaging service.
Wang Guoquan, deputy general manager of China Telecom, said that on the one hand, China Telecom will strengthen ecological cooperation, continuously improve user experience, strengthen cooperation with all parties in the industry chain, and jointly create a high-value messaging ecosystem with network interconnection, business interconnection, terminal sharing, and consistent experience; On the other hand, strengthen innovation cooperation, jointly enrich 5G messaging applications, tap more business application scenarios, make greater contributions to promoting enterprise digital transformation, and jointly create a better future for 5G development.
Dong Xin, deputy general manager of China Mobile, said that 5G messaging is a common choice for global operators. Based on the unified GSMA RCS standard, it will bring customers a new experience in multimedia messaging, business messaging, intelligent messaging, interactive services, security and anti-counterfeiting . China Mobile will work with the industry to accelerate the development of 5G news, enrich 5G application scenarios, continue to meet the needs of the people for a better and smarter life, help the digital, networked, and intelligent transformation of thousands of industries, and strive to create greater comprehensive benefits and social value for 5G.
Fan Yunjun, deputy general manager of China Unicom, said that 5G news is an important part of the 5G ecology and digital economy, carrying the important mission of traditional SMS business transformation and upgrading, and also contains an important opportunity for the evolution and iteration of the information service model. Through this release, it is expected that all parties in the industry chain can work together to build a 5G messaging ecosystem, upgrade the messaging service experience of mobile phone users, and boost the industry application value of information services.
5G News: New upgrade of traditional short message service
The 5G messaging service is a brand-new upgrade of the terminal's native basic short message service. It can be roughly divided into two categories according to the interaction mode: information interaction between individual users and between enterprises and individual users. For individual users, 5G messages will break the length limitation of each message by traditional SMS and will also break through the text limitation in terms of content, so as to effectively integrate text, pictures, audio, video, location and other information. For enterprises, 5G messaging will provide an information interaction interface with individual users. Enterprises can output personalized services and consultations to users through rich media such as text, voice, and tabs. For example, in a dialogue with 12306, users can quickly implement ticket booking, payment, and ticket change operations by sending voice or text, and clicking on keywords.
Benefiting from the above qualities, 5G messaging, on the basis of inheriting the traditional SMS-free registration and application installation-free features, has further achieved the convenience and efficiency of information exchange. In addition, 5G messages also support information transmission methods such as encrypted transmission and graphic passwords, which can provide information security and protect user privacy.
5G News: Helping the development of 5G terminals
GSMA has planned to incorporate 5G messages into the mandatory functions of 5G terminals. In the future, users can easily use 5G messaging services by replacing 5G mobile phones or upgrading existing 4G / 5G mobile phones. At this press conference, ZTE, Huawei, Xiaomi, Samsung, OPPO, etc. all gave full recognition and expectations to the 5G messaging service:
ZTE stated that it is willing to work with the three major operators to promote 5G news to become the fastest 5G + business application and work together to create a better future. Huawei said that it will continue to maintain long-term communication and cooperation with operators in the field of messaging, and jointly expand the 5G messaging market. Mi phones will support 5G messages in all 5G models in the future, and actively promote the commercialization of 5G message products. Samsung is developing 5G messaging services based on the latest operator specifications and plans to fully support 5G mobile phones this year. OPPO expressed its willingness to join hands with the three major operators and other terminal manufacturers to promote 5G technology and related applications from the perspective of users and build a win-win and prosperous 5G business news ecosystem. Vivo will upgrade the information experience through 5G messages to bring users a brand new communication service experience. The concerted efforts of all parties in the industry chain indicate that 5G news is about to enter full acceleration.
The release of the "5G News White Paper" demonstrates the ability and determination of the three major operators to vigorously develop 5G message services. Next, China Telecom, China Mobile, and China Unicom will work together with global operators and industry partners to build 5G messaging services into multi-terminal support, wide user coverage, and multi-industry-enabled 5G universal information and communication services. In order to promote the value of the news business, and drive the prosperity of the global 5G industry.