Dario Betti reports from AfricaCom, the largest telecom event of the year with a focus on the African continent. At the conference, talk about the 5G revolution was omnipresent, but the real story was about the continent's infrastructure (including 2G,3G and 4G) and sub-optimal availability of frequencies. While the quality of investment is bringing Africa up to speed, it is still early days for 5G excitement, but a telco revolution is taking place in Africa, and the future does look bright.
Africa is coming, 5G is coming – are they meeting? It seems that the excitement for the next generation in wireless communication is a bit premature given the current infrastructure challenges across most of the continent. However, the majority of the presentation at AfricaCom did mention the 5th generation. Here we offer a few insights, considerations from the largest telecom event in the continent.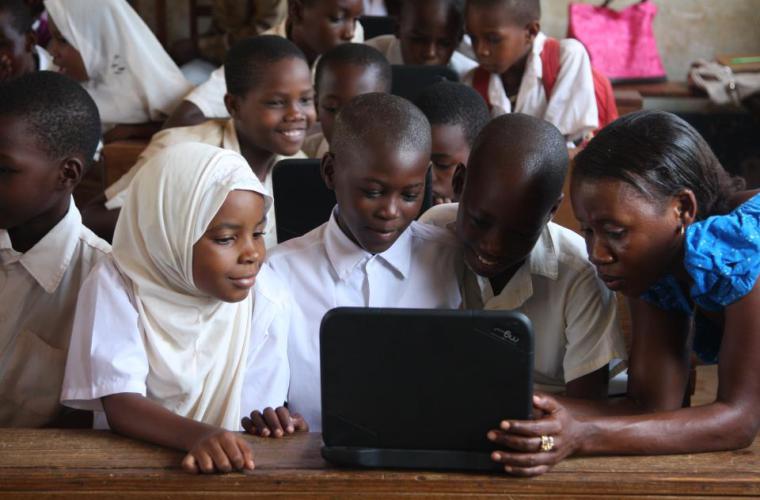 Lesson 1 – Eat Fiber
The key imperative for much of the continent is fiber: installing fiber in high rise buildings, and ducting fiber along all major roads should be mandatory steps. But unfortunately, they are not yet. The intelligent use of satellite, TV whitespace, and terrestrial microwave technology will also play a key role in the digitalisation of the continent.
Plenty of companies are at work here, and plenty of attention should be paid to these solutions that are cutting out important deployment options for remote and semi-remote areas. Nevertheless, the imperative for the industry is to build a strong fixed backbone to serve as a framework for fixed and wireless data communication.
Lesson 2 – Get Networking Fast
To get  network coverage fast, regulators should look at their country spectrum policy: a lot more could be done in Africa to support efficient use of spectrum. Networks are often running at full capacity in low efficiency networks (e.g. 2G services in low frequencies such as 900Mhz and 1800Mhz): a call for regulators to allocate more frequencies where possible, and operators should start migration from 2G to 3G/4G.
A zero or low duty on importing of telecom products should be in place to incentivise network roll out and faster device upgrades. And finally, too many issues remain in 'right of way' and 'site approval': understanding ownership and agreeing build-out is still too complex.
Lesson 3 – Jump forward (from 2G to 4G)
MTN, the largest pan-African mobile carrier is a primary example. It puts network supremacy at the base of its aspiration, it has 61 thousand kilometres of fiber installed for its network, and it will invest US$2 billion in capex in 2019. However, even the big players show that this is a 2G continent still.
The MTN network remains a large 2G one; it runs:
2G in 20 countries,

3G in 19 countries

and 4G only in 16 counties.
MTN operates its network from:
62 thousand 2G sites,

56 thousand 3G sites

but only 37 thousand 4G sites.
Comparing sites is not a way to weight a network, but these numbers give a good idea of the dependence of the continent to 2G. For MTN, their 2G network covers 550 million potential customers, 468 million would have 3G too but only 259 million (roughly half) would have also access to 4G.
South Africa is the one to call out from the African countries. It has a network profile with high availability of 4G (95% vs 98% of 2G), and a 5G network, run by a fixed wireless operator called Rain, but the massive Nigerian market show a penetration of 4G for 40% of the population. The only other live 5G network in Africa is an early test bed launch from Vodacom Lesotho, a small market with 2.2 million population. These differences should be noted.
Lesson 4 – 5G time will come, for Africa, later is the best
No doubt 5G will be everywhere, by 2030, but how fast it will develop in Africa is still to be seen. It is not a bad thing for Africa to be a late adopter. Early adopters include South Korea and China where industrial imperatives were calling for an early advantage (support their device and network equipment solution). As a result, we have seen the dominance of https://mobileecosystemforum.com/wp-content/uploads/2022/07/MEF-Day-One-104-Large-1.pngsung, LG and Huawei in the 5G markets; for instance, 2 out of 3 of the 5G network deployed are from Huawei currently.
But is this the right time for Africa? Maybe not. Actually, most European operators are considering 2025 for the mass roll out. There is little to be earned to rush into deployment for African operators. First, the 5G standardisation has not been finished: release 15 has just been launched (after a finalisation in 2018) and the new release 16 will be done at the end of the year, then expected for deployment in 2020 and 2021.
Waiting would allow to start with the most advanced and stable release, including release 17. While release 15 focuses on capacity and the major offer of 5G to break the 1Gbps barrier, it will take releases 16 and 17 to mature the new claims of low latencies/reliability (the new promised applications) and support for massive numbers of devices density (the IoT dream of millions of devices connected).
Europe and the USA are timidly following, with licensing and roll out on their way. Return on investment for 5G is a difficult one to tackle for many operators: as it requires a maturity in terms of network density, backhaul and new digital services. Again, Africa has do to some early preparatory work here on fiber backbone, frequency allocation, taxation support, network migration and site approval support.
The early application for 5G in Africa will include fixed wireless access (FWA) the use of the wireless link to provide fixed broadband services, but here 4G could provide an efficient first step.  The second use case will be mobile broadband in areas where congestion in existing networks creates low speed – we have not yet reached maturity of these networks though, the existing congestion is due to low density.  Ultimately the emergence of private 5G networks for industrial use is seen as an important use case. MEF has previously covered the topic of 5G private networks, please read these previous posts. These might be some of the earliest roll outs – if regulation would allow large industrial players to roll out their internal network.
A final word for the case for the later deployment of 5G is the cost of devices. Currently there have been 172 5G devices launched, at a cost of US$ 500 per smartphone and US$ 140 per 5G modems/modules. These costs are too high for the average African buyer.
Over 60% of the smartphones sold in the Sub-Saharan Africa market during the third quarter in 2019 were below US$100 price band wholesale price (source Counterpoint Research). Currently the price of a 5G device should drop by 80% to be competitive in the region. GSA (the association of device vendors) sees a drop in the wholesale price for H2 2020 to US$ 350, a welcome step, but at MEF we expect that it might take 5 years to reach to a comfortable price level (by 2025).
The GSMA predicts that 3G will overtake 2G in terms of connections by the end of 2019, then 4G will overtake 2G as the second biggest technology by 2023. By 2025, 5G in Africa will represent only 3% of total connection in 2025.
A Young Digital Africa: opportunities are coming
The growth coming to this market is not in doubt. It might not be 5G, but the growth in telecom is happening and it has a long way to go. The overall digital market is also developing along, with fintech showing also good vitality. The future for Africa is bright.
Penetration of 5G connection: a slow evolution in Africa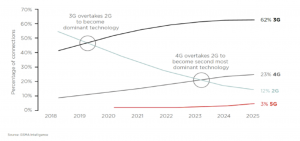 Africa remains the youngest continent, with a population median age of 19 years – half of that of Europe, 39 years. A new digital generation is coming of age in Africa. And there is a big appetite for connectivity to reach: Africa has the lowest penetration of mobile: 81%) versus 104% in North America, and 122% in Europe (according to Ericsson research). The GSMA forecasts the number of mobile connections to grow from 786 million in 2018 to 1.1 billion in 2025 (with an increase in IoT line form 20 million to 48 million), of which 680 million will be smartphone.
In terms of unique people using these mobile connections this would represent an increase from 456 million people in 2018 to 623 million people in 2025. A growth of 170 million new subscribers is expected by 2025, large markets with low penetration such as Nigeria, Ethiopia and DRC will drive this growth in the next year.
The impact of this demographic push is that telecom providers are even seeing sustained growth in voice revenue in these markets. Operators such as Airtel and MTN still report voice growth.
The African digital market is full of potential. The demographic wave in Africa is bringing more users and digital natives to the mass market, natural growth will follow. The liberalisation of Ethiopia, the sustained growth of mobile money, and the improvement in infrastructure spending are really opening up a new set of opportunities for the African economy.
Service providers are already reporting strong performances today from mobile broadband and new digital services such as financial services. Investment in start-up is small at 1.1 billion a year but is has seen a consistent growth and after the second African unicorn appearance (Interswitch, after Jumia, has become a billion dollar start up).