Get the latest announcements from MEF Members across the mobile ecosystem globally in this weekly review of member news…
mGage, a Vivial company and Gold level member of Oracle PartnerNetwork (OPN), announced today that it has integrated with the Oracle Responsys SMS Public Aggregator Network (SPAN) to provide an easier way for organizations around the world to manage their SMS campaigns.
Oracle's SPAN portal, available within the Oracle Marketing Cloud, offers customers an easy to use, self-service application where they can directly find, request and manage SMS services based on their needs and preferences. The result is a more optimal customer experience, increased conversion rates and an overall better return on investment.
"Oracle is a true leader in this market and we are proud to have worked closely with them for the past 10 years," says Denisse Goldbarg, COO, mGage. "Expanding our relationship to leverage SPAN is yet another way we help our clients maximize their mobile marketing initiatives."
Global communications software provider IMImobile PLC, today announced that one of the UK's largest car manufacturers, Vauxhall Motors, is using Apple Business Chat via its enterprise communications platform to connect with its customers. Apple Business Chat provides a new way for users to communicate directly with businesses using the Messages app on iPhone, iPad, Mac and Apple Watch.

Vauxhall customers can use Apple Business Chat to receive information about the new vehicle models that are available, book test drives and add them to their calendars. With Business Chat, customers can always reach a live person and are always in control of whether they share any contact information with a business.
Sudarshan Dharmapuri, SVP Products at IMImobile, commented, "We're excited to be working with one of the UK's leading car manufacturers. Utilising our enterprise communications platform as a service (CPaaS) technology, Vauxhall is now able to seamlessly offer Apple Business Chat as a new customer engagement channel to their customers".
Neustar®, Inc., a trusted, neutral provider of real-time information services and the leader in customer intelligence, trusted customer identity and marketing analytics solutions for Fortune 500 brands, and Freckle, a leader in privacy-compliant data and offline media measurement, today announced they will make Freckle's first-party data available in the Neustar Identity Data Management Platform (Identity DMP) for advanced audience planning and activation.

As part of the Freckle collaboration, Neustar will offer its customers the ability to leverage privacy-compliant first-party data that consumers have opted-in to provide through Freckle's Killi App. Freckle's Killi application allows consumers to take back control of their identity data by selecting the personal information they would like to share with brands in exchange for money. Killi provides marketers with real-time, reliable data that is direct from the consumer and fully compliant with global privacy standards.
"Marketers need reliable and compliant, first-party data that respects consumer privacy," said Neustar General Manager and Vice President for Marketing Solutions Michael Schoen. "With Freckle's Killi data, we will provide relevant, consumer-approved data that helps our customers target and personalize messages to the right consumers based on their specific input."
CleverTap, the full-stack customer lifecycle management platform, today released an integration with Nexmo, the Vonage API Platform , and its Messages API to add the WhatsApp Business solution to CleverTap's engagement suite. With this integration, CleverTap enables two-way communication with customers on one of the most widely used channels worldwide.
Today's consumers want to interact with businesses just like they do with friends and family, and social channels like WhatsApp and Facebook make that possible. With more than 1.5 billion users globally1, WhatsApp stands out by enabling businesses to send instant service messages, delivery updates and check-in reminders to users in any part of the world. With more than 3x the volume of SMS messages and a 98% open rate2, WhatsApp has opened a whole new opportunity for businesses to engage with customers3.
"The Nexmo Messages API makes it easy for businesses to engage with customers around the world via the channels they prefer. Channels like WhatsApp Business allow companies to reinvent their business models with a more modern, personal way of providing products and services," said Mark Summerson, VP Global Channel Partners at Nexmo, the Vonage API Platform.
Tell us about your journey into enterprise communications
I've been working in mobile enterprise communications for over fifteen years. Prior to Co-Founding Sinch, originally named CLX, in 2008 I held Commercial Management positions at Mblox as Director of the Global Mobile Messaging business line and at payments service provider Netgiro/Digital River.
Tell us about the evolving state of the consumer message landscape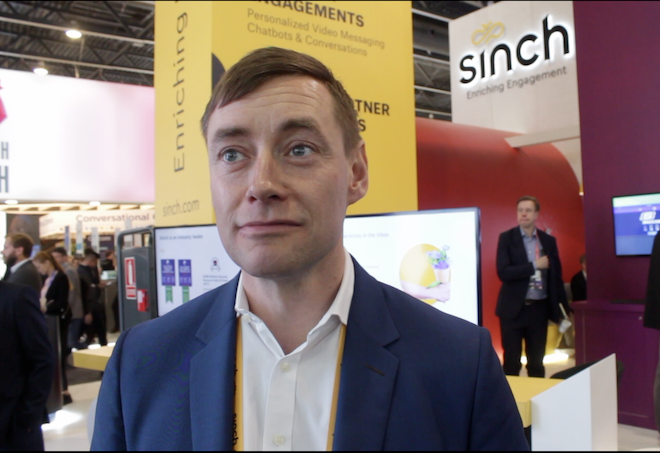 The rise of social communication has completely redefined how we communicate with our friends and family. Once the phone call was king. However, the emergence of SMS followed later by OTT-messaging applications like Facebook Messenger, WhatsApp, and WeChat has laid the foundations for a more instantaneous and richer form of communication.
How is personalized messaging finally making a huge impact on ROI?
Personalized messaging leverages the unrivalled engagement and open rates associated with application-to-person (A2P) SMS, adds the rich media experience using images, audio and video provided both by MMS today and new messaging channels RCS and OTT tomorrow but does this in a completely personalized manner as opposed to the generic nature of much business messaging of today.