Get the latest announcements from MEF Members across the mobile ecosystem globally in this weekly review of member news…
CLX Communications AB – a leading global CPaaS (Communications Platform as a Service) provider, has entered into a definitive agreement to acquire the Danish company Unwire Communication for a cash consideration of DKK 148 million on a cash and debt-free basis.  The acquisition excludes Unwire Payments & Mobility ApS which has been carved out prior to the acquisition.
"We are delighted to welcome Unwire Communication customers and their team to the CLX family. The acquisition of Unwire Communication makes us the undisputed CPaaS leader in the Nordic region, a region that leads the world in digitization and customer engagement. This acquisition is a natural next step for CLX following our growth strategy to become the global CPaaS leader.", said Anders Olin, Chief Operating Officer CLX Communications.
Tata Communications is working with Surbana Jurong to equip its Internet of Things (IoT) enabled lifts and escalators with secure, scalable connectivity to Microsoft's Azure cloud platform. Tata Communications, Microsoft and Surbana Jurong will be discussing their collaboration in a keynote panel at IoT Asia on 21 March 2018.
As a key part of its Smart City in a BoxTM solution, Surbana Jurong's Lift Monitoring System enables property management companies and public sector organisations to remotely monitor the safety and maintenance of lifts and escalators.
The IoT-enabled monitoring system uses artificial intelligence tools on a Microsoft Azure cloud platform to predict when a lift or escalator is likely to fail, and trigger an alert for maintenance before a breakdown occurs. Given the critical nature of this operation, Surbana Jurong's Lift Monitoring System uses the highly secure Microsoft Azure cloud platform coupled with Tata Communications MOVE.
Gemalto, an Amsterdam-headquartered digital security systems developer, has this week announced the launch of two new laser-personalized innovations designed to further increase the security of official identity documents, such as passports and national ID cards.
The company stated, "These laser-generated security features are available immediately as additional options in our Gemalto Color Laser Shield secure identity solutions range and are already supported by major brands of personalization equipment.
Coincidentally, this week it was also widely reported that future UK passports will be printed by Gemalto, after the Dutch-French company successfully tendered for the proposed post-Brexit "blue UK passport" printing job – worth £490 million ($690 million) – and beaten previous contract holder, UK-based printer De La Rue.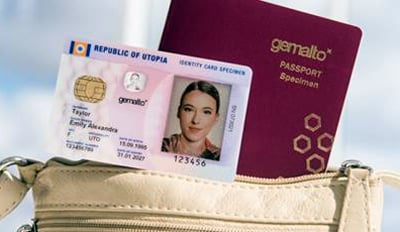 Movile, which operates with mobile marketplaces, has just made an investment in fintech Zoop , an open platform for payments and financial services.
According to Reuters, Fintech's contribution was $ 18.3 million.
Zoop enables companies to create customized payment solutions on the white label model, which means that any e-commerce, content application or business solution provider can use the technology to create their own services, including credit card processing and in the POS terminals.
"The payment market is on the rise in Brazil, as evidenced by the emergence and consolidation of technology companies offering financial services such as Nubank and PagSeguro's successful IPO on the New York Stock Exchange. within this sector, throughout Latin America, "comments Fabricio Bloisi, CEO of Movile.
Telecommunications company Ooredoo has signed an agreement to offer Mastercard's digital payment service Masterpass to its pre-paid and post-paid customers in Qatar.
Masterpass has been designed to facilitate simple, convenient and secure digital payments during in-app, online or in-store purchases. The service will enable the telecom company's customers to make secure transactions across various devices, channels and borders. Beginning later this year, Ooredoo customers will be able to use Masterpass through the Ooredoo App to pay for all pre-paid and post-paid services.
Mastercard country manager for Qatar & Kuwait Pankaj Kathuria said: "The Qatar National E-commerce Roadmap 2017 has identified e-commerce as a key imperative for the country's thriving business community, owing to factors including a robust ICT infrastructure and high levels of internet and mobile connectivity.