RealNetworks is on a mission to organise the world's smartphone photos and videos. Its RealTimes app intelligently creates slick movie 'stories' based around the same event. In our Executive Interview series, Max Pellegrini told Tim Green about the huge potential of this 'personalisation' product…
The mobile content business as we know it was built on the back of personalisation services. When the first ringtones were invented in 1999, the telco business realised for the first time that there was a market out there for more than just voice and text.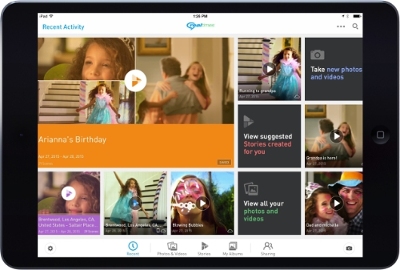 In time, more products followed. There were screensavers, wallpapers, ringback tones. As handsets grew more sophisticated and bandwidth increased, the market evolved. Content became more 'conventional'. People stopped buying ringtones and started to buy games, movies, eBooks, apps.
So is there still a market for personalisation products on mobile?
RealNetworks thinks so. Last year, it launched RealTimes – an app that automatically curates your pictures and videos and turns them into professional-looking video montages.
    The challenge for operators selling cloud services is that people see it like an insurance policy. They sign up and then forget about it… What we want to do with RealTimes is stimulate engagement – and ultimately keep subscribers loyal to their carriers.
RealTimes tackles a familiar and widespread problem: most people take hundreds of photos and videos on their phones but never organise them properly. As a result, they sit there inside an ever-growing and unmanaged stream.
The app uses chronology to choose pics and movies based around the same event. It then omits any inferior files (say, pics that are out of focus) and finally edits them into one seamless movie using neat fades and effects. It supplies a music soundtrack too.
The end result is a slick live album – called a RealTimes story – users can save for repeat viewing, and also share privately or on social media.
Max Pellegrini, president of products and marketing at RealNetworks, says: "RealTimes solves a genuine problem for people in the smartphone age: how to take control of all the photos and videos that are sitting on your device.
"It selects the best ones and sets them to music to create beautiful video montages. But it's clever in many other ways. So, for example, it will know from your location that you have arrived home from a holiday, and will push a notification suggestion you create a story based on your trip away."
Realtimes is available as a straightforward D2C product. It's a free download on iOS and Android (as well as Windows PCs, Chromecast, Mac and Roku with in-app payment options to buy a subscription that offers more music tracks and special imaging effects.
But RealNetworks also has a B2B strategy for the app – hardly surprising given the company's heritage as a provider of content services to major telcos.
It believes RealTimes has the potential add value to cloud services, which are becoming so critical to the world's major mobile operators.
To date, it has closed deals with three of the biggest: Verizon, KDDI and Vodafone.
In the case of Verizon, the product was integrated into the Verizon Cloud. When opening the Verizon Cloud app, users see a tab within Photos and Videos titled "Stories". They can click on it to create their own personal montages with the app.
Clearly, for Verizon, RealTimes gives some tangible benefit to signing up for its $1.99 a month Verizon Cloud service – something beyond the vague promise of backing up existing content.
Pellegrini says: "The challenge for operators selling cloud services is that people see it like an insurance policy. They sign up and then forget about it – in fact, they hope they never need it, in a way. What we want to do with RealTimes is stimulate engagement – and ultimately keep subscribers loyal to their carriers."
Just before Mobile World Congress, RealNetworks closed similar deals with Japan's KDDI and with Vodafone Group in Germany, Ireland, Italy, Portugal, and Spain launching in spring 2016.
Another strategy for distributing the product is via the RealTimes Stories SDK, launched last November. This lets developers integrate the platform into their own apps. Naturally, this is of great interest to any brands and app makers whose customers take photos or videos as part of their interaction with the company.
As RealNetworks says, they can 'offload the technical heavy lifting of sophisticated photo and video analysis and management to the RealTimes Stories SDK.'
One early adopter was the holiday company Thomas Cook. It's using RealTimes to power its #BestHolidayEver promotion. Customers are invited to download the app then use it to create montages of their holidays.
Further ahead, RealNetwork is working on partnerships with device makers. Clearly, it makes perfect sense to integrate with RealTimes with the native camera app to help users take back control of their camera rolls.
Another possibility is news and media organisations, which may need a speedy and automated tool for creating multimedia alerts and stories. Now that brands are generating this kind of content, the addressable market is potentially huge.
Of course, the core technology for RealTimes emerged out of the company's 20 year history of music and (later) video file compression. This tech still powers the Rhapsody music service and enabled the creation of a social casino games business (since sold) and the Listen ringback platform.
Features Editor

MEF Minute

  
The latter is interesting, given that many observers might assume the ringback was a 'mobile content v1' product. Not so, says Pellegrini.
In fact, Listen is finding a new lease of life as a promotional tool for carriers. "The tech is very interesting and we're trying to find new use cases for it," he says. "Recently, operators have begun to see how they might use ringbacks as a messaging tool to tell subscribers they need to upgrade or that they qualify for a promotion and so on.
"They can make these messages very targeted because they know what's happening on their networks. And this is exactly the kind of activity that Google or Apple can't come in and disrupt."