Each week the MEF team curates mobile stories from around the world. Essential news, the latest market insight & data nuggets, the Global News Round-up offers an instant international mobile content and commerce snapshot.
---
 Global News Stories
---
mCommerce will account for 18 per cent of the total amount spent online by UK shoppers this year, according to a study from RetailMeNot and the Centre for Retail Research.
The UK is the most mature mCommerce market in Europe, the study found, with 28 per cent of Brits having browsed retailer's mobile sites in the previous three months, compared to an average of 20 per cent across the eight countries studied. Shoppers in France and Italy are the least likely to buy on their mobile, with that figure standing at just 12 per cent in each country.
---
69 per cent of users rarely accept push notifications and most uninstall the app due to their annoyance. It is all well and good creating and deploying an app, it is a whole new thing attracting, retaining and making money from the users you gain. Trademob have put together an infographic offering some hints and tips into how to reactivate and monetise your users, and basically give them gentle nudges when they go still to make sure they still know you are there.
---
Facebook is taking its standalone app strategy to a new extreme today. It's starting to notify users they'll no longer have the option to send and receive messages in Facebook for iOS and Android, and will instead have to download Facebook Messenger to chat on mobile. Facebook's main apps have always included a full-featured messaging tab. Then a few months ago, users who also had Facebook's standalone Messenger app installed had the chat tab of their main apps replaced with a hotlink button that would open Messenger. But this was optional. If you wanted to message inside Facebook for iOS or Android, you just didn't download Messenger. That's not going to be an option anymore.
---
Big retailers are muscling in on the likes of Visa, MasterCard and Google in a fiercely competitive and growing mobile payment market that promises to cut transaction costs and increase customer loyalty. Stores such as British supermarket Tesco and France's Auchan hope their "digital wallets" – apps which allow users to pay with their smartphones rather than cash or cards – will also give them more comprehensive data about customers' shopping habits than ever before so they can target advertising.
---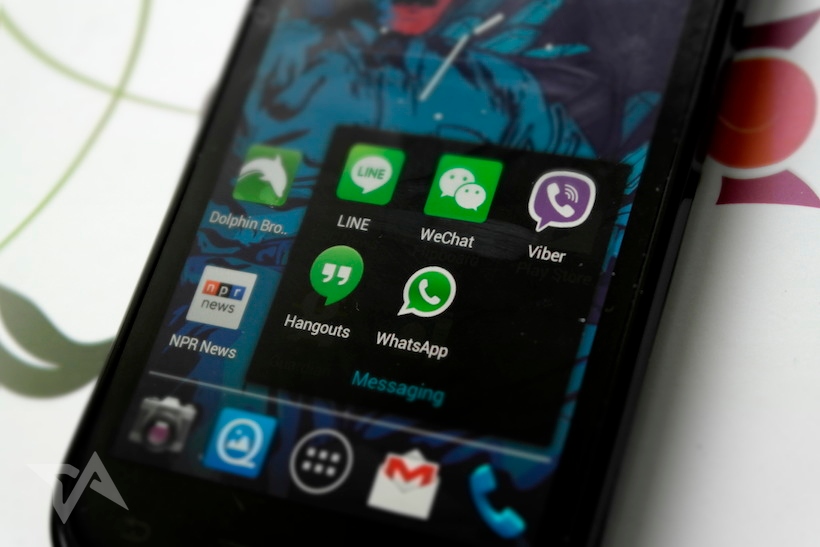 When India last held a general election in 2009, the country had fewer than 50 million internet users – a mere four percent of the population at the time. But as voting begins today in India's newest general election – a marathon that runs through to the counting of the votes on May 16 – things have changed. And that means, as the country now grows closer to a quarter of a billion web users, the way people access the news is evolving as well.
---
Just weeks after Visa revealed its headline stats on contactless, its smaller rival MasterCard has done the same. MasterCard says that contactless is now available in 63 countries, 34 of which are in Europe. Its cards have been issued by more than 220 financial institutions in Europe and can be used at almost two million merchant locations globally. Transactions across Europe have more than tripled and the volume spent on those transactions has increased four times year-on-year.
---
Mobile ad spend broke the billion pound mark in 2013, hitting £1.03bn, 93 per cent up on the 2012 total of £529m, according to the latest Internet Advertising Bureau UK (IAB) Digital Adspend report, conducted by PwC. Mobile now accounts for 16 per cent of all digital advertising spend compared to 10 per cent in 2012.
---
Back in February, Jan Koum, CEO of Facebook-owned WhatsApp, hinted that the popular messaging company would soon be unveiling a new way of working with carriers, starting first in Germany. Today that deal is now live. E-Plus is now selling a prepaid SIM that gives users unlimited access to WhatsApp outside of their data plans.
---

The European Court of Justice on Tuesday struck down an EU-wide law on how private data can be collected and stored, judging it too invasive — despite its usefulness in combating organized crime and terrorism. By allowing EU governments to access the data, "the directive interferes in a particularly serious manner with the fundamental rights to respect for private life and to the protection of personal data," the court said. The decision to scupper the Data Retention Directive, which was issued in 2006, comes as Europe weighs concerns over electronic snooping in the wake of revelations about systematic US snooping of email and telephone communications.
---
By now, most followers of Chinese phone maker Xiaomi are familiar with its weekly flash sales. Yesterday, however, the company held what might have been its flashiest ever flash sale – it doled out 1,300,000 phones in a twelve-hour period, helping it rake in sales revenues of about US$ 242 million, according to its Facebook and Weibo pages.
---
With no clear leader in mobile payments, a rapidly growing number of merchants are planning branded payment apps threatening to cause consumer fatigue and a shakeout. A large and growing variety of merchants have introduced or are planning to launch their own mobile payments solution, including McDonald's, Wendy's, Walmart and Target. While these merchants are watching Starbucks' success in this category and hoping to repeat it for themselves, they are likely to face a challenge encouraging consumers to not only download their apps but also come back to them on a regular basis.
---
Global News Round-up – These articles are not written by MEF and do not represent any views of individuals, members or the organisation.
---